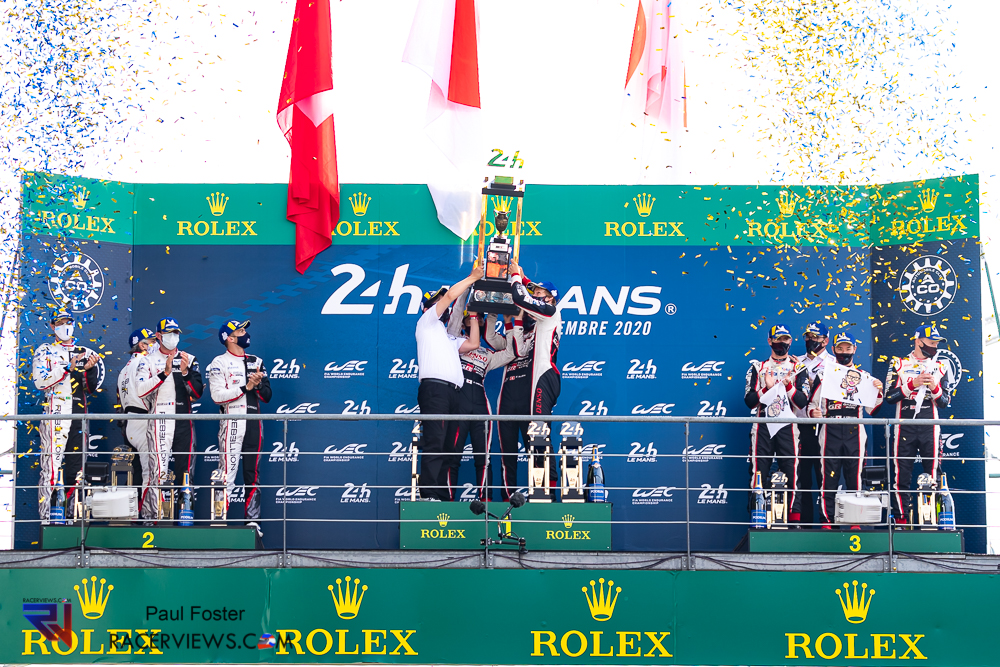 LMP1
Sebastien Buemi – no8 Toyota Gazoo Racing Toyota TS050 Hybrid
"I am feeling great after winning Le Mans for the third time. My teammates have done an amazing job. We really tried to prepare ourselves well in the last three weeks, spending a lot of time in Cologne driving the simulator to try and find some small tricks as we've been here with this car for many years. To get better is never really easy, so we pushed hard and I'm very proud of them.
"Once again it shows that the luck can turn here in Le Mans because when we started the race, I had the feeling that everything was against us – slow zone, puncture, problem with the brakes. Then all of a sudden things started to go well and we found ourselves leading the race and winning by five laps. You never know until the race is over."
Brendon Hartley – no8 Toyota Gazoo Racing Toyota TS050 Hybrid
"As Seb said, I am proud of my teammates and the whole team around us. It's been a steep learning curve for me coming into this programme, replacing Fernando [Alonso] and these two guys have really helped me get up to speed with this very complicated and fast race car.
"Today, apart from a few little things at the beginning when things didn't go our way, we did a perfect race. There are an amazing group of engineers behind the scenes trying to help get around the brake problem, giving us setting changes to try and get the balance right and everything was executed really well.
"This hasn't really sunk in yet; the emotion is not quite the same as before without the fans. The message to the fans is that we miss you and you are a big part of the race for us as well. We hope to see you back here next year."
Kazuki Nakajima – no8 Toyota Gazoo Racing Toyota TS050 Hybrid
"It's special to be in the car for the last victory at Le Mans and its three times in a row, so it's a very special thing. As my teammates explained, the race was really up and down. Actually, more down then I up I should say! I think everybody did a really great job, the whole team, including the car 7 guys.
"Somehow, we had a bit more luck that the other car. This time because the race was very long for us, as soon as the car 7 had issues we had to make sure we won for Toyota. It was quite tough in the end, but I am really happy to be part of this team and looking forward to the future."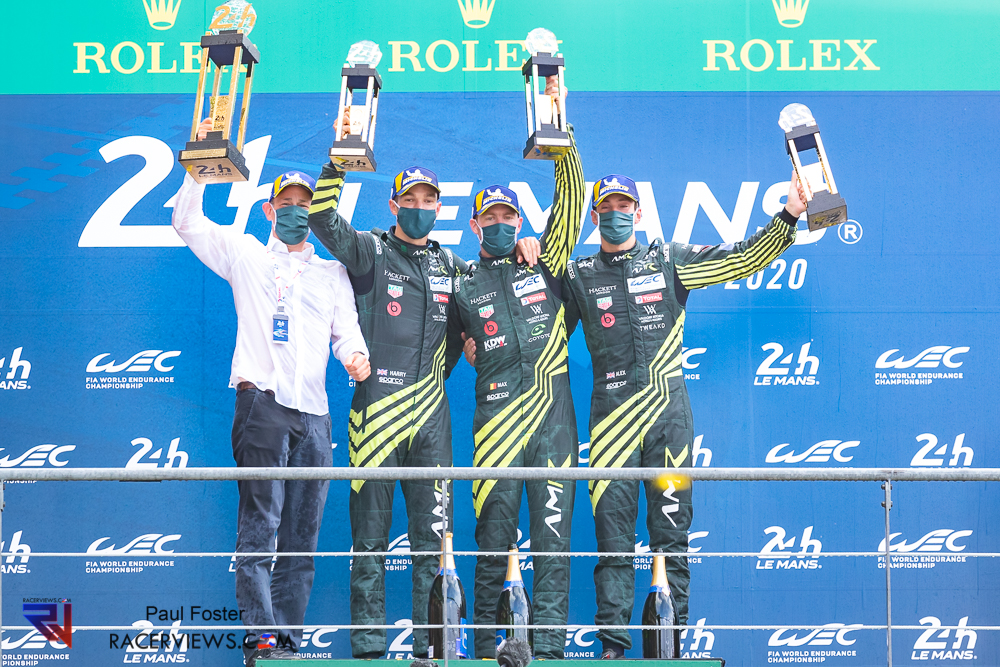 LMGTE PRO
Harry Tincknell – no97 Aston Martin Racing Vantage
"Le Mans is the best race in the world for a good reason! Obviously, it is a shame we don't have all the fans with us this year but at least we could still put the spectacle on. I'm very thankful to have this opportunity with Aston Martin Racing to share the car with these two legends. All week we've been very confident and in the race the car didn't miss a beat. The team did a brilliant job and I just can't believe that we did it."
Alex Lynn – no97 Aston Martin Racing Vantage
"How do I feel? To be honest this feels amazing. It's hard to put into words. I have been part of this team since the beginning of this new Vantage and I've been driving alongside Maxime and this is our third anniversary, so this is a special occasion for us.
"Harry is also a very good friend of mine so to be able to win this race with this team is great, I've never had so much fun in this week, we've been laughing, having fun and, obviously, working extremely hard. It just shows there was a real chemistry to win this race today. The car was amazing, and I am extremely proud to win Le Mans for Aston Martin."
Maxime Martin – no97 Aston Martin Racing Vantage
"The feeling to stand on the top step of the podium at Le Mans is awesome, especially after that kind of battle for maybe 22-hours where we were separated by five seconds with the Ferrari, it's just amazing to win Le Mans. It's something special, it's the biggest race in the world."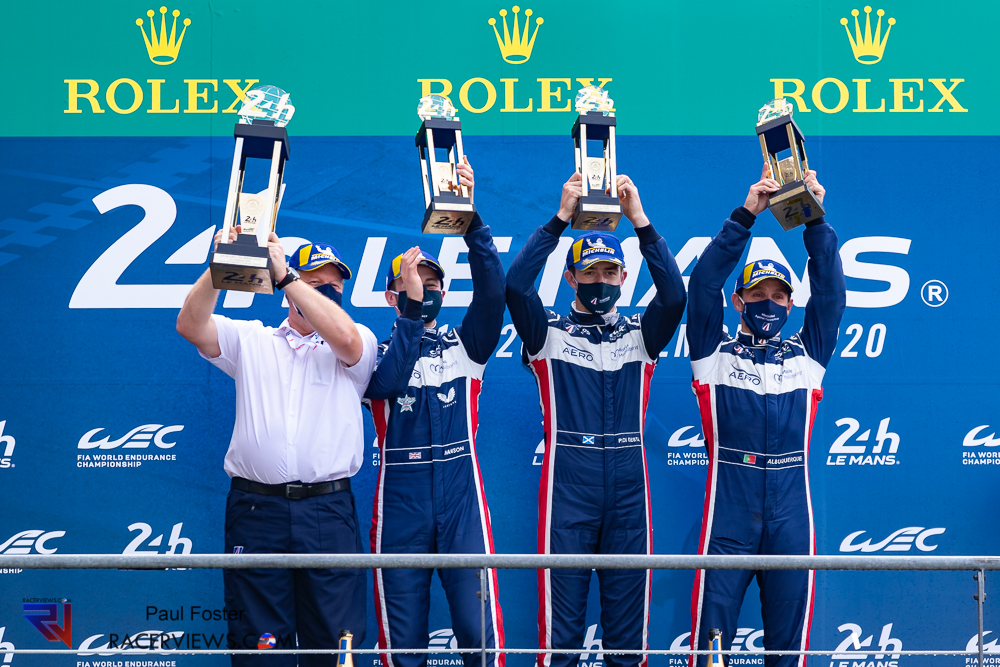 LMP2
Phil Hanson – no22 United Autosports Oreca 07-Gibson
"What a way to win at the end. I thought we had thrown it away because we didn't know if the JOTA was going to stop or not, so it was a hectic last ten minutes and that made the race for me. It's not as exciting when you are coasting home, it's better when you are pushing like mad to bring it home in P1. So, it was a really exciting way to end the race."
Filipe Albuquerque – no22 United Autosports Oreca 07-Gibson
"This was my seventh Le Mans, I've been here quite a while and while we have been going for the win, but something always happened. Today, in this race, many strong cars, who had the speed to take the win, fell by the wayside. Le Mans is about consistency, making no mistakes and pulling everything together.
"Even leading by one or two minutes something can happen, it is always a gamble with the safety cars. We were so happy for the last safety car when Phil was on Safety Car A and they were on the B. In the end for the last 10 minutes it still wasn't granted the win, even with 50 seconds ahead. We had to pit for the fuel and we didn't know if they had to come in. I really like the quote – 'It's not you that chooses Le Mans, it's Le Mans that chooses you'.
"I was wondering when it was going to be my day in Le Mans and I really wanted to win this one for sure."
Paul Di Resta – no22 United Autosports Oreca 07-Gibson
To win four WEC races in a row is exceptional, especially when one of them is Le Mans, and unique. I think we understood that if we came here and did a very good job we'd been in a good position to win this race but it is the icing on the cake to take the Hyperpole as well on this amazing track and take the lap record as well.
"It's not been the same experience without the fans, a very different atmosphere, but it's been a great race, all the way to the end. LMP2 has been the toughest class to win, on the edge of your seat all the way to the end and now we can enjoy it this evening with the team. They are the real warriors, they put in the effort, working all night, sleeping in the motorhome and they've been servicing the car. An incredible job by them and they don't get enough credit for what's due!"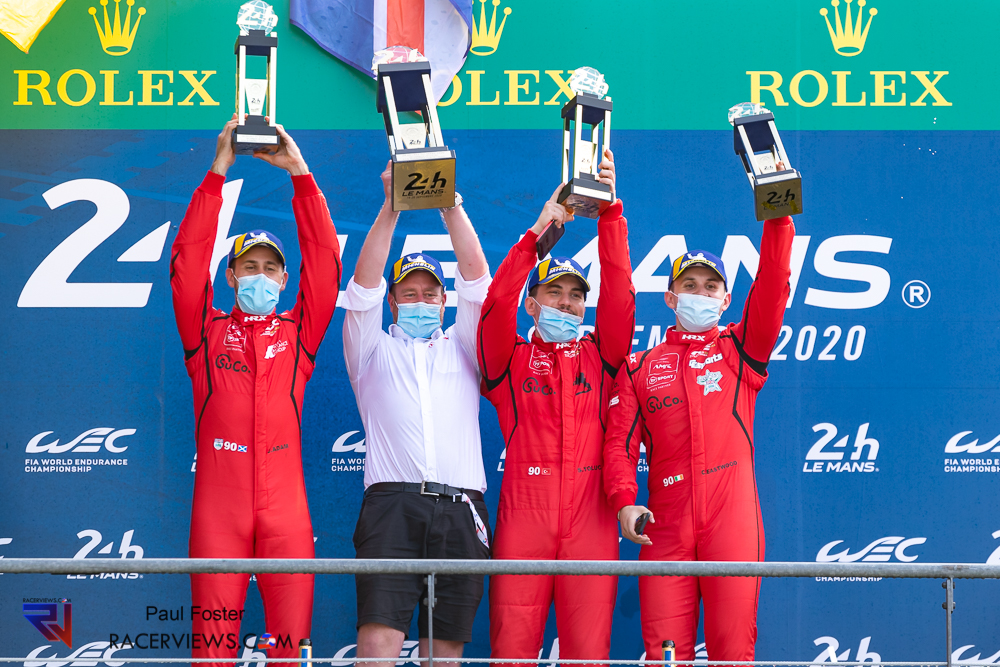 LMGTE AM
Salih Yoluc – no90 TF Sport Aston Martin Vantage
"We've had some pretty horrendous luck coming here over the past four years and this event we were determined to the luck upside down. A lot of hard work went into the preparation of pretty much everything. I am very happy to be here as part of the team and to be the first Turkish winner at Le Mans."
Charlie Eastwood – no90 TF Sport Aston Martin Vantage
"It's amazing to win Le Mans. This is my third time here and the last few years we've been slightly unlucky, and I think when you race at Le Mans you need the pace but also some luck and we had both. It was a great race, but the last two and a half hours was probably the longest of my life just waiting for the flag to drop.
"It is such a goal for nearly every driver in the world, especially a GT driver, to win at Le Mans. It's so, so special to stand up on that podium."
Johnny Adam – no90 TF Sport Aston Martin Vantage
"This was quite different to the win in 2017 but this is a great result as Salih said. The team have done such a great job before this weekend preparing the car, pitstop practice etc. Little elements like that have definitely come into play this weekend. We've had a bit of luck come our way, but we also need the pace, and we had the pace from the start. It's a great feeling to stand on that podium again but to stand there with these guys is extra special. This has set us up nicely in the WEC championship but to win Le Mans is a nice feeling."