After the soaking wet morning, it seemed to dry up this afternoon in the Flemish Ardennes. However, the sun appeared to be short-lived and the heavenly locks reopened. Craig Breen logically took the lead in the Aarova Rally with his all-powerful Hyundai i20 Coupé WRC. Behind him, Adrian Fernémont has advanced to second place, good for maximum points harvest in the Belgian rally championship.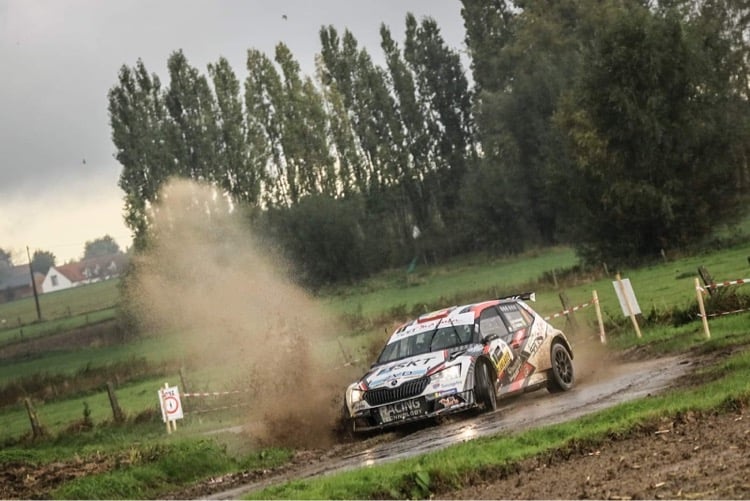 After the problems with the windshield wipers, the Hyundai i20 Coupé WRC ran flawlessly. Craig Breen immediately drove 44 "away from the competition, led by Adrian Fernémont. The Belgian title holder had opted for" full wet "rain tires, the ideal choice with heavy rain on two of the three stages." We are seriously pushing, but without taking too great a risk. So we have advanced to second place, good for the "virtual" victory for the BRC, "said Adrian Fernémont, who narrowly skipped Niels Reynvoet. The champion enters the final lap with a 1" 30 lead.
"We were on" medium wet "tires, so I may have been a little too careful," laughed Niels. "I'm not going to give it to Adrian, but I'm certainly not going to take any crazy risks to finish second. It would be a shame to ruin a strong game now."
After his slide this morning, Kris Princen has moved up to fourth place at 57 "4:" I had opted for "medium wet" tires and we approached Adrian Fernémont within a handful of seconds, but two heavy rain showers killed us done. It remains a very delicate match. "
Bernd Casier is currently very well in fifth place with his Ford Fiesta, ahead of Sébastien Bedoret at 1'29 "." We are in a regular race, but it is difficult to build confidence in these circumstances. If you are not fighting for the victory or the title, you automatically take less risks, "said Bedoret.
Cédric Cherain must be content with a provisional 7th place at 1'39 ". Although being satisfied is a big word, because the native of Liège came to win." We missed some time due to a small mistake. No, I am not satisfied. It is not pleasant to drive in these conditions. Because of the puddles on the track and aquaplaning you have to constantly ride eggs. "
Vincent Verschueren, 8th, has still not found his niche in the Volkswagen Polo GTI R5, of which two other copies (Evans and Broekaert) ended in the decor. "The car was already better on this lap, but the track is so unpredictable that it is very difficult to build confidence. It is very difficult to drive in these conditions …"
Fred Miclotte and Cédric De Cecco close the top 10. In Historic, Bjorn Syx continues to lead the way with his BMW M3. Dirk Deveux has moved to second place past Paul Lietaer. Among the youngsters, Charles Munster leads the stand for … RACB driver Tom Rensonnet. Andy Lefevere is the fastest at the Porsches. Gunther Monnens lost a minute due to a flat tire in Kruisem.