The 106 participants (75 in the Jobfixers BRC and 31 in the RACB Criterium) who started this morning in the 6th Aarova Rally will not soon forget this race. Rain gusts made the course in and around Oudenaarde particularly treacherous. This resulted in a surprising standings, because after 4 special stages, regional driver Niels Reynvoet is in the lead, ahead of Hyundai factory driver Craig Breen.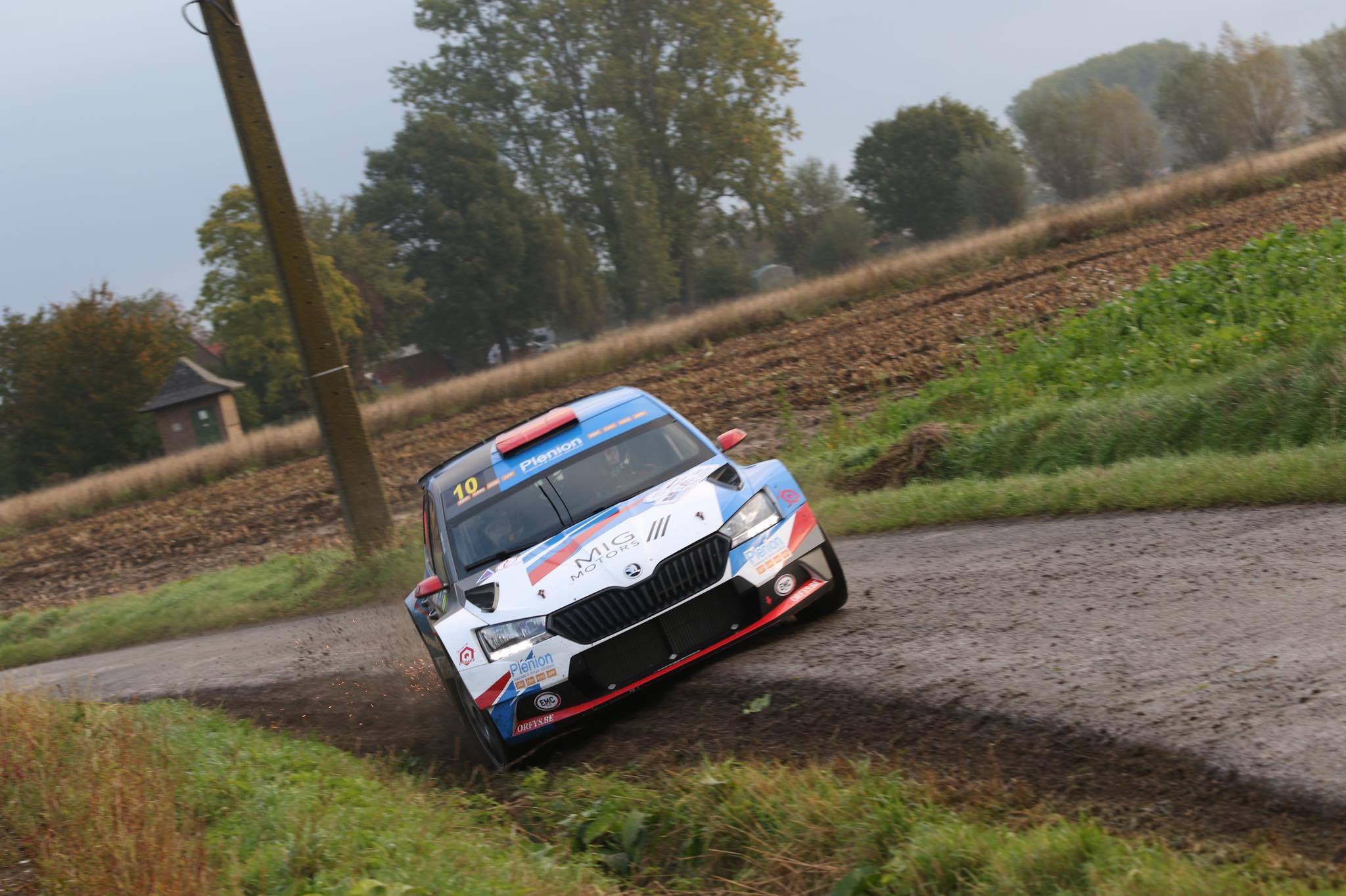 The previous five editions of the Aarova Rally were always held in dry weather and it remained dry during the reconnaissance for the race. Course knowledge turned out to be a very relative advantage this morning, because it was raining heavily in the Flemish Ardennes, with some early abandons as a result.
The first victim was Grégoire Munster, who was surprised just before the finish of the opening test. He slid off the track on the smooth cobblestones and his Hyundai i20 R5 ended in a field. The car could not be liberated without the help of rally fans, so "game over" for the shadow favorite. Tim Van Parijs was also surprised, with a broken swingarm on his Porsche as a result. One stage further, on the new special stage of Maarkedal, Pieter Tsjoen went over the head. The two-time winner was surprised in a quick left by water slipperyness, causing his Skoda to slide on an embankment and roll onto the side. And it wasn't over yet. Jean-Baptiste Broekaert, Meirion Evans and Patrick Snijers also left the track before the end of the opening lap, while Guillaume de Mevius also put his Citroën C3 R5 aside after a problem with the water pump on the first test.
Even top favorite "out of category" Craig Breen was not spared problems. "No, so far I have not been able to test much with the car," laughed Breen after the finish of De Bruwaan. "The rain makes the conditions very treacherous. I have to constantly fight against aquaplaning. In addition, a wrong tire choice on the first test and a problem with defective windshield wipers on the last two tests, so that we are now in second place out of ten seconds. "
Niels Reynvoet can hardly believe what is happening. He is in charge of his home rally. "I certainly didn't expect this, but I have to say that the track is incredibly difficult. I drove very cleanly on" Medium Wet "tires and apparently that was rewarded. I'm just going to stay calm now," laughed Niels Reynvoet.
Adrian Fernémont is in third place on 14 "5:" What an incredibly difficult test, the latter. On a stretch where we normally easily drive at 180 km / h, I did not dare to go above 120 km / h. And even then the car moved in all directions due to the smoothness of the water. Never experienced. We're just trying to survive, "said Fernémont.
Cédric Cherain, this time at the start with a Citroën C3 R5, is provisionally 4th, at 19 "41. Two seconds ahead of Bernd Casier, who is making a remarkable comeback." First of all, I want to thank my mechanics. They worked all night to get the Fiesta ready for take-off after I left the track during a test session. That is why I started a bit more cautiously. "
Kris Princen, provisionally sixth at 22 "1, already went round on the opening stage with his C3 R5:" I was surprised on the slowest situation of the course because it was smoother than expected. And in the rain it was just very difficult to drive. I didn't dare, didn't make any progress, but it turned out to be good enough to be 6th for now, "laughed Kris Princen.
Davy Vanneste, 7th, lost 4 places due to a small sortie on De Bruwaan, but he still has a 10-second lead over Sébastien Bedoret, who started cautiously after early abandons in Haspengouw and on the Monteberg. That other local favorite, Vincent Verschueren, follows in 10th place at 1'11 "with his Volkswagen Polo R5 GTi, after he also made a mistake in Maarkedal in the same place as Pieter Tsjoen.
In the Juniors, Gilles Pyck started best with his new Peugeot 208 Rally4. After stage 4 he was 5 "ahead of Charles Munster. Bjorn Syx is authoritarian leader in Historic and Andy Lefevere is the fastest Porsche driver. Patrick Snijers (off the track) and Tim Van Parijs (broken swingarm) already gave up.