Team MRF Tyres took two stage wins and the honour of knowing that development tyres are up to the task in the European Rally Championship despite a tough end to Rally Hungary.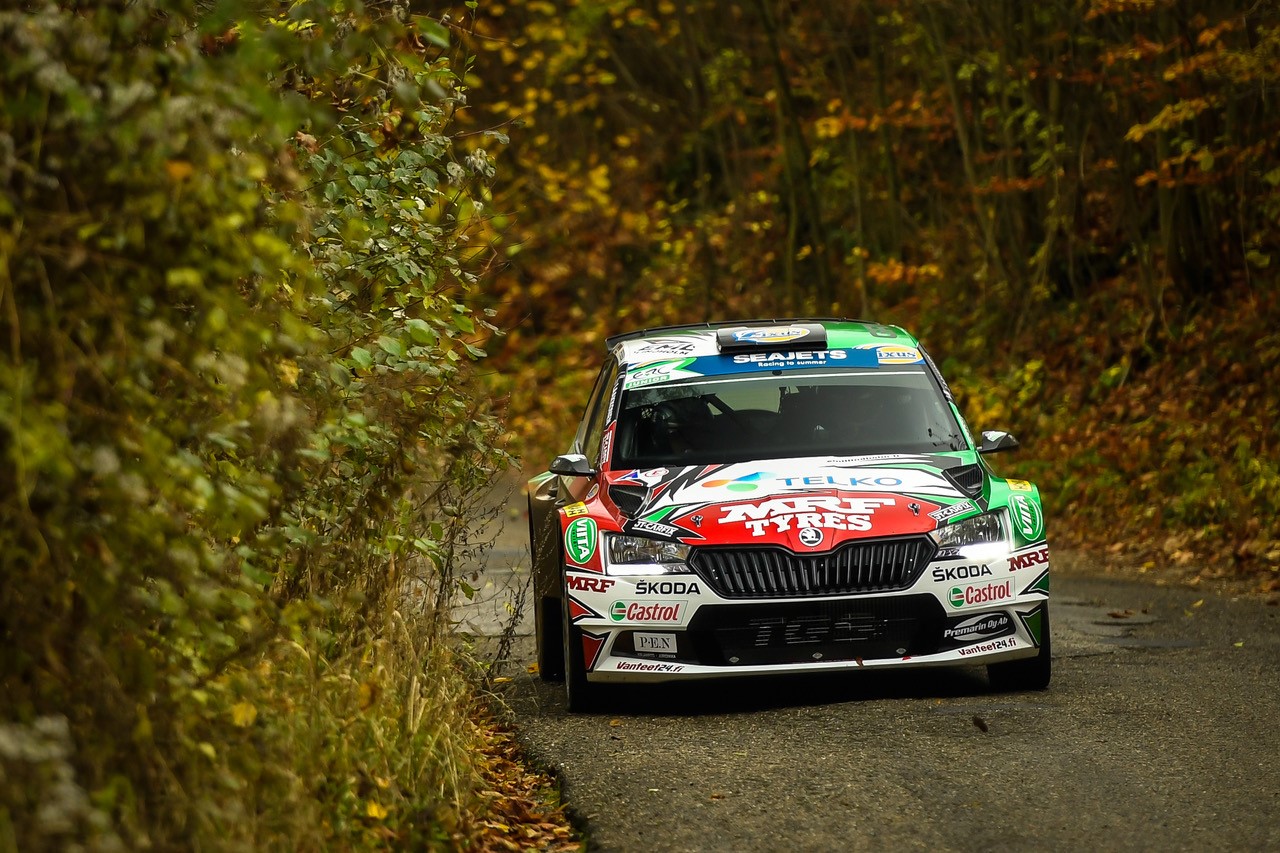 Craig Breen and Paul Nagle were running in a comfortable second place in the Hyundai i20 R5, more than a minute up on the third placed car when the oil pressure suddenly dropped resulting in an irreparable engine issue on SS12.
It means that the end result for Rally Hungary does not tell the full story of the Team MRF Tyres' rally.
The Hungarian roads saw a lot of gravel and mud. The road edges were there for the unwary. Many runners experienced issues but not MRF Tyres.
Throughout the entire rally, the MRF Tyres delivered the grip and predictability needed when the surface changes from tarmac to gravel to mud and back to tarmac.
They also showed the pace. In what is Team MRF Tyres' third tarmac rally in the highest levels of European competition, to be able to fight at the front while achieving 100 percent tyre reliability is testament to the team at MRF Tyres.
With Breen and Nagle forced to retire, the task of tyre development was left to Emil Lindholm and Mikael Korhonen in the Skoda Fabia Rally2 Evo.
Coming back under Rally 2 conditions, they were out of the running for an overall result. They continued on, however, gaining valuable data for the continued development of MRF Tyres tarmac rally products.
They were no longer concentrating on overall stage times, despite this, they were able to take top 10 times.
Attention now turns to the fifth round of the European Rally Championship – the Rally Islas Canarias on the Spanish islands in the Atlantic.
This round was rescheduled due to the Covid pandemic and will feature 17 stages of tarmac roads. In total, the crews will compete in 201km against the clock.
Craig Breen and Paul Nagle will be back in the Hyundai i20 R5 in the Rally Islas Canarias due to take place on 26-28 November.
Quotes
Craig Breen (Driver, Hyundai i20 R5)
"Unfortunately, a few kms from the end of the third stage of the loop something happened to the engine. I don't know exactly what caused this. We need to get the car back to the workshop and see exactly. But ultimately, we had an engine failure on. There's no point to point fingers and blame anyone.
"Today was very simple just to bring it home. That was the task. We took it very easy over the stages. It's really disappointing, considering all the work that everybody has done in the meantime, but it is life."
"The progress of MRF Tyres has definitely been impressive. We've been we've been trying very, very hard and all the tests in the meantime to make tyre more and more competitive and we're definitely making big improvements and we are going to try and make it even better in the future."
Emil Lindholm (Driver, Skoda Fabia Rally2 Evo)
"There was important job to do today. Obviously, we are very disappointed for Craig and Paul and the whole team at Team MRF Tyres. It is a credit to the team at MRF Tyres to be able to produce a tyre that was so competitive here at Rally Hungary."
"The tyres worked perfectly all weekend and Mikael and I spent today trying to get more data for the future development of the tyre."