Team MRF Tyres is fighting at the front of the FIA European Rally Championship with a successful day at Rally Hungary today.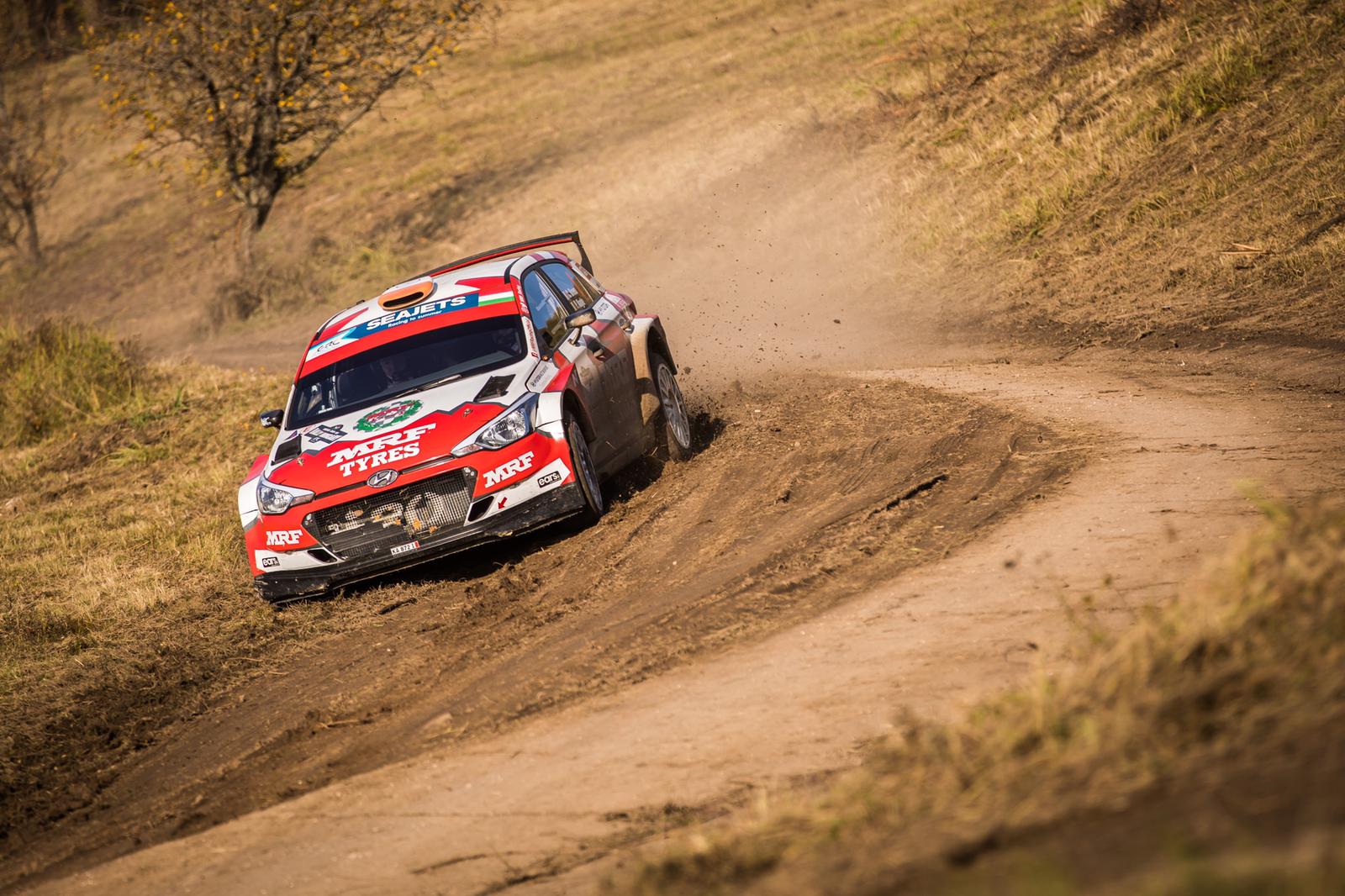 But it was not all plain sailing for the team with a long day that saw eight stages and more than 120km of stages. It started in bright sunshine and ended in pitch dark.
On the high side, Craig Breen and Paul Nagle, leading the charge in the Team MRF Tyres Hyundai i20 R5 were up for the challenge.
The duo displayed their pace in the opening stages, but tricky conditions meant resulted in a small spin and an overshoot costing the team around 20 seconds. Despite this, Breen and Nagle were fighting for a podium coming into morning service.
Then after service, they turned up the pace and took the stage win on the 14.45km Ujhuta – Bózsva test. The time of 8:34.8 was 0.7 seconds better than anyone else, to take the first stage win on Rally Hungary.
They confirmed their pace with a second stage win on SS8 – the 10.85km Fóny – Óhuta stage as the rally descended into darkness.
For the final stage of the day, the pair were able to consolidate their pace to sit in second position behind Andreas Mikkelsen and Ola Fløene.
They are 23.6 seconds off the lead and have a 57.7 second lead over Grégoire Munster and Louis Louka who sit in third.
Emil Lindholm and Mikael Korhonen also showed great pace in their Skoda Fabia Rally2 Evo.
They showed consistent pace for much of the day. During the opening loop, the Finnish duo were setting top 10 stage times.
The second loop, going into the night, they improved their pace moving as high as fourth.
On the low side, however, disappointment came on the final stage of the day with going off the road and not completing the stage. The team will look to restart on Sunday under Rally2 rules.
The pace shows the progress that MRF Tyres has made throughout the 2020 FIA ERC season. The concentration of data and development is paying off in our first season in top level European competition.
Our commitment to development continues in Rally Hungary and data collection and development of the next generation of MRF Tyres product remains our key priority.
The Sunday stages features seven stages but fewer stage kilometres – with 69.87km greeting the drivers.
The day gets underway with the 11.2km Erdőbénye – Aranyospuszta stage at 8:33am or 1:03pm if you are in India.
All stages will have live radio from the FIA ERC and SS10 and SS16 will be live streamed on Facebook. Team MRF Tyres will continually bring you updates on our Facebook, Twitter and Instagram pages.
Quotes
Craig Breen (Driver – Hyundai i20 R5) 2nd
"It has been a challenging day but I have enjoyed it. The conditions have been tricky with the mud and the bumps. It is amazing that we have been able to get the scratch stage times so soon into this program. Everyone at MRF Tyres deserves the congratulations and my thanks to them."
"We went like the clappers today. The key in the afternoon was to make no mistakes. There were some really tricky sections with 180km/h on mud! It is really good to get the stage wins and compete for a podium position for Team MRF Tyres."
"It will be really important to make to the end tomorrow and secure the podium. It would be fantastic to get the data for MRF and to achieve such a result would be a credit to MRF Tyres."