The world doesn't seem to stop for Grégoire Munster. After achieving so much success in Rally 4 cars, where he took the Belgian Junior Championship in 2018 and 2019, he has jumped in at the deep end for his step up into a Rally 2 car.
Running in a Hyundai i20 R5 for the family run, but ultra-professional, BMA outfit, Munster has had his fair share of rallies in both the Belgian and European Rally Championships.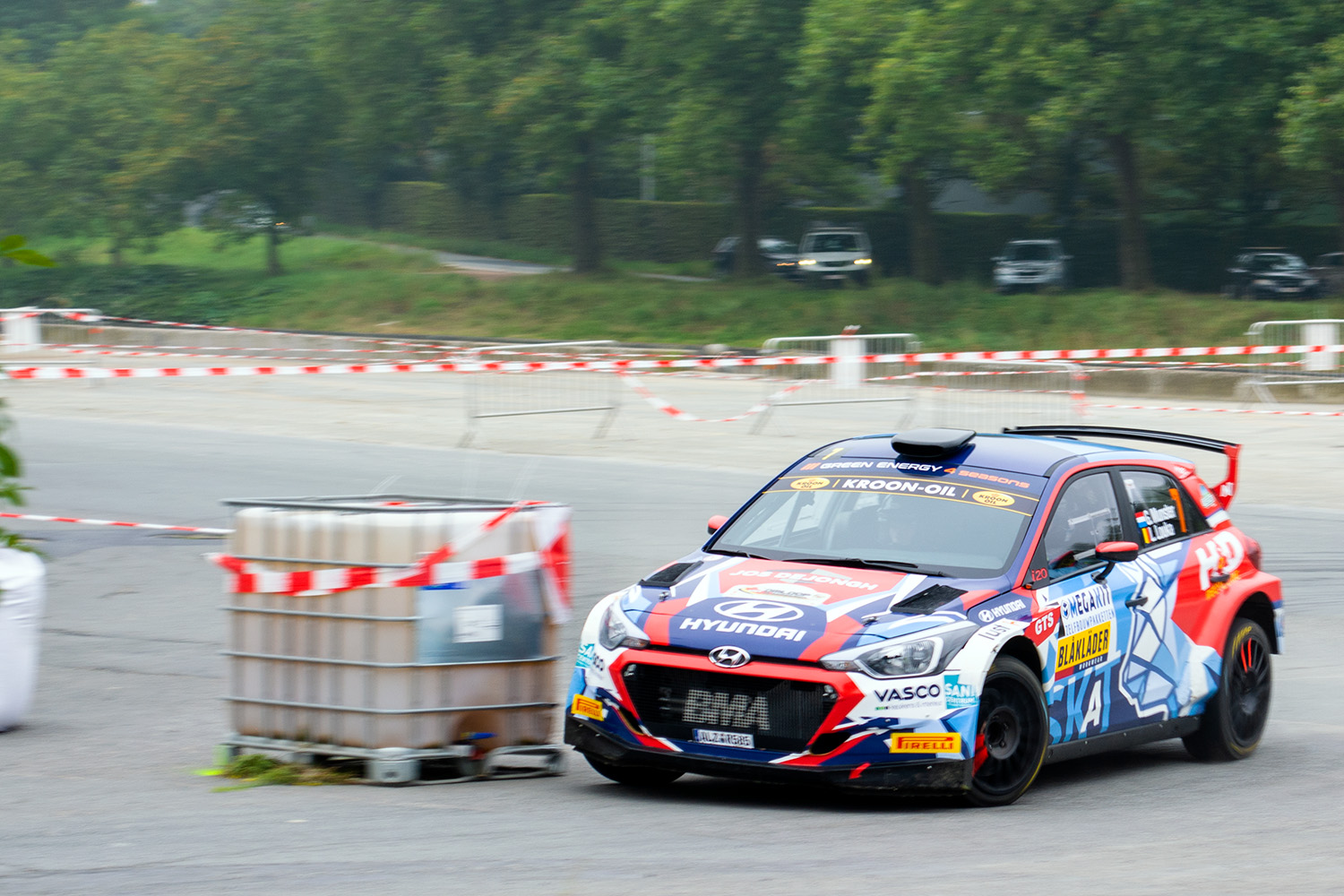 With Louis Louka alongside, Munster has been working away, improving his craft. In the Omloop van Vlaanderen, he is proving himself sitting inside the top 5.
"Yeah, its ok, we are all fighting and the stages are tricky," Munster said to RacerViews.
He would fight with the defending Belgian Champion, Adrian Fernémont and multiple champion, Kris Princen.
Munster took a fighting fourth in the end, just 1.5 seconds off a podium. He took equal second on the Powerstage, 0.8 second behind Fernémont in what was an exciting fight.
It shows his progress locally, where he can take the fight to the Belgian favourites.
As a Luxembourger, one might consider he would be at an advantage in the Belgian Championship. But as Munster states, his time in a Rally 4 car with front wheel drive, it is difficult to translate to 4WD.
"So you know, actually, I think I even have more experience in the Barum Rally or in Rome than here. But I think the FIA ERC a good way to learn driving on gravel. And that you can find abroad."
The stage knowledge is one thing but car and stage knowledge is important.
"Yeah, I mean, it's just the experience. The knowledge about the stages and things like that from abroad, this is the most difficult part.
"So from that point of view, I will say driving in Belgium is then easier. But for me, I never did this rally in an R5.
"So you know, actually, I think I even have more experience in the Barum Rally or in Rome than here. But I think the FIA ERC a good way to learn driving on gravel. And that you can find abroad."
The pace on gravel is a key point. Growing up in the Benelux prepares a driver to excel on tarmac. He has taken his pace from Belgium into the European Championship.
On the 2020 tarmac rounds of Hungary and Fafe, he took the win in ERC Junior and finished on the podium outright. Whereas the pace on gravel is still being built.
The 2021 season has not been so kind to Munster but there is usually something happening that is outside his control.
"Yeah. I mean, the previous season in the ERC was a was better.
"We struggled a bit with puncture in almost every rally of the European Championship. So it was a bit hard for us. But I mean, coming back to Belgium and trying to step up with the best in the category is also a good way to learn."
Now half way through his second season in a Rally2 car, his progress looks positive. Together with new names like Ghislain de Mevius, Adrian Fernémont and PJM Cracco, the we can expect fights at the front in the Kroon Oil Belgian Rally Championship.
And as for the world?
Only time will tell.
The RacerViews info
By Sam Tickell
We are passionate, dedicated motorsport professionals.
In 2021 you will see us trackside and stage side with exclusive coverage of
The World Endurance Championship
The World Rally Championship
Belgian Rally Championship
and more!
We aim to bring you interviews and photos you won't see anywhere else. We don't aim to break the news, rather we aim to bring the voices of the racers to you and atmosphere of the event to you at home. Our social media presence on Facebook, Twitter and YouTube bring you more, a holistic experience. We partner with racers and professionals in the industry and give back where we can. If we can help you or you have a story to share, please contact us.
RacerViews has partnered with Championships, drivers and teams in the past. If you think we can help, have a tip or just want to say hi, please reach out.