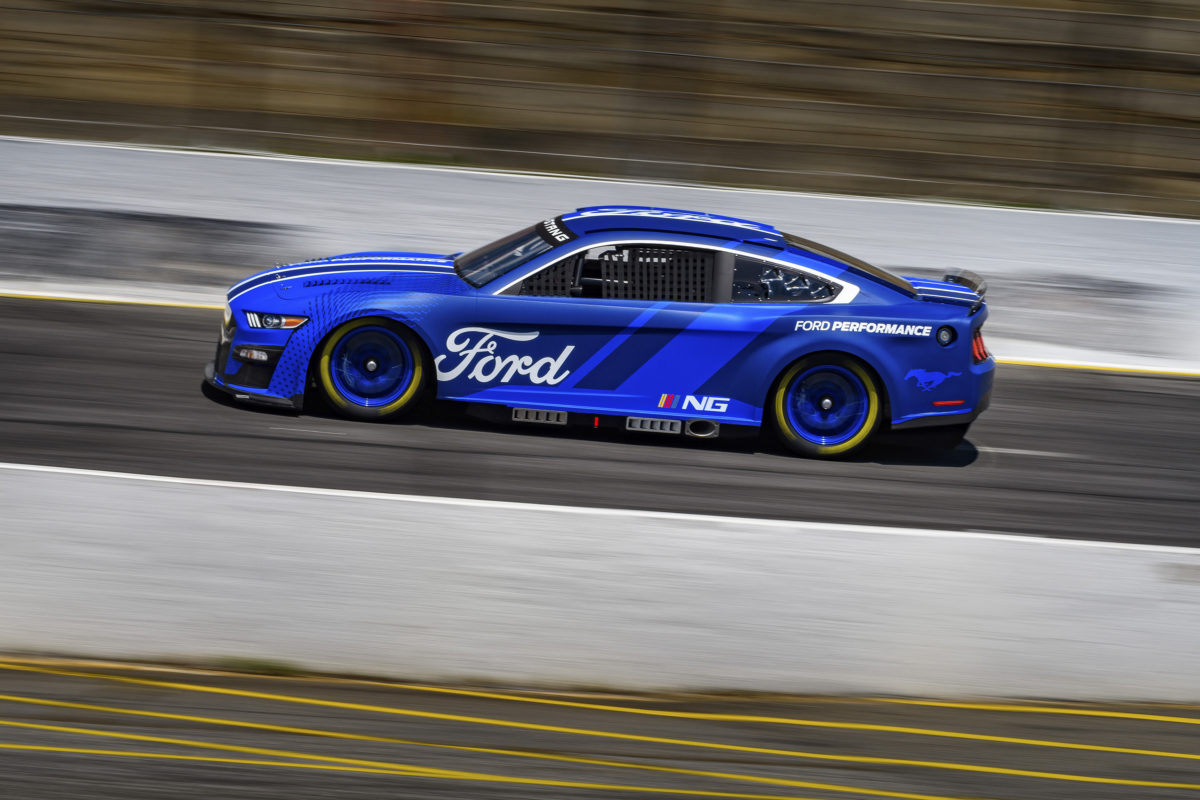 Leading up to tomorrows 64th running of the Great American Race; Ford's take on the all new Next-Gen platform is in strong form heading out of the final practice of the weekend.
Rookie driver and son of NASCAR Legend Jeff Burton, Harrison Burton, paced the field with an average speed of 188.355 mph during a multi-car draft with fellow Ford drivers. Burton's No. 21 Wood Brothers Ford suffered damage during the Thursday night qualifying race after impact with the No. 22 of Joey Logano. Said Burton, "It feels ready…it's just a testament to these Wood Brothers guys. We hit (Joey Logano) pretty hard and pretty much had to redo the whole front end of the race car"
In a session that saw only 19 of Sunday's 40 competitors take the track, eight of the top-ten positions were claimed by Ford drivers. This bodes well for the blue-oval crew, however, the final pace of the Toyota and Chevrolet teams is still an unknown, as many elected not to participate due to the change in track conditions from Saturday's early morning showers.
Ford rolled into Daytona as the favorite manufacturer during the 2022 Speedweeks. Fresh off a win at the pre-season Busch Clash in Los Angeles with Joey Logano, the Blue-oval continued their dominance on the beaches of Daytona with wins in Thursday's Duel Qualifying Races and a clean sweep of the top-3 positions in all four practice sessions.
Fords only weakness in the previous week came during Wednesday-night's Single-car Qualifying session; where for the seventh time in eight years, Chevrolet and Hendrick Motorsports took pole position. 2022 marks Chevrolet's 10th consecutive Pole Position at the Daytona 500.
As the Crown Jewel of NASCAR, the Daytona 500 remains one of the most intense races of the NASCAR schedule – it's the one you want to win over all other races. Expect to see drivers remaining aggressive for the entire race as the chance for rain, while low, is still a possibility. The 2021 edition of the race was delayed for 5 hours and 40 minutes due to rain an finished after midnight. Ford's dominance, a gamble on the new Next-Gen chassis, and one of the most diverse fields in recent years should lead to the most chaotic finishes in years.
Catch the action on streaming sites in your area as defending NASCAR Cup Series Champion, Kyle Larson, and his stablemate, Alex Bowman, lead the field to the green flag on Sunday, February 20th at 2:30pm ET.
Link: What to Watch: 2022 Daytona 500