After his convincing victory in the Rally of Haspengouw, Stéphane Lefebvre also dominated the second round of the Kroon-Oil Belgian Rally Championship, the South Belgian Rally.
With 9 fastest times on 12 special stages, the Nordist was clearly the fastest on the ultra-fast course around Vresse-sur-Semois.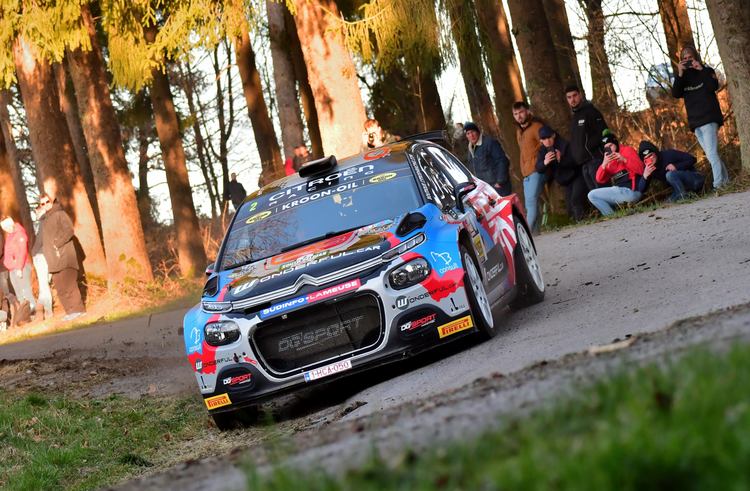 Grégoire Munster came in second with his Hyundai, ahead of Gino Bux, who confirmed his strong performance at the Rally of Haspengouw.
"No, we haven't had a single hot moment. I have enough experience with the Citroën C3 Rally2 to know what the car is like." I can go on these kinds of fast stages. It went really fast on these stages, of course, but only on the Bellefontaine stage did I lack stage knowledge.
The other stages were new to everyone. In the end, I controlled the rally from the second stage. We are perfectly on track with this second win in a row, because the goal is to win the title," said a flu-ridden Stéphane Lefebvre, who took his second win in a row with DG Sport's Citroën C3 Rally2.
Grégoire Munster, who had in incident early in the rally last year in Vresse-sur-Semois, was able to compensate for his lack of course knowledge from the second round with his talent.
The Hyundai driver will not be driving a full campaign in the Belgian championship, so he did not have to calculate. Munster went full on attack and stranded at 11'5 from the winner.
"This was a great test for the Croatia Rally, our next World Championship appointment," Munster said. "Finishing here as the first Belgian is good, especially because I was able to set a fastest time in the final stage."
Gino Bux, who had technical problems in his Peugeot 208 last year after just 3 km, kept Ghislain de Mevius from a podium place.
"This again exceeds my expectations, because on these super fast stages you have to have complete confidence in the car and in the notes. This was only my second race with the Skoda, so I was a little hesitant a few times in the fast sections because I can't quite estimate the limit of the car yet. It's great that we finish as first Skoda team."
Ghislain de Mevius, last year's winner, ended up in 4th place at 4″5 from the podium.
"Well, I can't be completely dissatisfied, but I was a fraction short of speed. I could never make the difference, but we were faster than Adrian Fernémont, so it wasn't that bad…"
Two-time champion Adrian Fernémont, even though several days of flu was not satisfied with fifth place.
"I mainly miss test kilometres. We had not planned a test in advance and then at the beginning I would fall short of rhythm to compete at the front from the start. No, I did not start for fifth place, but I realize that Stéphane Lefebvre will be hard to beat as a factory driver this season…"
Maxime Potty was very pleased with his 6th place. He was particularly pleased that the 22-year-old Citroën driver was able to beat his DG Sport teammate Cédric De Cecco.
De Cecco came in 7th, ahead of Skoda drivers Bastien Rouard, who made a time-consuming shift in the fourth test, Romain Delhez, convincing winner in RGT with his Porsche, and Tobias Brüls.
In the Stellantis Rally Cup, the victory went to Germany's Marijan Griebel, brilliant 11th overall, while Tom Rensonnet was fastest in the Junior BRC with the Renault Clio Rally4. The German Kessel was the best in the M Cup and in  Historic Christophe Kerkhove was the best with his beautiful Porsche 911.