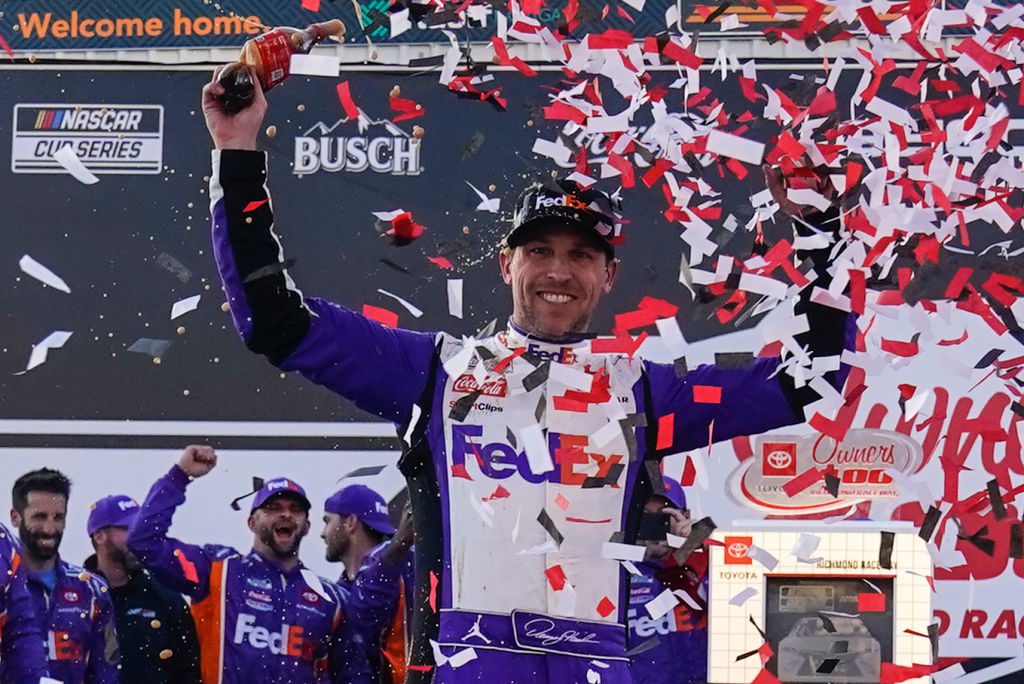 If Sunday's race was any indication, the old guys still have it as Denny Hamlin became this seasons seventh different winner in as many races and became the first driver over the age of 30 to capture the checkered flag, snapping a 12-race win streak for the youngsters.
With five laps remaining, Virginia-native Hamlin overtook Atlanta winner William Byron after a gutsy call by crew chief Chris Gabehart 40 laps earlier, pitting Hamlin for 4 fresh tires that proved their worth as the race closed up in the final 10 laps. The theme of the afternoon was tire strategy as many teams gambled on old tires and long runs to remain competitive, however it was the veterans who know how to play the game who triumphed over youngsters Byron and pole-sitter Ryan Blaney.
Team Owner Joe Gibbs was able to celebrate their 18th win in team history at the very track where Hamlin grew up watching his hero's race and was the 3rd consecutive race in which all JGR cars finished in the top 10. Although Hamlin's win was his 3rd at Richmond and the 12,011 completed laps there leaves little to be questioned in way of experience, he still stopped shot in the post-race interview of stating that veterans have the advantages here:
'It's tough to really draw a parallel to that…When you have so many laps at a track like this that is so technical, even though it doesn't look technical it is, usually with track knowledge, it does matter at this track.'
Celebrating is fun. A lot of fun. 😜@dennyhamlin | @JoeGibbsRacing pic.twitter.com/Pd1SuJWYFN

— NASCAR (@NASCAR) April 4, 2022
As for the youngsters, Byron and Blaney combined to lead over half of the laps for the day and would go on to finish 3rd and 7th respectfully while second place went to another old-timer of the series, Stewart-Haas's Kevin Harvick in his best finish of 2022. Harvick finished 0.552 seconds behind Hamlin and is still looking for his first win since the Bristol fall race in 2020. Hamlin's teammate Martin Truex Jr. brought his number 19 Toyota home 4th. Hamlin, Harvick, and Truex – all over the age of 40 – have a combined 10 victories and 41,600 laps at Richmond Raceway and if the results were any indication, experience pays off.
Rounding out the top 10 was Byron's teammate Kyle Larson in 5th, maintaining his consistency running up front, JGR's Christopher Bell, Blaney, and COTA runner-up Alex Bowman. Kyle Busch recovered from a late race penalty for having tape on his grille, a violation of the new rules set forth by NASCAR, to finish 9th, and in 10th was RCR's Austin Dillon. In total, Toyota and Chevrolet dominated the top 10 taking 8 of 10 places, leaving only the Ford's of Harvick and Blaney in the final two spots.
Heading to the paperclip
Next week sees NASCAR heading to the ever-popular Martinsville Speedway for the Blue-Emu Maximum Pain Relief 400 night race. This 1/2 mile short track is a fan and driver favorite for it's long straights and low speed corners that punishes breaks and gearboxes.
Last year, tempers flared as Denny Hamline and Alex Bowman got into each other at the end of the fall race, leading to some choice words being thrown about. This years action should be even more spectacular as the spring race will be held at night for the first time ever.
Defending spring winner Martin Truex Jr. will be looking to finally add his name to win column as one of his strongest tracks, having won 3 of the last 5 events there. Catch the action on Saturday, April 9th at 7:30pm ET (USA).