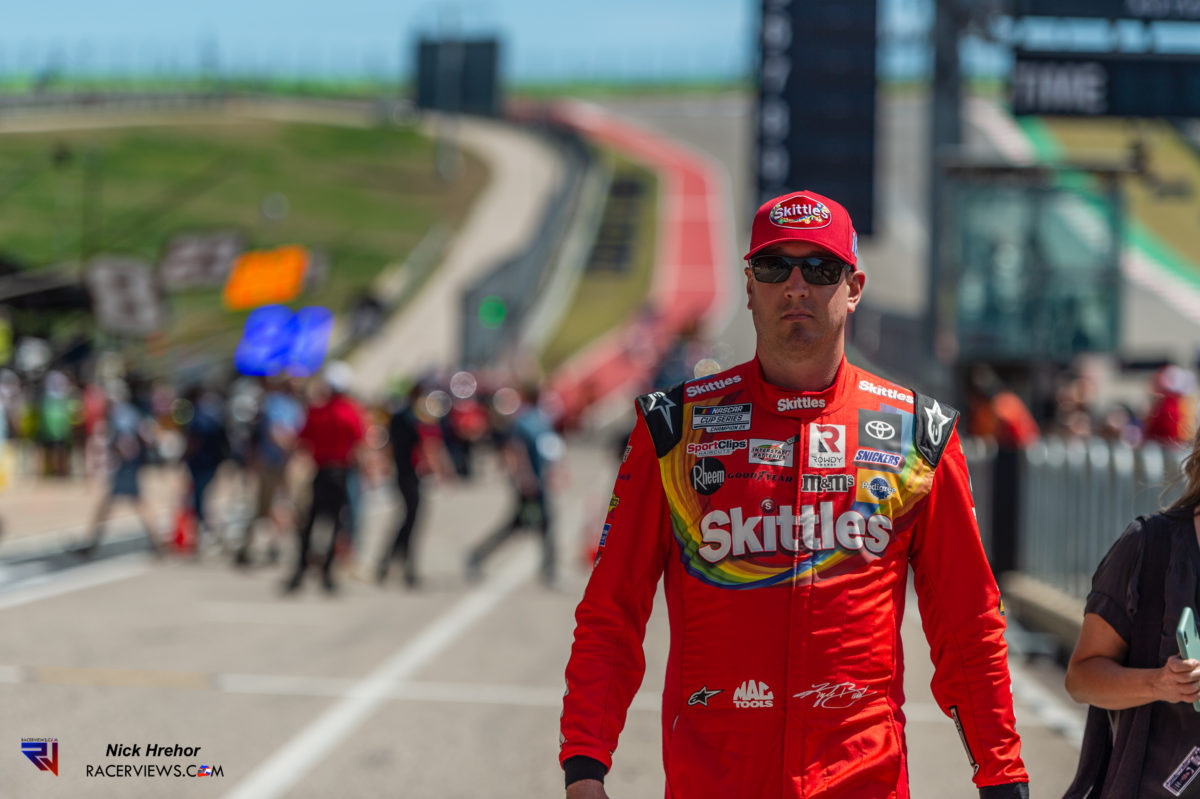 Kyle Busch led the only lap that mattered Sunday night to take his first victory of 2022, locking him into the playoffs and checking off a major milestone in his Cup Series career – win number 60. The number 18 was fast all night, always in contention, but seemingly just out of reach of the top spot until a last lap tangle between then-leader Tyler Reddick and 2nd place Chase Briscoe allowed Busch to sneak by the duo to win by a scant 0.330 seconds over Reddick – denying the young RCR driver his first big-league victory.
Only two drivers have won at least one Cup Series race for 18 straight seasons. Kyle and the King. pic.twitter.com/nAct13KRtX

— FOX: NASCAR (@NASCARONFOX) April 18, 2022
Busch's milestone 60th win places him ninth-most all-time in the Cup series and most among active drivers. Additionally, his first win of the season matches Richard Petty's 18 year record of at least one win in a season and makes him an 8 time winner at Bristol on any surface. Earlier in 2022, Busch was critical of last-lap passes to win in a very public display against the victory of Alex Bowman in Las Vegas, however Busch admitted post race that wins are hard to come by. Under a chorus of boos, Busch has this to say:
'Yeah, we got one. Doesn't matter how you get 'em. It's all about getting 'em. Can't say enough. I mean, man, I feel like Dale Earnhardt Sr. right now. This is awesome. I didn't do anything.'
Bittersweet ending
Meanwhile on pit lane, Chase Briscoe caught up to Tyler Reddick and apologized for the last lap spin, taking blame for the incident. Reddick handled the situation like a veteran, maintaining his composure under the scrutiny of his team and the cameras. Said Briscoe in an interview after the chat with Reddick:
'I was running Tyler down and tried throwing a slider and didn't expect him to drive in there on me, and I got loose. I was spinning either way. I feel terrible. I didn't want to wreck him. That was my fault 100 percent. I hate it for Tyler. He's a good friend of mine.'
Reddick in a separate and equally emotional interview made note that as the leader he should have done more to keep Briscoe at bay:
'I don't think I did everything right, to be honest with you. Briscoe was able to run me back down there. Just looking at it, I should have done a little bit better job of just … I don't know. I shouldn't have let him get that close. He ran me back down. Worked really hard to do that.'
Briscoe was credited with a 22nd place finish after he was unable to spin his car back to the checkered flag in time. Joey Logano, the inaugural Bristol Dirt Race winner in 2021 finished 4.004 seconds behind Busch for 3rd place, with Kyle Larson, Ryan Blaney, Alex Bowman, Christopher Bell, Chase Elliott, Michael McDowell and Ty Dillon rounding out the top 10.
On to 'Dega
NASCAR makes its 2nd Superspeedway stop in Talladega, Alabama next week for the Geico 500 on April 24th. The 2.66 mile circuit is infamous for its field destroying wrecks due to the nature of restrictor plate racing, causing tight groups of cars to become mobile junk yards in an instant.
In the last visit to the track, Alabama-native Bubba Wallace became not only a first time winner, but the first African American NASCAR driver to win at the top level since Wendell Scott in 1963. Wallace, a strong plate-track racer, is looking to notch his first win of the year for the Michael Jordan co-owned 23XI team that has struggled for most of the season since his 2nd place finish at the opening Daytona 500.
The green flag drops Sunday, April 24th at 3:00pm ET on FOX, with NBC regular, and 6-time Talladega winner Dale Earnhardt Jr. joining the booth for the event as FOX rotates their commentary team after Jeff Gordon stepped down to take on a new role within Hendrick Motorsports.