Joey Logano finally took his first win of 2022, but not without a move some considered to be controversial, ending a 40-race winless drought that dated back to March 2021 at the inaugural Bristol Dirt Race and giving Roger Penske his 2nd win for 2022 in the Cup Series. Starting on pole, Logano lost out on an early lead at the beginning of the race, falling behind the "Kyle's" – Larson and Busch, but stayed in contention as one-by-one, the top competitors began to fade and drop out.
Still can't believe how that race ended. 😳@TooToughToTame | #NASCAR pic.twitter.com/9MJaFb4p8m

— NASCAR (@NASCAR) May 9, 2022
Coming into the final laps, the 24 of William Byron – in a Jeff Gordon inspired throwback paintjob in homage to Gordon's improbably 2007 Darlington win – was dominate as Logano chased him down. Then, on a restart on lap 268, Byron seemed to push Logano up into the wall as they came off turn two and took the lead from the 22 car. Byron all but had the race won and on the fin al lap, Logano drove into turn three and smacked the rear of the 24, sending him up the hill into the wall and relegating him to a 13th place finish as Logano went on to claim the win over 2nd place Tyler Reddick and 3rd place Justin Haley.
Much to the displeasure of the crowd, Logano emerged from his victory burnouts to a cascade of boos, leading some to question the nature of his win.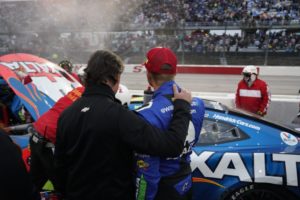 Bryon, on pitlane, had this to say:
'We were really close off of (Turn) 2, and I think it spooked him and got him tight, and he was right against the wall, and I got the lead. He's just an idiot. He does this stuff all the time. I've seen it with other guys. He drove in there 10 mph too fast, and with these Next-Gen cars, he slammed me so hard it knocked the whole right side off the car, and no way to make the corner. Yeah, he's just a moron. He can't win a race, so he does it that way.'
As the boos rained down on Logano, Byron appeared to egg them on with arms open as if to say 'let him have it'. Crew chief Rudy Fugle was less vocal in his post race interview, repeating his familiar "let it live" motto during the ending stages of the race.
At the end, it was Logano who made his own justification for the last lap move:
'I did what I had to do. Had to win the race. It was very important to win and get into the playoffs, obviously, and what everything means to winning here. Like I said, all those things go into the equation of making the decision.'
Elsewhere on track, Kevin Harvick set a new track record by extending his top-10 streak to 13 consecutive finishes at the "Lady in Black" with his 4th place on Sunday. Dover winner Chase Elliott, in a backup car after a wreck during practice on Saturday, brought his Napa-throwback machine home in 5th ahead of the highest finishing Toyota of Christopher Bell. Michael McDowell finished a respectable 7th and three Chevy's rounded out the top 10 with Stenhouse Jr., Austin Dillion, and Daniel Suarez in that order.
Onward west, to Kansas!
Earlier in the week, Ross Chastain and sponsor AdventHealth kicked off the festivities leading up to the AdventHealth 400 at Kansas Speedway. The 1.5mile track has been home to a number of interesting races since it's construction in 2001. Last year Kyle Busch took the win over Kevin Harvick in the fan-vote "Buschy McBusch Race 400", inspiring meme's galore for the irony of the beer-sponsored race being won by a Busch.
Green flag drops on Sunday, May 15th at 3pm ET on Fox (US).