The lights went out in Miami Sunday afternoon to the raucous cheer of A-list celebrities, Floridians hungry for some racing, and a world of onlookers wondering just how would Formula 1 fair in a the car-park turned street-circuit that is the Miami International Autodrome.
Fifty-seven laps later, it was the Dutchman Max Verstappen who emerged as the inaugural winner of the Miami Grand Prix, overtaking pole-sitter Charles LeClerc on lap 9 to cross the line 3.786 seconds ahead of the current driver's championship leader. Verstappen made the most of his race, overtaking Carlos Sainz at the first corner after the Ferrari driver had a rough launch at lights out, spring-boarding the Red Bull out of the way of any rivals who might slow their pace. With the Ferrari's fast in the corners, and Red Bull fast on the long and dominating straights, it was sure to be a battle of strengths.
Yellow Flags
After passing LeClerc, Verstappen held a comfortable lead and controlled the race up until lap 41, when what started as a Virtual Safety Car turned into a full course yellow, causing the Mercedes Safety Car driven by Bert Mylander to take control of the field. Pierre Gasly in his AlfaTauri ran wide at the Marina corner and collected Lando Norris with the McLaren driver coming our worse as the outer face of his right-rear wheel was sheared off by the left rear wheel of Gasly's car, sending the Briton into a spin and out of the race.
A dramatic end to Norris's race after contact with Gasly 😮#MiamiGP #F1 pic.twitter.com/IM4tJoWjO1

— Formula 1 (@F1) May 8, 2022
Sergio Perez and others took the opportunity to pit under safety car for fresh tires with the Red Bull driver emerging behind Carlos Sainz, setting up a shootout for the remainder of the race with the Spaniard winning out for the final podium spot. Verstappen came under pressure in the closing laps as he was unable to break free of LeClerc, but the straight-line speed of the Red Bull was no match for the Ferrari and ultimately LeClerc was forced to settle for second place, cutting his lead in the championship down to just 19 points over the Dutchman.
Further down in the field with 3 laps remaining, in what would have been his first points finish ever, Mick Schumacher over drove his HAAS machine into the side of mentor and friend, Sebastian Vettel, ending both drivers chances for valuable points in the constructors championship.
LAP 54/57

Contact between Schumacher and Vettel 💥

Schumacher's pursuit of his first points in F1 slips away#MiamiGP #F1 pic.twitter.com/kwdS0EXEx8

— Formula 1 (@F1) May 8, 2022
After the race, when questioned, Vettel had this to say about the incident:
'I didn't expect it, let's put it that way. Obviously a shame that we made contact and both of us out of the race, out of the points. That's a shame. I'm disappointed for Mick and myself obviously that the two of us lost a good opportunity to score points today. I don't know, I did not expect him, I need to have a look again. When I saw him, it was obviously too late, so we made contact.'
Vettel was not the only world champion caught in the drama either. Fernando Alonso was dealt two separate 5-second time penalties for his role in various incidents during the race – colliding with Gasly early on and leaving the racing surface on the penultimate lap, putting his Alpine machine out of the points.
Mercedes consistent, but far off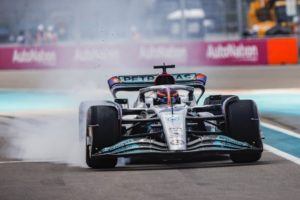 The Mercedes duo had an up-and-down weekend, with both drivers looking strong…and weak…during practice and qualifying. Friday's P2 session showed that both drivers could top the time charts, however when it came down to race day the Silver Arrows are still the "best of the rest" behind Red Bull and Ferrari. George Russell once again, thanks to a gamble on tires by waiting to pit for a safety car or rain, outperformed his 7-time champion teammate and became the the only driver to finish in the top 5 in every race this season.
Coming into Miami, Mercedes brought a host of upgrades they hoped would solve their issues – including a revised low-downforce rear wing, updated front wing and beam wing. Team boss Toto Wolff argued though, that the package itself was "a ground breaking solution" and proof of this came with the poor qualifying result on Saturday.
Rival boss Christian Horner has this to say about the Mercedes and what their position would be in the title fight:
'It's different competition. You're writing Toto off, but his car was quickest [on Friday] – there's plenty of time for him to get back in the show. The first four races have been epic…I think you're going to see Mercedes joining that party fairly soon.'
All American eyes on F1
Although the race was won by Verstappen, it was F1 that won out in the end. US-based sports broadcasting company ESPN announced after the race that Sunday's race recorded an average 2.6 million U.S viewers, the largest audience for a live F1 broadcast on American television in history.
It was also announced that Formula 1 and Netflix have agreed to an additional two seasons of the popular "Drive to Survive" series, something that was in questions weeks prior as drivers and fans voiced displeasure over the fabricated, and sometimes unnecessary drama that was injected by the streaming giant.
In the end, whether you liked it or not, Formula 1 is big in the United States, and it's only going to grow with the addition of Las Vegas in 2023.
Off to Spain
Carlos Sainz will be hungry to perform in front of his home crowd in roughly two-weeks time, with Formula 1 coming back to the site of pre-season testing at Circuit de Barcelona-Catalunya. Ferrari were strong here during the first of the winter tests, and with the need to outperform Red Bull at an all time high, the Prancing Horses need to sprint if they hope to catch up with the raw speed of their title counterparts.
Free Practice 1 kicks off on Friday May 20th at 14:00 local time (8:00am ET for those in the United States), with race day on Sunday, May 22nd at 15:00 local time (9:00am ET in thew United States). US coverage will be via ESPN.