(Authors note: Due to travel arrangements and rapidly worsening weather conditions I was unable to stay for the full duration of the race. However, the time I was there was incredible)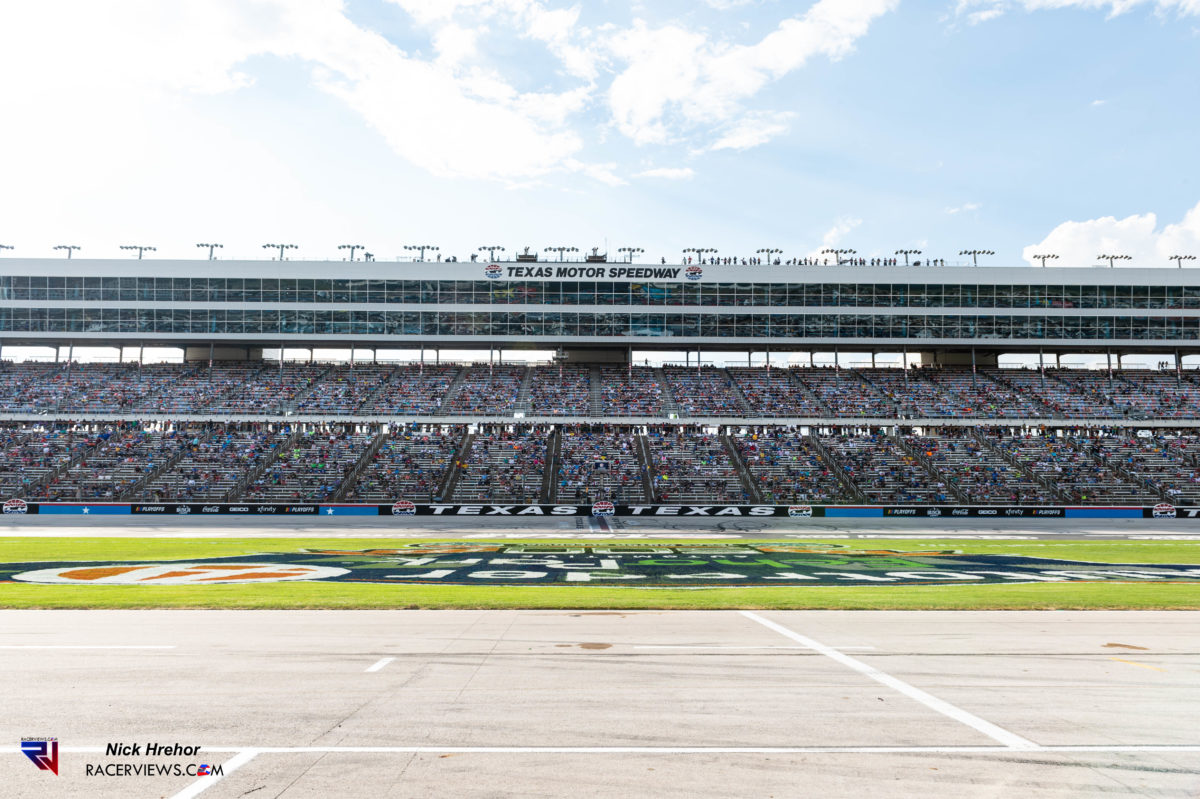 Texas Motor Speedway is an imposing sight. Situated north of Ft. Worth, Texas, the track has been the host to at least one round of NASCAR's premier series since it's inaugural race in 1997 and became a haven for the elite of North Texas to broker deals, wine and dine clients, and expand NASCAR's reach into a more westward markets.
Punctuated by it's two most distinguishable features – the multi-story Turn 2 Condo Complex and the famous "Big Hoss" Jumbotron on the backstretch – the 1.5 mile track seems even larger than life when you are standing in the middle of it. On this day however, I didn't come to see a piece of real estate or a giant screen. I came to see the fastest freight train in Texas – the NASCAR Cup Series.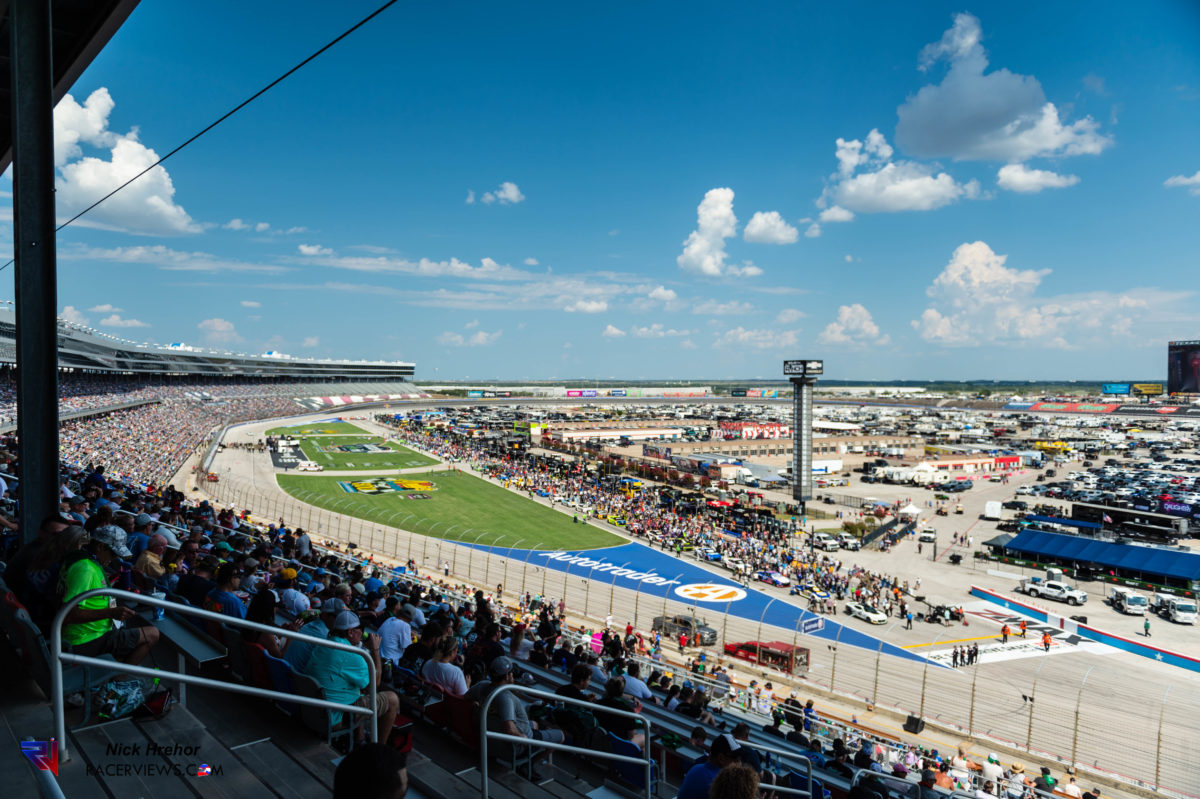 Playoff season
Let's talk about NASCAR's Playoffs for a moment. From 1948 through 2003 NASCAR implemented a strategy for points that every other form of motorsports in the world used (and still uses in most cases) to determine the series championship – whoever scores the most points by the end of the season wins the championship and everyone else slots into place after that.
In 2004 everything changed when longtime sponsor, Winston Tobacco, left the sport as American sports began to distance themselves from tobacco products. To fill the void NASCAR partnered with Nextel to rename the series to the NASCAR Nextel Cup Series and introduced a playoff format for the Championship, aptly named the "Chase for the Nextel Cup". Rather than focusing on points accumulated throughout the season, the new format put an emphasis on placing yourself into the top 10 in points with 10 races to go in the season, at which point everyone would reset points and fight in a 10-race points battle for the championship. This new format still forced drivers to be consistent, but with the points reset there was often controversy as to whether the championship contenders were worthy of the placement
NASCAR made a significant overhaul in 2014 and transitioned to the playoff format that is used today. Drivers compete for two championships, a regular season and overall season champion title, With an emphasis on wins rather than consistency, drivers attempt to place in the top 16 slots for the playoff season either by winning races (automatically locking them in) or by maintaining enough points through consistency or mid-race "stage" wins to stay in that bubble. Once the top 16 drivers are confirmed there are three rounds of three races, with the final race in each round being an elimination race. The bottom four drivers at the end of each round are eliminated from playoff contention in a 4-driver shootout at the final race of the year. Win during the round and you're locked in to the next. Lose or fail to place high enough with stage points or finishes, and you're out.
The Round of 12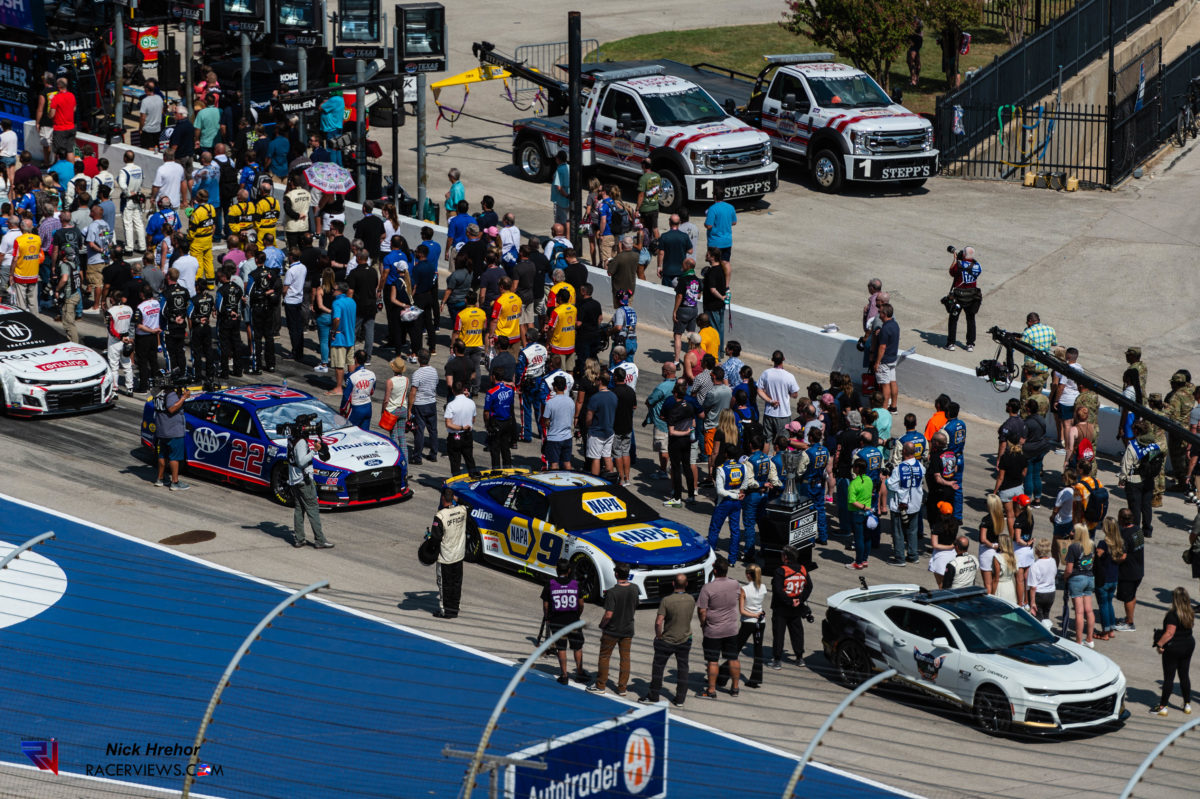 Coming into Texas, the Round of 16 was wrapped up at Bristol Motor Speedway the week before, leaving Texas to host the first race in the Round of 12. Unlike years past, when the playoff races were largely dominated and subsequently won by playoff drivers, 2022 has proven that everyone can win as the new Next-Gen cars have leveled the playing field.
For the first time all three of the first races in the playoffs have been won by a non-playoff driver, with a total of 19 different winners this season alone. This lack of dominance has increased the pressure for the playoff 12 to a level not seen before.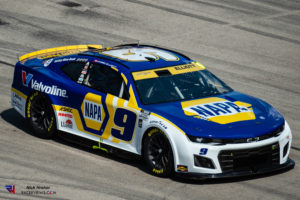 Chase Elliott, the series poster boy and most popular driver, leads the drivers standings after winning the Regular Season Championship. Behind him are the Penske trio of Joey Logano, Ryan Blaney, and Austin Cindric; Trackhouse Racing's Daniel Suárez and Ross Chastain; the Toyota's of Denny Hamlin and Christopher Bell from Joe Gibbs Racing; Stewart-Haas's young Chase Briscoe; and finally Elliott's stablemates at Hendrick Motorsports – William Byron, Alex Bowman, and 2021 Champion Kyle Larson.
With each driver needing a win or at least stage points to stay in the hunt, many view Texas as a potential turning point in the Chase for the Cup, and turn it did. Following multiple tire blowouts, lost tempers, and a red flag due to rain and lightning, Richard Childress Racing's Tyler Reddick – eliminated in the Round of 16 – emerged the victor, extending the wins by non-playoff drivers and pushing the Round of 12 drivers further down the rabbit hole of desperation.
"Holy shit…"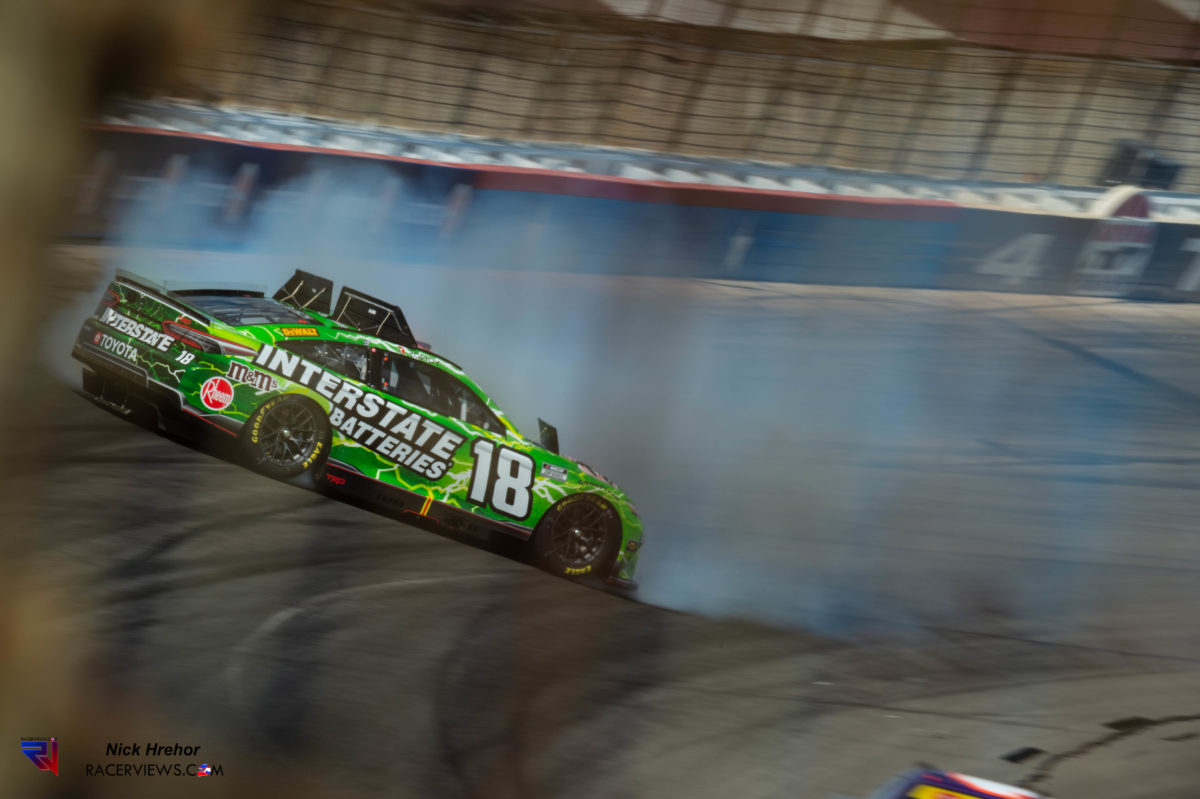 So, why consolidate an entire race into one line? I wasn't there for the purpose of documenting results…I was there to document what oval racing is like and how mind boggling the idea of driving 180mph inches off the wall is.
The only words that come to mind when a full field of cars comes past you while you are pressing the shutter on your camera is "holy shit". Sundays race had a field of 36 cars, each with 670 horsepower in the current package NASCAR is using…that comes out to a combined 24,120 horsepower coming towards you at over 180mph. For comparison, the modern diesel locomotives pack roughly 4,000-5,000 horsepower and top out around 125 mph for peak speed.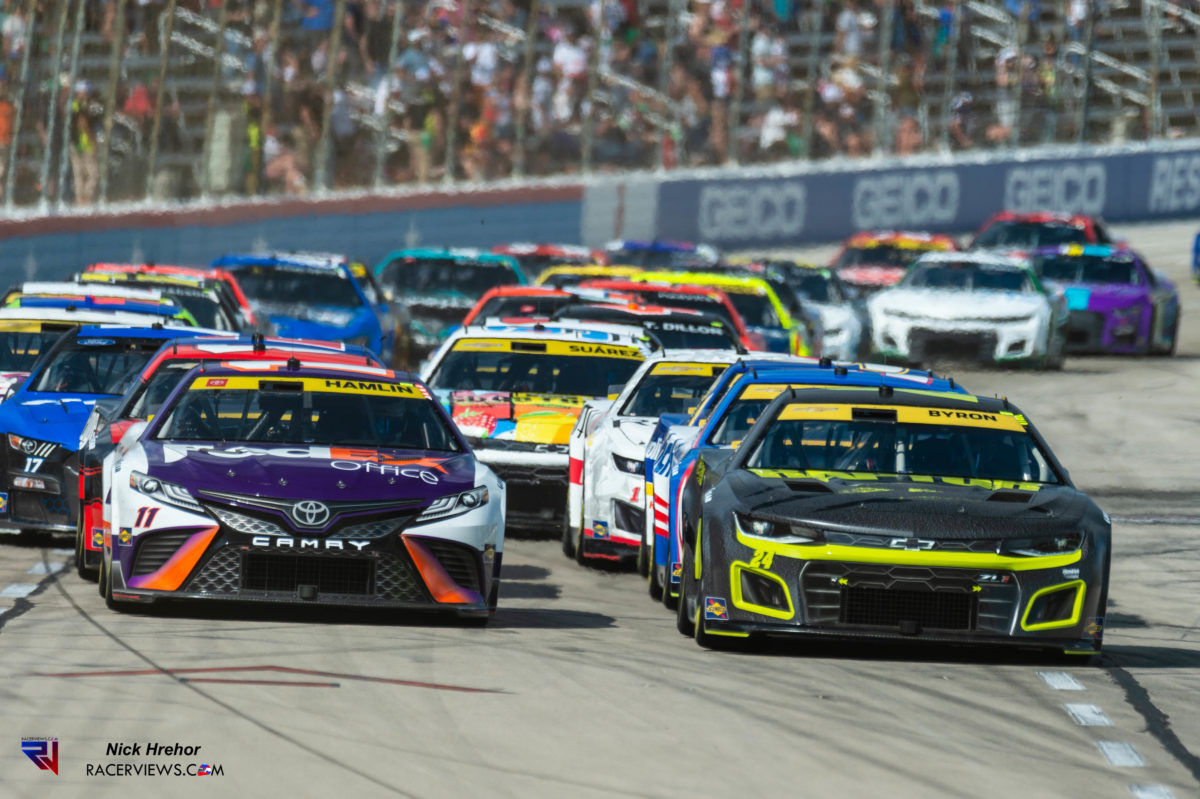 Outside of the sheer amount of noise and vibration that you feel as the field comes by, the most astonishing feeling is the push of air that hits you. For many years, stockcars have been given a bad reputation as "bricks on wheels", often being compared to other racing series as if they are put together using random bits and pieces and formed to look somewhat like a car. The truth however, is that a NASCAR car is a very slippery and aerodynamic piece of engineering, designed to go extremally quick and utilize the air to help maintain momentum and speed as it pulls itself through high G-force banked turns. Almost like being passed by a semi truck (or lorry across the pond) the air pulls and pushes you at the same time with enough force to knock down an unsuspecting person. When you are pressed against the catch fence, you brace yourself for the noise and you end up hanging on for dear life as your camera lens threatens to take flight.
Legal addiction
Racing surfaces are dirty, full of rubber, bits of metal, carbon fiber, dust, rocks…and when that freight train pulls past you it all has to go somewhere. In my case…it was like being sandblasted lap after lap…and I loved every second of it. Sitting at the exit of turn 4 you see the cars enter your viewfinder as they exit turn 3 and as you focus on the first car in line, you press that shutter down and almost close your eyes as you attempt to brace yourself and hunker behind your camera as the rocks and dirt and rubber pelt you from head to toe.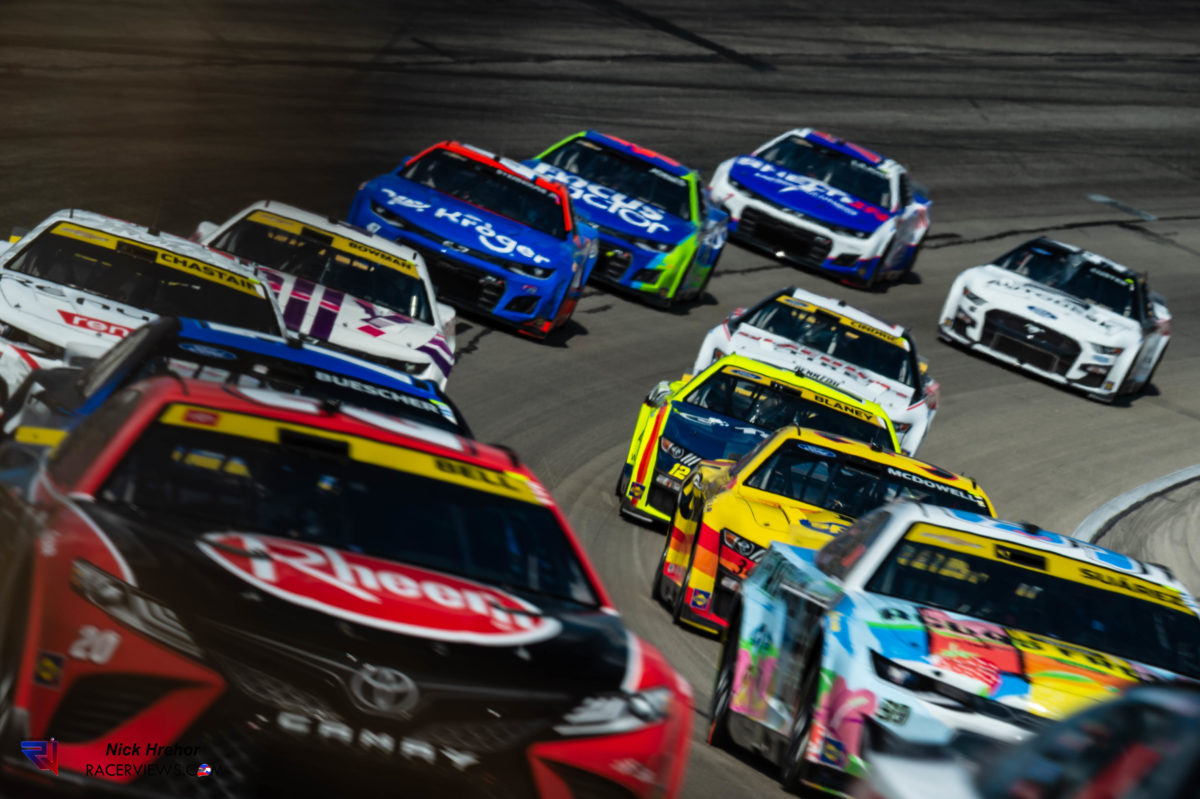 I had the privilege to photograph with a friend of mine and after the first lap against the fence he turned to me and grinned. "It's like a drug!" he shouted to me, and turned back to his camera.
My only response was to laugh. There is a reason why NASCAR racing is addicting, and I think this is just a small part of it. Being that close to the cars – in some cases the photo hole and the car is no more than six or seven feet away – gives you a greater sense of speed than you will ever see on a screen and your perception of speed becomes twisted. I had to completely readjust my expectations to what these cars can really do.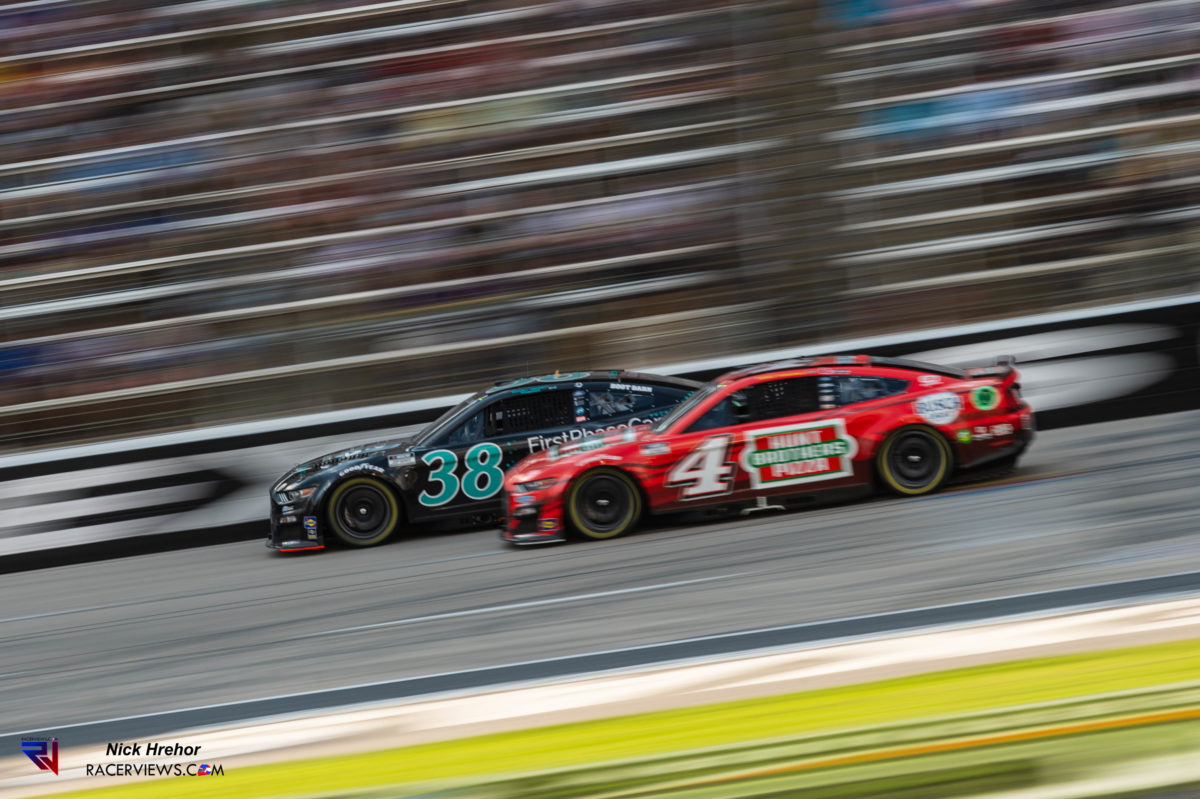 Speed redefined
Given how different the series are there is only one high-speed oval that both IndyCar and NASCAR compete on, so there's a good set of data to go off of that shows how disproportionate these speeds are, especially when you consider the relative weight and power of each car.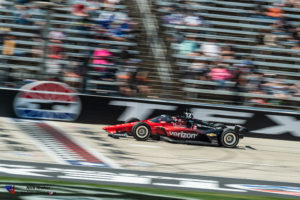 Back in March, IndyCar made its annual stop at TMS in arguably much cooler weather and the fastest lap turned all weekend was by Josef Newgarden during the final practice, logging a lap time of 23.2354 seconds. Compare that to NASCAR during a significantly hotter weekend, the fastest lap of 28.573 seconds set by RFK Racing's Brad Keselowski was only 5.3376 seconds slower than Newgarden's time.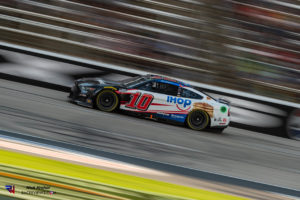 Think about that for a moment…5.3376 seconds difference in a car that weighs over 3400 lbs fully loaded with the driver, a 40mph average speed deficit, and with front mounted V8 vs a 1600lb, rocketship, mid-engined turbocharged v6 IndyCar. That sort of performance is mind boggling when you crunch the numbers. Stock cars shouldn't go that quick, and yet they do. Because of the size of the car, and the speed at which they close on you, they are some of the quickest cars I've ever photographed in person.

'til next time…
NASCAR won't return to TMS until this time next year, having lost the May All-Star Race to North Wilkesboro Speedway in 2023 and beyond, meaning fans will have one less north Texas race to attend. The track is in desperate need of work during the off season as many of the facilities are showing beyond their age of 26 years. Rumors having been swirling around the industry at the track repaving or reprofiling the corners to open up more lines for drivers to take in a lap. Some have pitched demolishing the track and starting fresh with a shorter circuit or a completely revised layout. Others want the track eliminated from existence entirely.
Whatever happens at the track remains to be seen…but I know that when race day comes, I'll be there, camera in hand, eager to feel the rush of wind on my face as these monsters attack the track once more.
To see additional photos, from this event and prior, visit Nick online HERE