A day of delays, hard fought battles and heartbreaking drama for the field didn't stop three time Asian Le Mans Series champions, Algarve Pro Racing from taking victory at the 4 Hours of Dubai.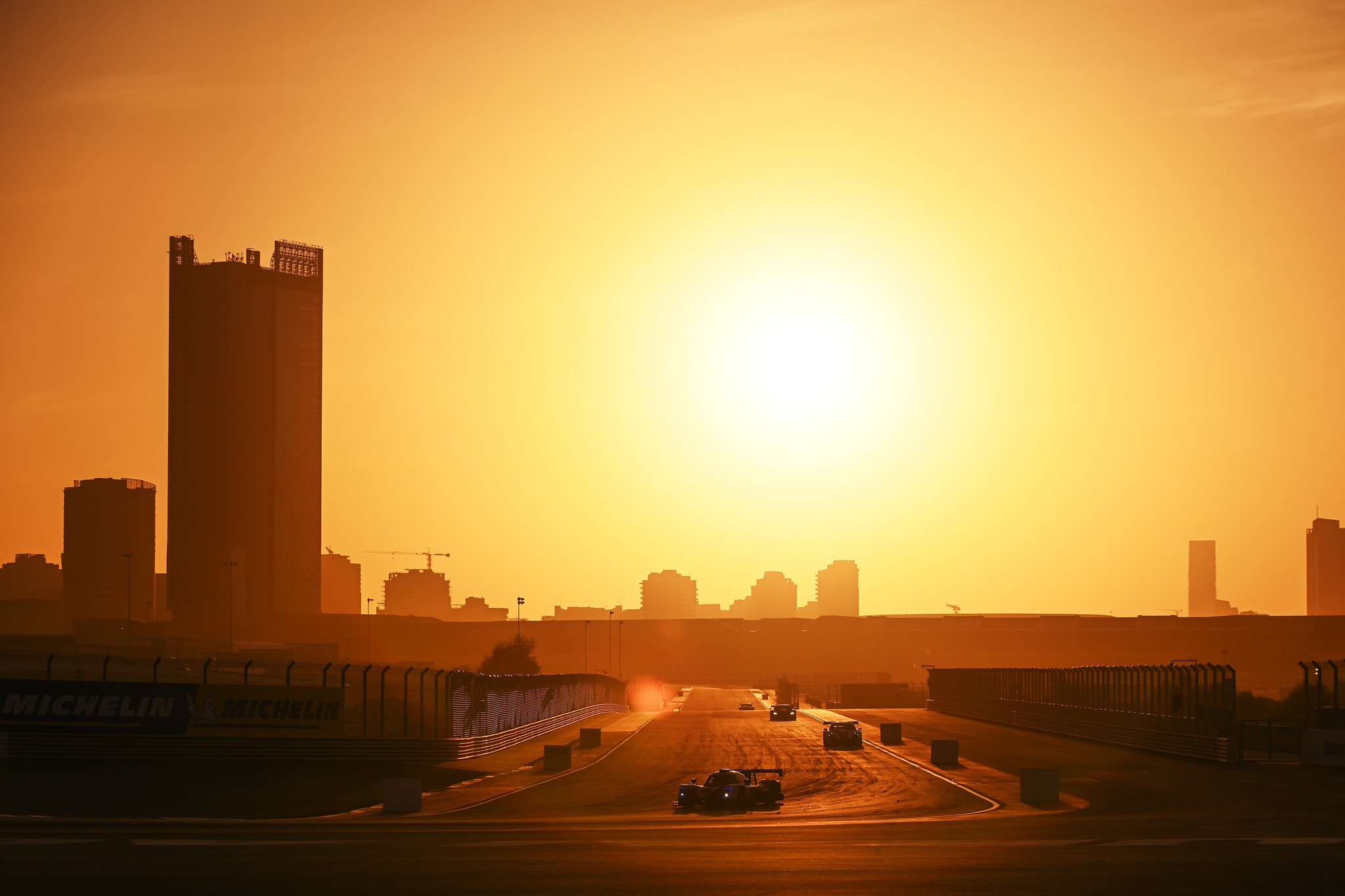 Qualifying was delayed by almost 3 hours after an accident for Phillipp Sager in the Dinamic GT that caused significant barrier damage. Upon completion of the two sessions, the #43 Inter Europol Competition Oreca 07 Gibson took pole in LMP2, while LMP3 honours went to #11 WTM by Rinaldi Racing. Walkenhorst Motorsports #34 BMW GT3 topped the times for GT.
The Algarve Pro Racing Oreca 07 of John Falb, James Allen and Kyffin Simpson started sixth, and despite a spin on the restart after the first Full Course Yellow (FCY), Falb soon battled with 2022 champion Rodrigo Sales in the #24 Nielsen Racing Oreca 07 Gibson for third. By the halfway point, the team jumped into the lead, but hard-fought battles through the class saw a number of lead changes. Victory come down to Simpson taking seconds a lap from rivals during his middle stint and smart pit stop strategy.
The #3 DKR Engineering Oreca 07 Gibson of Salih Yoluc, Charlie Eastwood and Ayhancan Guven finished in second place ahead of Neel Jani, Nikita Mazepin and Goncalo Gomes in the #98 99 Racing Oreca 07.
Pole sitters in LMP2, InterEuropol Competition Oreca 07 Gibson of Nolan Siegel, Christian Bogle and Charles Crews kept the lead, with the latter in for the first stint for his debut in LMP2. An impressive stint for Siegel saw the 18-year-old battle Neal Jani of 99 Racing for position, but a failure in the final hour took a podium finish from the team.
In LMP3 polesitter WTM by Rinaldi Racing of Torsten Kratz, Leonard Weiss and Nicolas Varrone lead from the start, until a stuck gear saw them in the garage before the first hour was up. The Duqueine M30 – D08 was back on track briefly before needing to retire.
MV2S Racing started fifth, and despite contact with the #9 Graff Racing Ligier JS P320, and a drive through penalty for speeding in pit lane, strong drives from Jerome De Sadeleer, Viacheslav Gutak and Fabien Lavergne saw the team remain in the podium positions before moving into first in the final 12 minutes to take victory.
The #8 Graff Racing Ligier JS P320 Nissan of Fabrice Rossello, Xavier Lloveras and Francois Heriau finished second, ahead of 2022 Vice Champions Michael Jensen and Nick Adcock, and their 2023 team mate Valdemar Eriksen in the #1 CD Sport Ligier JS P320 Nissan.
Heartbreak also hit the #4 Nielsen Racing Ligier JS P320 of Tony Wells and Matthew Bell. Starting 7th, they were in the lead when, during a pit stop their starter button failed, ending their race.
A dominate performance by #34 Walkenhorst Motorsport BMW M4 GT3 saw Chandler Hull, Nicky Catsburg and Thomas Merrill take complete control, from pole position to victory.The #10 GetSpeed Mercedes AMG GT3 of Raffaele Marciello, Fabian Schiller and Florian Scholze completed a consistent 4 Hours of Dubai to finish second, ahead of Al Faisal Al Zubair, Luca Stolz and Martin Konrad #7 Haupt Racing Team Mercedes AMG GT3.
Despite a strong and stable performance from the top three in GT, drama unfurled in remainder of the class. The #57 Car Guy Ferrari were given a drive through penalty after contact with the 2022 LMP3 Champion #2 CD Sport. #68 Bullitt Racing had front and rear damage after contact and eventually retired from the race, as did the HubAtuo Racing #72 Mercedes AMG GT3, which came to a stop and brough out the third FCY of the race.
The action continues tomorrow with Race 2 from the Dubai Autodrome, starting 15:00.
Pole Position for the 4 Hours of Dubai Race 2 – by class
LMP2: #43 Inter Europol Competition Oreca 07 Gibson
LMP3: ##11 WTM by Rinaldi Racing
GT: #34 Walkenhorst Motorsport BMW M4 GT3 Thomas Merrill
Race Winners:
LMP2 #25 Algarve Pro Racing Oreca 07 Gibson John Falb, James Allen and Kyffin Simpson
LMP3 #29 MV2S Racing Ligier JS P320 Nissan Jerome De Sadeleer, Viacheslav Gutak and Fabien Lavergne
GT #34 Walkenhorst Motorsport BMW M4 GT3 Chandler Hull, Nicky Catsburg and Thomas Merrill