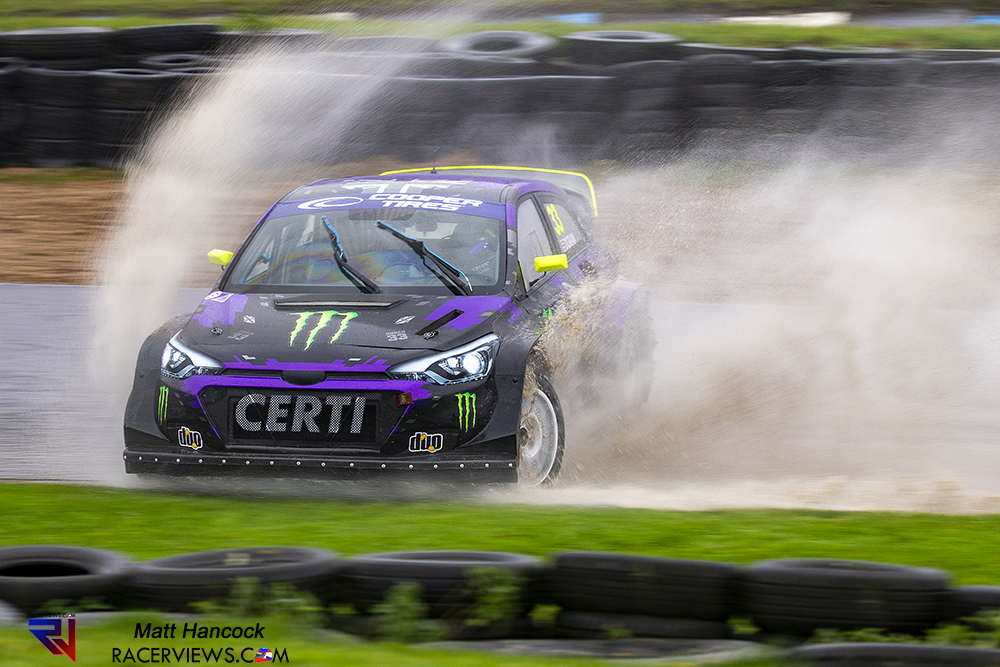 The 5 Nations British Rallycross Championship came to a conclusion at the weekend with a bumper field competing in the Supercars series. Among the usual contenders were cameo appearances from Janos and Janko Wieszt, from Hungary, both driving ex-Prodrive Renault Megane RS RX cars. These were originally built for the 2018 FIA World Rallycross Championship. Alongside them was the welcome return of Liam Doran. Liam has not raced competitively since the 2021 Nitro Rallycross Championship. Liam was partnered with Mikko Ikonen and the Betomik Racing Team in a pair of Hyundai i20 RX Supercars.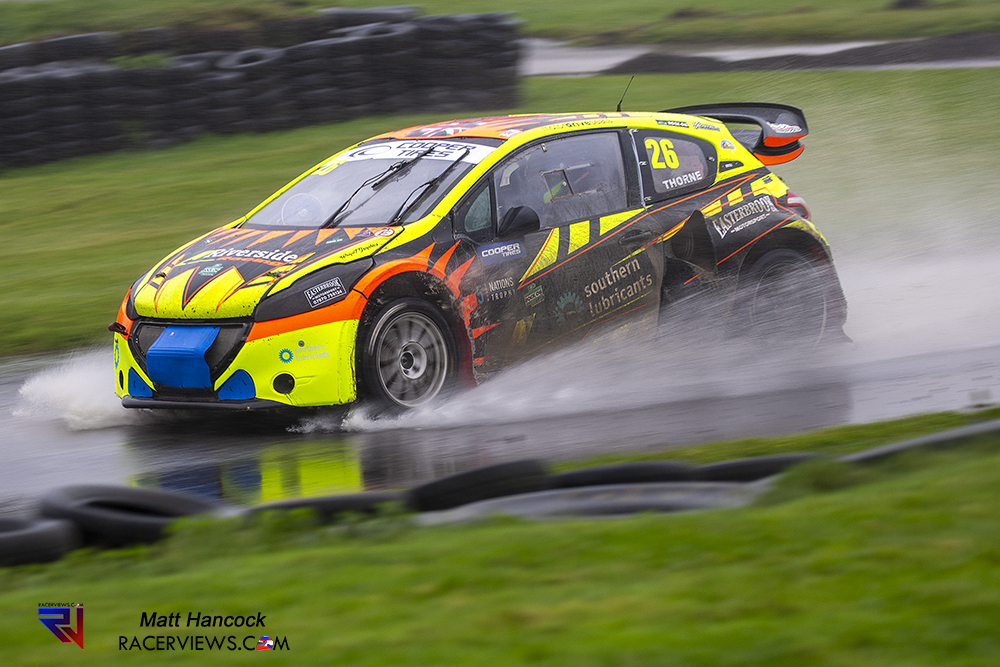 The Supercars title before this weekend was still open to several contenders but the two most likely to be in contention for the 2023 crown were last year's winner, Patrick O'Donovan and this year's current leader Jack Thorne in his Peugeot 208. Still in with a chance were Ollie O'Donovan and Tristan Ovenden.
Q1 saw Patrick O'Donovan top the leaderboard with Sebastian Eriksson in second place, however, it went the way of Liam Doran with Patrick taking the second spot.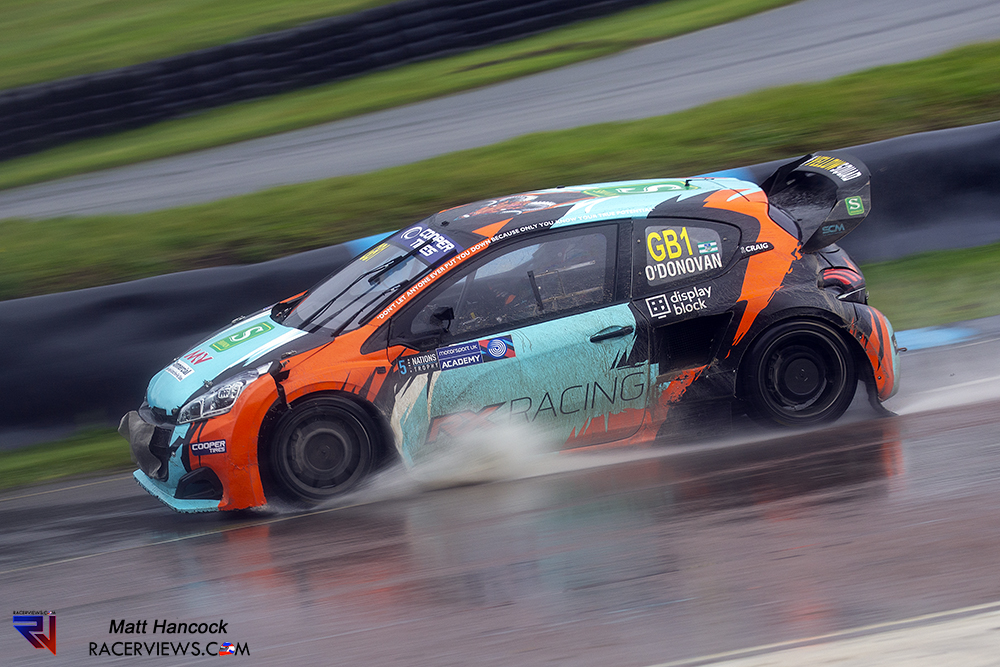 Semi-final one would see Patrick O'Donovan continue his charge as he took first place, with Sebastian ERIKSSON in second place and father Ollie O'DONOVAN in third place. Title contender Jack Thorne was disqualified from semi-final 1.
Semi-final 2 was not as clean-cut as one thought with Liam Doran suffering mechanical issues that would ultimately see an end to his weekend action. Semi-final 2 was won by Liam's teammate Mikko IKONEN with Janko WIESZT taking second spot alongside his teammate Janos WIESZT in third place.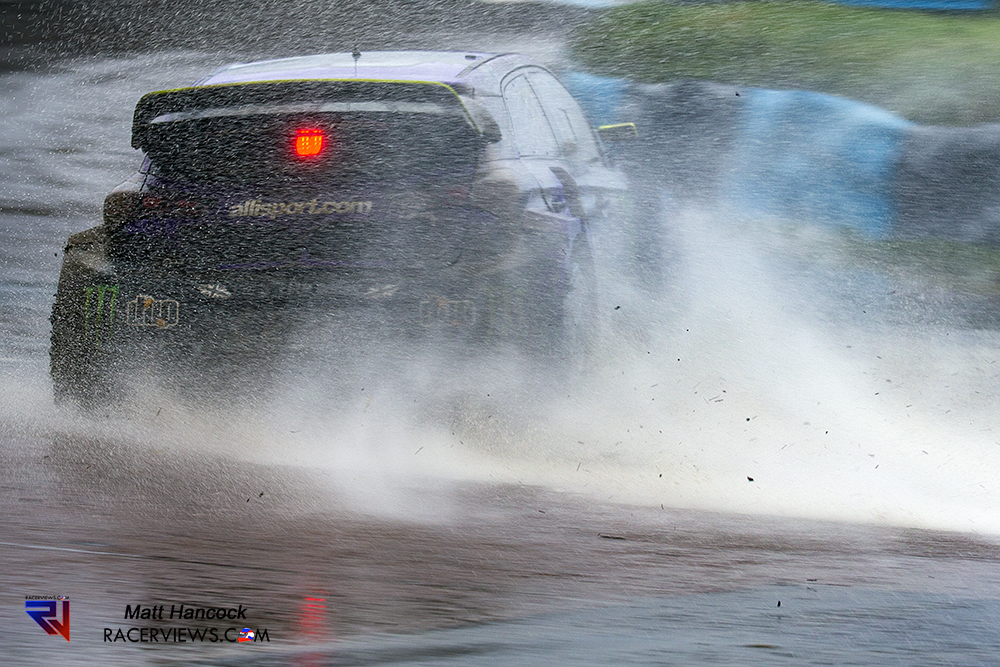 The final on Saturday was held under floodlights ahead of the annual fireworks extravaganza. Patrick O'Donovan did what he has done time and time again in recent years, lead from the front and stay in front. With one win in the bag from the weekend so far, Patrick would now find himself sitting top of the table with one race left to go. Second place from Saturday's final went the way of Mikko IKONEN with Sebastian ERIKSSON in third place.
After Saturday's very wet and windy affair, it was time for a change of weather as Sunday dawned and the final racing of 2023 got underway. Q2 would see Patrick O'Donovan retire with a mechanical issue and Jack Thorne take second place. Things now looked interesting with Jack back in the fold.
Semi-final one was won by Mikko IKONEN as he continued to show a similar pace to the previous day, with second place going to Janko WIESZT in the Renault Megane.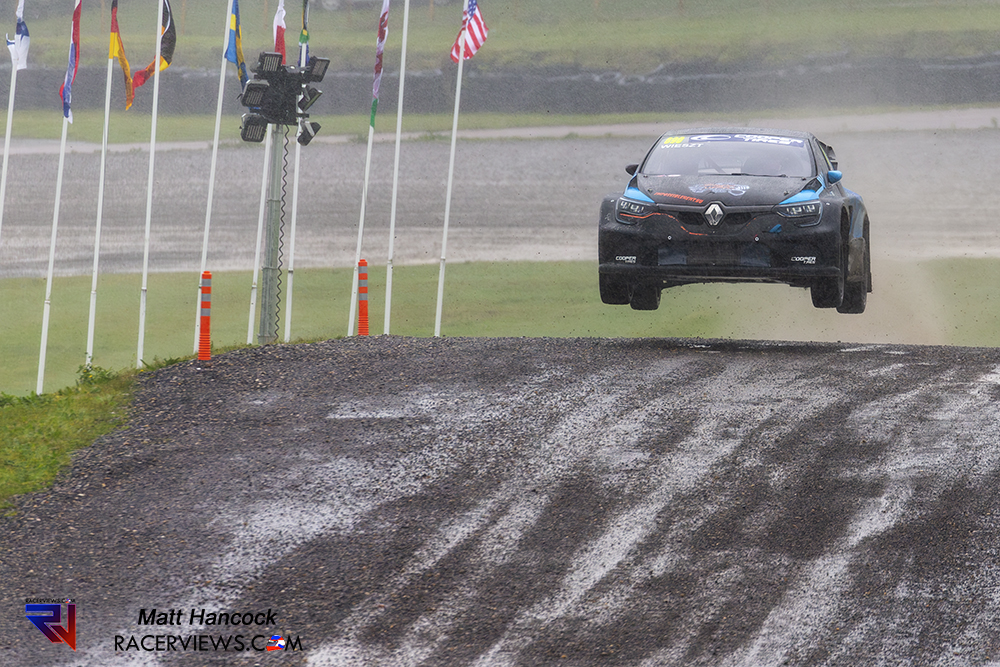 Semi-final two would see the end of Jack's hopes as he retired and it ended as a father-and-son affair with Patrick taking first place and Ollie taking second place.
With Jack out of the running, Patrick was 6 laps away from taking another win. The final ended up being a close affair with Mikko IKONEN in the Hyundai i20 only 2 seconds behind the race winner Patrick O'Donovan.
So after an amazing weekend of action, Patrick O'Donovan finds himself regaining his championship for a second year.
Support Races
The 2023 Retro Rallycross Championship top three
Tony Lynch
Paul Buckmaster
Rob Buckmaster
The 2023 RX150 Rallycross Championship top three
Stephen Jones
Ben Hardy
Nick Priddy
The 2023 Super Retro Rallycross Championship top three
Lee Wood
Vince Bristow
David Ewin
The 2023 Motorsport UK Supernational Rallycross Championship top three
Slawomir Woloch
Dave Van Beers
Phil Chicken
The 2023 Motorsport UK Junior Rallycross Championship top three
Tyler McAlpin
Will Ovenden
Ryan Smith
The RacerViews info
By Matt Hancock
We are passionate, dedicated motorsport professionals.
In 2023 you will see us trackside and stageside with exclusive coverage of
The World Endurance Championship
The World Rally Championship
Belgian Rally Championship
British GT
British Rallycross
and more!
We aim to bring you interviews and photos you won't see anywhere else. We don't aim to break the news, rather we aim to bring the voices of the racers to you and the atmosphere of the event to you at home. Our social media presence on Facebook, Twitter and YouTube bring you more, a holistic experience. We partner with racers and professionals in the industry and give back where we can. If we can help you or you have a story to share, please contact us.