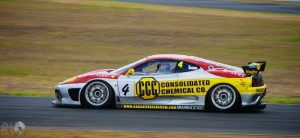 Interview conducted by Sam Tickell at the Australian GT Round at Queensland Raceway in May 2007
At the last round of the Australian GT Championship, was able to catch up with front runner, Allan Simonsen. Ever the busy man, Simonsen travels from one side of the world to another to race in various categories. His weekends are just as hectic, so we thank Allan for allowing us a few minutes to catch up with him after the race. Currently he is leading the Le Mans Series GT2 points standings, Australian GT points, has competed in tarmac rally events including the Targa Tasmania and British GT in 2006. In the past he has competed in the V8 Supercars, the FIA GT3 European Cup and open wheelers to name but a few. This is what the Dane had to say:
The car has 440 horsepower and you are up against cars with 500+ [horsepower], it's a gap that's too hard to close
ST: Allan, how would you rate your weekend overall?
Allan Simonsen:It was fairly average really, we didn't have the weekend we thought we were going have. Our car hasn't got the same sort of power as the other cars so it's sort of a dead race really which I'm not really enjoying at the moment but we consolidated and finished third for the round and that means we are still leading the championship by four points but if it continues going like this we will not hold onto this lead for much longer.
ST: Onto the future, you are off to Le Mans for testing next week, how do you rate your chances there?
Simonsen: A completely different ball park really, it's real racing over there, you are racing to race and not to bat parity and all this kind of crap. We rate out chances really high. The team I am driving for won the Le Mans Series last year, it's a work support team, my two co drivers finished second at Le Mans [Lars-Erik Nielsen, Pierre Ehert] last year with another German driver [Dominik Farnbacher]. I am quite privileged to take over his spot and as the other two say, we have gotta go one better. The goal is to finish on the podium and if we do that I will be over the mood.
ST: Is there any news or sneak previews for your movements next year?
Simonsen: No not really, it's still too early in this year. I have driven five different championships this year including rally series, look who knows what it's going to be. It's probably, most likely to be the same unless there is a V8 Supercar team that asks me to drive one of their cars.
ST: And finally, do you think you can overcome the parity issues and continue the championship challenge here?
Simonsen:If I am going to continue driving this car, it's going to be a challenge that's not going to be possible to overcome but if we can find a GT3 car which is what you need, then sure we can overcome it. As it looks right now, it's too harder a task because we got freed up even more than we were at Bathurst for this round and it's still no where near enough and the car is now very close to running unleashed. The car has 440 horsepower and you are up against cars with 500+ [horsepower], it's a gap that's too hard to close and I have to driver the car beyond its limit and it makes it not enjoyable. I don't know, we will see at the end of the day the other guys can have a bit of bad luck as well but you don't really want to win on other people having bad luck, you want to race them and at the moment it's not happening.
ST: Best of luck Allan, and best of luck for Le Mans and the future.
Simonsen: Thank-you