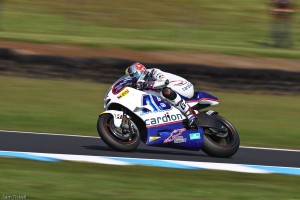 We were able catch up with MotoGP rider, Karel Abraham at the Iveco Australian Motorcycle Grand Prix.  Abram who rides for the Cardion AB Motoracing Ducati squad made his debut in the top class in 2011.  Many thought he would fail to make an impression after spending over 100 races in the junior classes for one win and another podium. He has, however proved his doubters wrong with solid performances, with two seventh places in 2011.  After Phillip Island, he lies 14th in the Championship.
Hi Karel for joining me, your first season in MotoGP is almost done – how do you think you have gone, and what have some of your highlights been?
Well the beginning of the season was better than now.  The last few races have not been so good and we have had some bad luck.  There have been some crashes and some other bad stuff happen.  But I think we should be happy with the season as I said we had a good start to the year.  I hope we can come back to the pace of the beginning of the season and get some good results for the end of the season.  We still have three races left.
How have you felt getting to grips with the Ducati?  We have seen all the riders this year, factory and private riders struggle at times with the Ducati – how yave you found it?
I think everyone have had problems.  We have had problems at places where it is quite warm. Malaysiawe had more troubles than inEurope.  We have been talking about it a lot and have been doing a lot to improve it.  My opinion is that we should not work or concentrate too much on this season but look forward to next season.  We won't have a perfect bike for this year but we should working on getting a 100% perfect bike for next year.  It is better than working now and then coming to next season and having the same problem.  I think that our team is doing a very good job as we have found many things that have really helped us.
My opinion is that we should not work or concentrate too much on this season but look forward to next season.  We won't have a perfect bike for this year but we should working on getting a 100% perfect bike for next year.
You have ridden in 125cc. 250cc, Moto2 and MotoGP – do you think that the road to MotoGP is an ideal one for young riders?
Sure it is good for young riders.  Next year when Moto3 comes in for 125cc there will be a much bigger field which is a good thing.  I like 125cc and 250cc than Moto2 and Moto3.  125cc were more aggressive – you could see more of the bike.  At every second race we had the engine opened, at every race we could check parts – it was very interesting.  Not only for me it was more interesting but also for the mechanics.
It was also much easier to crash in 250cc than in Moto2.  The bike was very sensitive on the gas.  It was a real racing bike.  If you want to race any of the 'moto' bikes – MotoGP, Moto2 and Moto3.  250cc I wouldn't let you ride but if you had a little experience, you could ride Moto2 easily.
With MotoGP moving to the new rules next year – how do you feel about them?
I am not sure at the moment.  There are a lot of new rules and I don't know all of them.  They are developing new bikes.  We will see – hopefully it will be more fun.
[mudslide:picasa,0,racerviewsphotos,5664750483555245329,512,center]
Sunday photos from Phillip Island
Will you receive a new Ducati for the 2012 season?
It looks like we will be testing afterValencia, most likely it will be like last year.  In December, my mechanics will do a tour of the factory, the bikes and we will get it for the first test inMalaysia.
The new bikes will have a bigger engine capacity – do you think that will suit you?
Usually when I had a more powerful bike I went better.  In theory it should be better for me.  We will see.  I only have seen the bike for a short period but never have ridden it, so we will have to wait and see.
Looking at this weekend, after the first practice sessions, how have you gotten to grips with the bike and the track?
As at every race we have a lot to do, a lot of work has to be done.  We are in a good way here.  The mechanics, they work really hard, they are also really smart and clever at setting up the bike.  I hope everything will work well.  Friday was quite warm which is not usual for this race so we will see.
When you look back to last year, it was so cold and windy! 
I know, it is very different so far this year!
How will you adapt if the weather changes?
Usually when it is colder it is better for Ducati.  If it cooler it will be better for us.  For sure if it is raining on Sunday only it won't be very good.  I don't like just getting on the bike in different conditions and just going.  If the warm up is dry and the race is wet is bad.  You don't know what you can do, how you should ride the bike – anything.  At least, if the race is wet, I would like one session to also be wet.
Looking at Sunday the rest of the season – are you confident of more top 10 finishes?
I would like more top 10s, I like it!  We have to work and fight for it though.  All the riders want to be up there so it is not easy to get up there.  All the riders in MotoGP are very good, very professional and very fast.
Moving away from the track, what do you do between rounds to keep motivation, relax, train?
I try, especially during winter to work hard.  I run, play squash, workout, motoard, super moto during the summer.  I try to do everything and change it every day.  I don't have a strict plan.  I do it myself.  I wake up in the morning and think fitness and in the afternoon I play squash or ride a super moto bike.  It is not the same every day or every week.  I try to change it and do what I like to do.
httpv://youtu.be/NY7IqN1ZHNw
MotoGP race day highlights
Final few questions.
What is your favourite bike?
It is definitely this bike.  Definitely the Ducati MotoGP bike.  MotoGP is a dream bike.  For everyone that likes motorbikes it is MotoGP – so long as you aren't a motocross type!  I like motocross too and this Ducati is the best bike I have ever ridden!
Favourite track?
I don't think it is good to say but it is here atPhillipIsland!  It is my favourite track and the surrounds are very beautiful too.  That and Laguna Seca.
Favourite motorsport memory?
It is definitely winning inValencialast year.  That and the podium in Motegi.
Thanks Karel and best of luck for the race and rest of the season.
Thanks.
Interview and article by Sam Tickell, October 2011