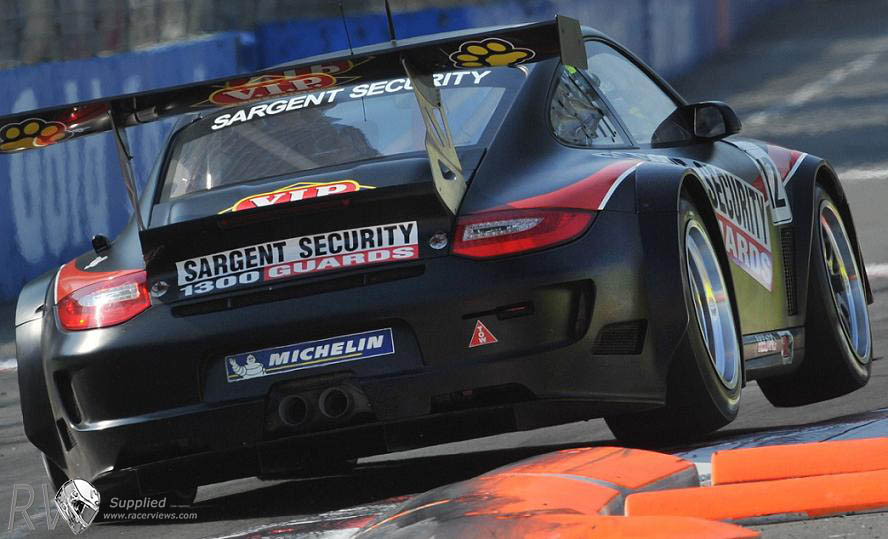 Klark Quinn went into the final round of the 2012 Sargent Security Australian GT Championship in second, trailing Peter Hackett.  He as able to keep the car on track, and after a significant accident for Hacektt in race 1, took out the title.  It was his first motorsport Championship and went one better than in his Australian GT season in 2011, where he finished second.  Quinn took four race wins on his way to the Championship in his Porsche 997 GT3-R.
We caught up with him after the season finale, held at the Homebush street track in Sydney.
Hi Klark, thanks for joining me – obviously a great weekend for you, taking the Championship in Sydney.  What is it like to be the Australian GT Champion?
It is a great sigh of relief!  It is just such an honour to have a championship under my belt.  I haven't had one ever and to finally have one is such a great relief.  I am really ecstatic and I really quite tired today but in the background of my mind, I have a little smile, a smirk, knowing I have finally done it.
It was a solid weekend, we saw that Bernd Schneider had the pace on everyone but how was the Porsche feeling?
The Porsche was always going to be good on the streets of Sydney.  I personally don't have the same abilities as Bernd Schneider who was an F1 driver amongst everything else.  He is an incredibly talented guy.  I am not saying that the rest of the field wasn't talented – it was incredibly competitive.  Peter Hackett has been a great competitor the whole year round.  We were very competitive at Homebush and I knew that at street circuits we were always going to be strong – the Porsche is strong on circuits like those.  I like the concrete walls and every racetrack with concrete walls, I generally do well at.
On race 1 on the opening lap you went wide and almost touched the tyres and then Peter had his sizeable off.  What went through your mind with those two incidents?
When I ran wide I didn't think too much of it but everyone seems to have seen it and keeps reminding me of it.  You take each corner by corner and it was the first time we ran on new slicks on that weekend and I thought that I could go a little deeper into braking zones than what I had done in practice on old slicks.  Then in qualifying we had wets on so it was the first time we had new slicks on.  The car was feeling nice and gripped up and I wanted to keep the pace up with Bernd.  I ran a little wide in that last turn, I got close to the wall but as long as you're not touching it, it's ok.
The next lap round, I was looking in the mirrors, Hackett was a good bit behind me but he was still in the mirrors.  The lap after, he was no longer in the mirrors and I thought something must have happened.  The guys confirmed it on the radio – that Hackett was in the wall.  When I came round on the next lap I saw his rear wing on the road and Hackett tucked in behind the barriers.
It was a little bit of a disappointment that we couldn't have a race.  I still felt quite confident during the race that I could beat him and win the Championship but as it turned out, he hit the wall.  It gave me a great boost in the Championship and then my only goal was to finish the next race and keep a good pace.  Which we did.
[mudslide:picasa,0,racerviewsphotos,5818395777364450977,2,512,center]
Did race 2 go as smoothly as it looked?
It really did.  I just tried to knock out some consistent lap times.  There was a little bit of traffic which threw out a couple of lap times for me.  I just wanted to bank the lap times and finish off quite strong.  I certainly wasn't pushing as hard as I could be.  It was quite funny, the second lap in I radioed in that there was something loose in the rear corner and I think that is your mind playing tricks on you. I was very cautious of hitting the bumps, chicanes and stuff – I was very smooth for the whole 30 minutes.  I didn't want to chance anything. I coasted along and yeah- things probably did go as smoothly as it looked.
Now you have the Championship under your belt, do you have any thoughts on your 2013 racing?
No mate, the first time I through of Homebush was Friday morning when I was on track.  I never really have too much time to focus on my motorsport endeavours – I love motorsport as much as the next guy.  I just have so many other commitments that I need to look after.  Next year – I'll certainly be competing in the Australian GT Championship and trying to back to back but how and where I am going to do it is undecided yet.  I'm not really too worried about it.  I am sure we will have the right car and the right times next year.
Finally, just for RacerViews readers who may not know that you have taken over Darrell Lea, which I am very thankful for (you saved my beloved peanut brittle!).  Just how is that going and I imagine it takes up an enormous amount of your time?
It is huge.  It is absolutely mind-blowing of just how big it is.  I have taken the largest role in the business and that is really what is consuming my time.  I am actually living at the factory trying to commit as much time as I possibly can to the business and turning it around.  It has some great following and fantastic support from everyone.  I want to give that back to everyone.  The tagline for next year will be Everyone's Darrell Lea. In homage to the support that was given to Darrell Lea when it went into voluntary administration.  To get the Prime Minister to talk about it on national TV that's pretty special.  It's a pretty powerful brand.  We are in a very privileged position to have a very strong brand with the iconic products that we make.  That consumes my time and my life and I am happy to do that.  I am quickly learning to love chocolate and confectionery and everything that goes with it.  It is a very easy business to love and it is my main focus.
I am pretty sure that I will be running Darrell Lea livery next year and not the VIP Petfoods livery that I run for the past 10 years.
Thank-you Klark, congratulations again and I look forward to seeing the Darrell Lea car on track in 2013.
I can't wait to be driving it!
If you missed the race, you can see race 1 (including Peter Hacektt's crash on You Tube)
httpv://youtu.be/p4LqMhXrtmA
httpv://youtu.be/sUWgDc5pH0o
—
Interview by Sam Tickell, December 2012
RacerViews was established in 2011 and with the aim of delivering a new web experience to motorsport fans.  We bring exclusive interviews and photos from motorsports finest drivers of yesterday, today and tomorrow.  Our team has over 30 years of experience in the motorsport field.  With a heavy presence on Facebook, Twitter and iTunes where we have over 2800 followers,  our mission to bring exclusive content is in safe hands.  We have partnered with motorsport teams like Stig Richards Motorsport, One of a Kind Motorsport, Dark Horse Racing and MRT Performance in order to give you the best exclusive motorsport coverage.
We are always looking for new people to join our team.  If you are a motorsports photographer or journalist looking for additional exposure or a great place to learn your trade, contact us