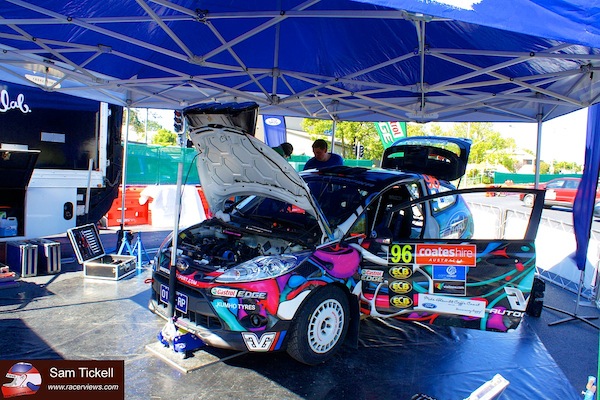 In our continuing Coats Hire Rally Australia coverage we talk to Adrian Coppin – who rallies a Ford Fiesta R2.  Coppin rallies predominately in Australia and was competing in the WRC2 section of the WRC round.  He put in very competitive times taking 16th overall and beating some of the regular WRC2 runners home.  His times would have been good enough for a top six in the ultra competitive  ARC class.
This followed a strong run in the International Rally of Queensland where he competed against the best from the Asia Pacific.
He also announced his exciting 2014 plans, leading a 2 car effort in the Australian Rally Championship with Citroen Australia – to rally a Citroen DS3.  This will see him go up against the Mazdas, Renaults and hopefully Hondas even if they are in private hands (after Honda announced their withdrawal from the Championship…).
He is now off to Croatia to rally a DS3 – to help him get used to the Citroen.
In this interview, we talk about Rally Australia, rallying the Ford, his future with Citroen and looking to Croatia and the ARC finale – Rally Victoria.
Listen to this episode (Right click –> Save As)
Click here to subscribe to RacerViews iTunes channel
[mudslide:picasa,0,racerviewsphotos,5924782295486015313,47,600c,center]
Coppin's new 2014 ride – the Citroen Australia DS3
[mudslide:picasa,0,racerviewsphotos,5901397342235917601,27,600c,center]
Coppin rallying the Super Special Stage at the International Rally of Queensland
—-
Interview and photos by Sam Tickell, September 2013
RacerViews was established in 2011 and with the aim of delivering a new web experience to motorsport fans. We bring exclusive interviews and photos from motorsports finest drivers of yesterday, today and tomorrow. Our team has over 30 years of experience in the motorsport field. With a heavy presence on Facebook, Twitter and iTunes where we have over 2800 followers, our mission to bring exclusive content is in safe hands. We have partnered with motorsport teams like Stig Richards Motorsport, One of a Kind Motorsport, Dark Horse Racing and MRT Performance in order to give you the best exclusive motorsport coverage.
We are always looking for new people to join our team. If you are a motorsports photographer or journalist looking for additional exposure or a great place to learn your trade, contact us