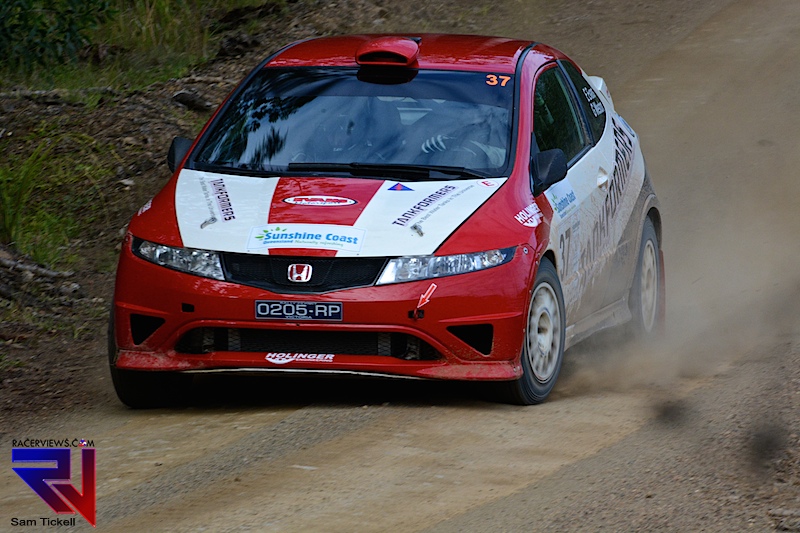 Eli Evans has dominated Australian rally over the past couple of seasons but he took a step back to the Queensland Rally Championship this weekend at the International Rally of Queensland as he prepares for his European outing in a JAS Honda Civic.
He will be competing in Estonia and this weekend was purely to prepare for that Rally.  He has brought out his old Civic that he ran before his Championship years in the Honda Jazz.
The preparation didn't all go to plan as some woes for the Civic saw him sit out a number of stages throughout the weekend.
In this interview we talk about his rally, his plans for the future, particularly his European plans.
Download this episode (right click and save)
Click here to subscribe to RacerViews iTunes channel
[mudslide:picasa,0,racerviewsphotos,5901492131367379121,16,640c,center]
—
By Sam Tickell,  June 2014
RacerViews was established in 2011 and with the aim of delivering a new web experience to motorsport fans. We bring exclusive interviews and photos from motorsports finest drivers of yesterday, today and tomorrow. Our team has over 30 years of experience in the motorsport field. With a heavy presence on Facebook,Twitter and iTunes where we have over 3000 followers, our mission to bring exclusive content is in safe hands. Additionally we have over 1 million views on our G+ page. We have partnered with motorsport teams like Stig Richards Motorsport, One of a Kind Motorsport, Dark Horse Racing and MRT Performance in order to give you the best exclusive motorsport coverage.We are always looking for new people to join our team. If you are a motorsports photographer or journalist looking for additional exposure or a