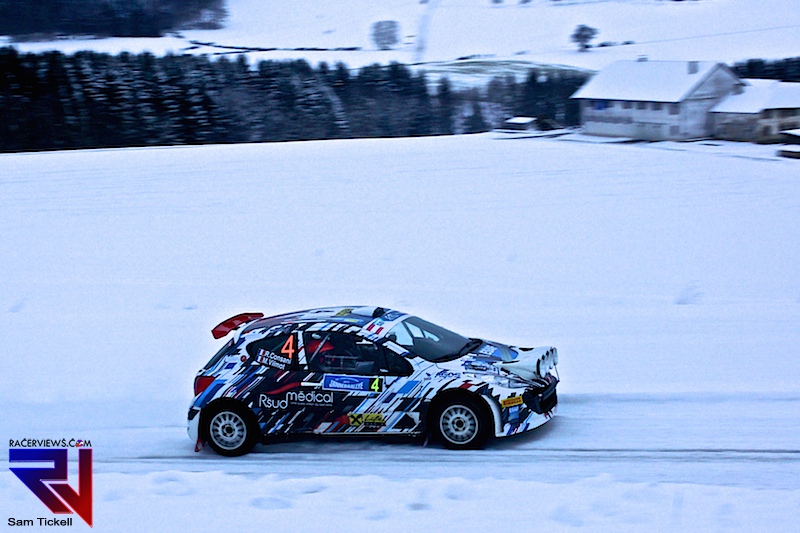 Robert Consani has had a brilliant first day to the 2015 GaGa Energy Janner Rallye.  He sits in second place as the cars went into the final loop of stages for the day.  The Frenchman has taken on the role of lead Peugeot driver in this rally after the demise of Craig Breen in stage one.
The day has been challenging with fresh snow falling over night and snow falling during the day.  I has meant that drivers have really had to concentrate to even know where they are going and the grip has been changeable all day.  Added to that, the drivers get to tackle night stages in the freezing conditions.
Only two drivers have really been able to get on top of the conditions – Consani and Poland's Kajetan Kajetanowicz who has been able to build up a big lead in his Ford.
It is also a long day with the drivers on stage for more than 12 hours.  A great way to do a rally, however.  The Janner Rallye has enabled the drivers a hundreds of competitive kilometres while keeping the rally near a central service park.  The key though is the night stages which bring a different element to the rally.
We hear from Consani about his day and how he will tackle the final stages.
Download this episode (right click and save)
Click here to subscribe to RacerViews iTunes channel
—
By Sam Tickell,  January 2015
RacerViews was established in 2011 and with the aim of delivering a new web experience to motorsport fans. We bring exclusive interviews and photos from motorsports finest drivers of yesterday, today and tomorrow. Our team has over 30 years of experience in the motorsport field. With a heavy presence on Facebook,Twitter and iTunes where we have over 3000 followers, our mission to bring exclusive content is in safe hands. Additionally we have over 1 million views on our G+ page. We have partnered with motorsport teams like Stig Richards Motorsport, One of a Kind Motorsport, Dark Horse Racing and MRT Performance in order to give you the best exclusive motorsport coverage.
We are always looking for new people to join our team. If you are a motorsports photographer or journalist looking for additional exposure or a great place to learn your trade, contact us