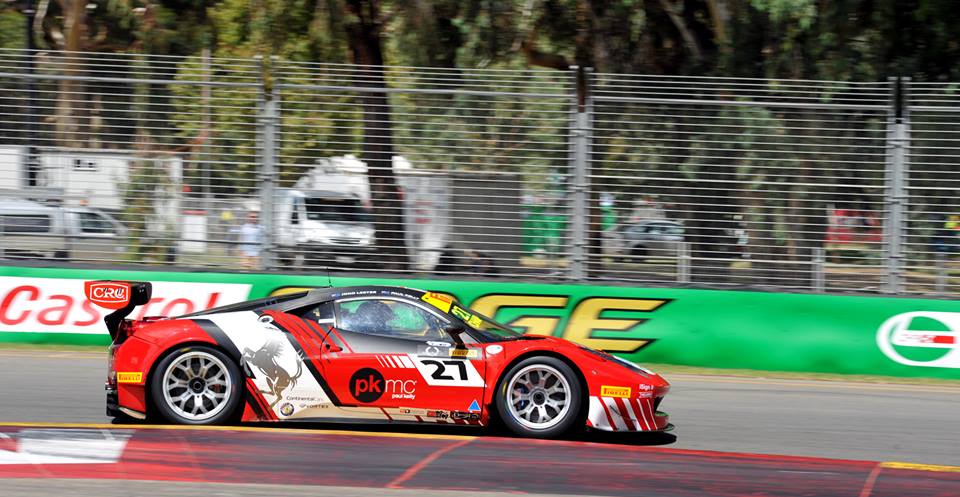 But he is very serious in the car.  He and the Trass Family Motorsport team are a serious team but they have the music pumping, they are taking selfies, having fun and, most importantly, they are very, very fast.
On track there were two stars from the Australian GT Championship presented by Pirelli opening round in Adelaide.  Nathan Anutnes and Jono Lester.  We caught up with Jono after the round to have a chat about his weekend, passing the entire field a couple times over and of course, that pitlane selfie.
The full audio of this exclusive interview is below
Lester raced with Paul Kelly in the Trass Family Motorsport Ferrari 458 Italia and was mega quick all weekend.  He claimed pole position from Chris Mies, was turning very fast laps in race one before a very poorly timed safety car pushed him to the back of the field.  His recovery drive is something that legend is made of, coming from 32nd to finish fourth – all in about 11 minutes.
Race two was the same – he had to climb through the field during his stint in the car.  It was a successful stint, with the New Zealander climbing to third by the end.  This was after a compulsory 114 second pitstop where the duo had enough time to stop for a pitlane selfle.  Jono has promised more for the fans throughout the season
The third race didn't go to plan as Paul Kelly had a heavy crash that landed him in hospital for a short time and severely damaged the car.  Despite this, the duo finished third overall for the weekend and now are in a race against time to be ready for the next round at Phillip Island.
We also discuss Lester's time in Asia and his plans to keep race fit throughout the year; the round at Adelaide and his expectations for the next round at Phillip Island in May.
Our first @AustralianGT podium! With 114sec in the pits Paul and I had plenty of time for a selfie during our change! pic.twitter.com/rjHxPDuvUP

— Jono Lester (@JonoLester) February 28, 2015
Chur #clipsal500 #livetherace @AustralianGT @TFMotorsport @speedcafe pic.twitter.com/xpDl1LIdbF

— Jono Lester (@JonoLester) February 28, 2015
Download this episode (right click and save)
Click here to subscribe to RacerViews iTunes channel
[mudslide:picasa,0,racerviewsphotos,6114520333118344225,63,640,center]
By Sam Tickell,  March 2015
RacerViews was established in 2011 and with the aim of delivering a new web experience to motorsport fans. We bring exclusive interviews and photos from motorsports finest drivers of yesterday, today and tomorrow. Our team has over 30 years of experience in the motorsport field. With a heavy presence on Facebook,Twitter and iTunes where we have over 3000 followers, our mission to bring exclusive content is in safe hands. Additionally we have over 1 million views on our G+ page. We have partnered with motorsport teams like Stig Richards Motorsport, One of a Kind Motorsport, Dark Horse Racing and MRT Performance in order to give you the best exclusive motorsport coverage.
We are always looking for new people to join our team. If you are a motorsports photographer or journalist looking for additional exposure or a great place to learn your trade, contact us