The Vanthoor name is well known in Australia with Laurens having competed in the Australian GT Championship. But this time it is Dries Vanthoor, his brother, who has come to compete at the Liqui Moly Bathurst 12 Hour with the WRT Audi squad. He had a great 2017 season, racing at Le Mans and in the Blancpain Sprint Series. Michael Ford caught up with him.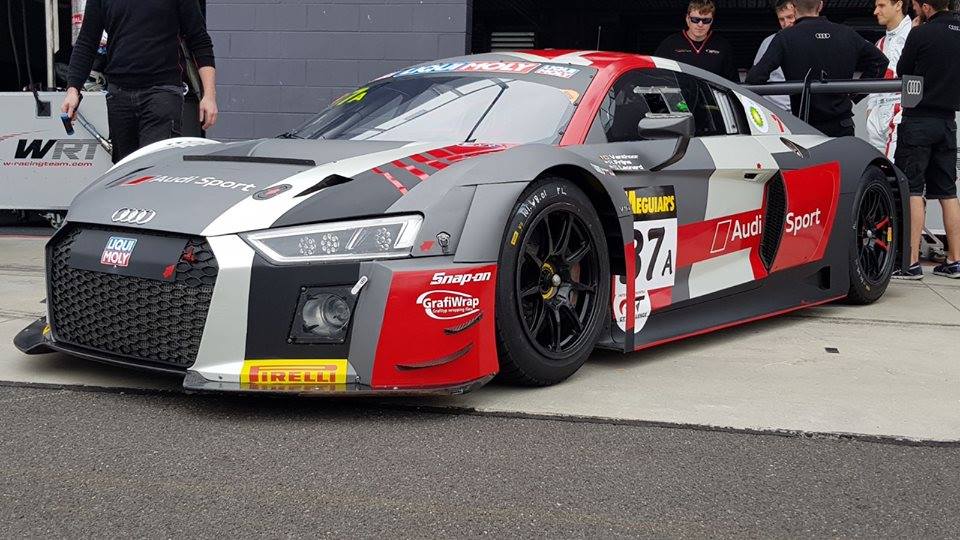 Michael Ford: I am here with Dries Vanthoor, first time to Bathurst – looking forward to it?
Dries Vanthoor: Yeah of course. It is a special and great track. Everyone wants to drive here and likes to drive here. It is not like Europe where there space to go off. Here you hit the wall and you don't get out of it that well. That is how it has to go. That is what I don't like in Europe. Here it is like Macau and Nordschleife. You can compare it to those tracks.
Prefer to listen, you can do so here

https://www.racerviews.com/files/2018/02/Dries-Vanthoor-Friday.mp3
MF: Your brother has been here before. Has he been giving you any advice?
DV: No not yet. I think he has been scared to tell me! I have not asked him yet but we will see. I will try to do FP 1 and 2 and see where I am. If I am a bit slow maybe I will ask for some tips. I want to try it all myself.
[Laurns comes in and disrupts things. Laughter ensues]
MF: 2017 was a standout year for you. You excelled and pushed yourself further. Coming into the last round of the Blancpain GT Sprint Championship you were in with a chance. 2018, will it be similar?
DV: Yeah, 2017 was a good year for me. I won at Le Mans on the first time trying. I got 10 minutes short at the Nurburgring but that was not a nice weekend for me!
For sure my goal is to win what I lost in the last 10 minutes last year. I would like to go to Le Mans. That is what I wanted with me and my dad, the help of my brother that is waht we are aiming for. Now it is trying to maintain it and being here as long as I can. To try to get the best career possible.
MF: You have associated yourself with WRT – being a Belgian driver yourself, does that help?
DV: Yeah of course. I know WRT well, I was here when Laurens was here. I was small kid when I saw him drive those races. Seeing him win those races, I know the people, it is a nice atmosphere. They are all Belgian – it is a nice atmosphere.
MF: Does it make it easier speaking the language fluently?
DV: Belgian has two languages, Dutch and French. I come from the Dutch part. WRT is a Belgian team but from the French part. I learnt some French so that is good but I am not the like best friends with the language but I can talk to some people and have some fun and laugh with them, so that is cool.
MF: Thank-you very much, have fun and keep it straight.
DV: Thank-you very much.
The RacerViews info
By Michael Ford, February 2018
RacerViews was established in 2011 and with the aim of delivering a new web experience to motorsport fans. We bring you more than just the news. Our exclusive interview and galleries brings you the views from the track, from the racers. Our extensive race review collection allows you to keep up with the action from around the world. The team of passionate pros have decades of experience in the motorsport field. Our social media presence on Facebook, Twitter and YouTube bring you more, a holistic experience. We have more than 3100 followers on Twitter and more than 2 million views on Google Plus. Our mission is to bring exclusive content is in safe hands.
Our commitment to motorsport can be seen with unrivalled coverage of the Queensland Rally Championship. Additionally, over the time we have partnered with motorsport teams like Ben Gersekowski, Andreas Wirth, Stig Richards Motorsport, One of a Kind Motorsport, Dark Horse Racing, Nat Rallysport and MRT Performance in order to give you the best exclusive motorsport coverage.
If you have a motorsport story to share contact us!