After a couple of weeks off *because we were at race tracks and rally stages* we are back with out latest FastFours. It is a treat for any Champ Car fan as we get to dust off our ChampCar tag, look in our archives as we present Dan Clarke!
First of all, the long answers
Most Respected Rival – Will Power traded the lead of the "Rookie of the Year" title during the 2006 Champ Car World Series season. He was a super fast opponent and I was able to have good weekends also. The last 2 races were disappointing for me and he excelled so he took the honours but it was a good year and we had moments on track together of tough but fair racing (One race, Cleveland I think, we kept trading places under yellow because we each felt we were the one in front at the moment it went yellow. It was tight but fair and we got racing again as soon as the race went green)

Favourite Car – the 2006 Champ Car season with the Lola Cosworth. The sequential 7 speed shifter you had to blip each and every downshift meant every gruelling 2hr race felt like a transcendent experience of man and machine. No power steering either. Bumpy Street courses and top speeds of 196mph at fast road courses like road America. What more could a driver ask for?

Chase or be chased – Chase

Qualify or Race – Race
The Brit spent 2 years in Champ Car, firstly in 2006 with CTE-HVM then in 2007 with Minardi. He took a couple of podiums and looked like he could make a good career there, but the end of the series meant other things for him. A couple years in Lights and Nascar Nationwide before turning his attention to sports car racing with Porsches and driver coaching.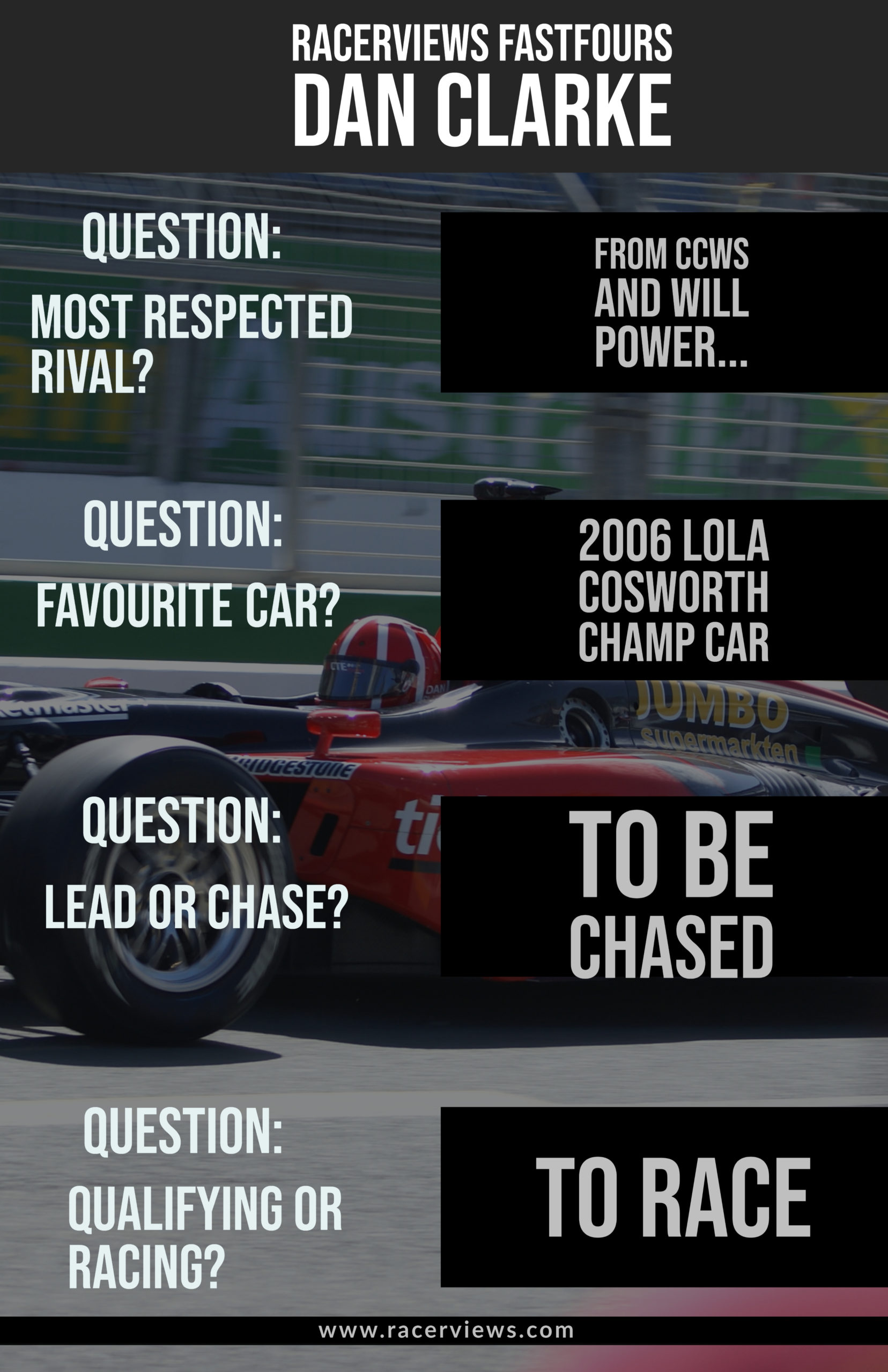 The RacerViews info
By Michael Ford/Sam Tickell
We are passionate, dedicated motorsport professionals.
In 2021 you will see us trackside and stage side with exclusive coverage of
The World Endurance Championship
The World Rally Championship
Belgian Rally Championship
and more!
We aim to bring you interviews and photos you won't see anywhere else. We don't aim to break the news, rather we aim to bring the voices of the racers to you and atmosphere of the event to you at home. Our social media presence on Facebook, Twitter and YouTube bring you more, a holistic experience. We partner with racers and professionals in the industry and give back where we can. If we can help you or you have a story to share, please contact us.
RacerViews has partnered with Championships, drivers and teams in the past. If you think we can help, have a tip or just want to say hi, please reach out.