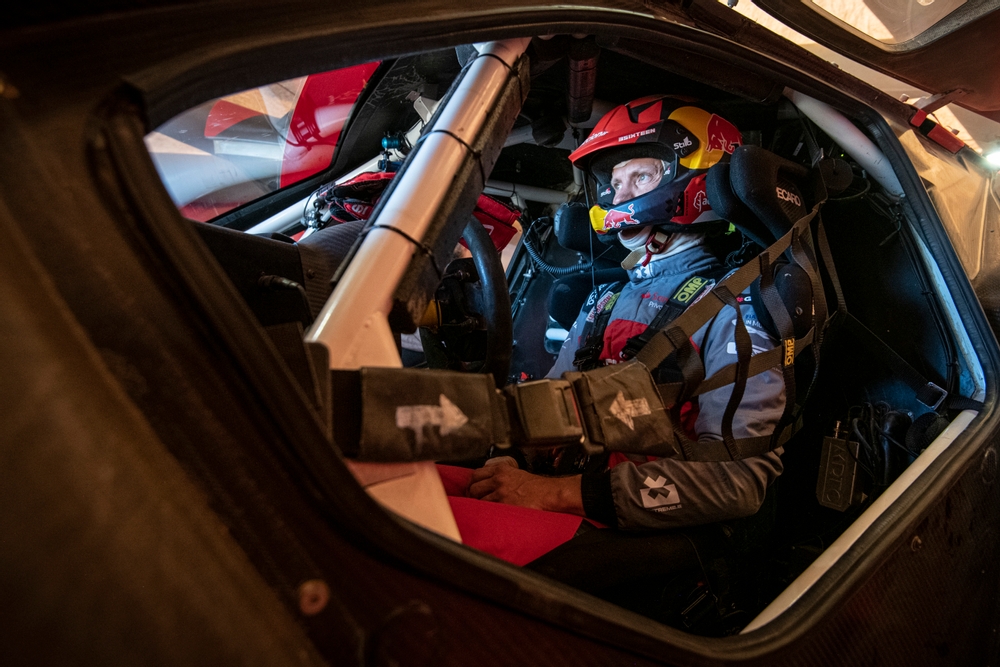 ACCIONA | SAINZ XE Team secured their first ever win in Extreme E with a dominant run in the Grand Final, finishing ahead of Round 1 winners Veloce Racing in second and Rosberg X Racing (RXR) in third on the sands of NEOM, Saudi Arabia
Laia Sanz and Mattias Ekström, supported on-site by team owner Carlos Sainz Snr., dominated the race from start to finish, establishing a comfortable lead as Veloce Racing and RXR fought over the runners-up spot.
In fourth place were ABT CUPRA XE, having recovered well from a crash in Round 1's Redemption Race to make it to the Grand Final second time around.
No.99 GMC HUMMER EV Chip Ganassi Racing finished fifth, marking two Grand Finals out of two for the team's new driver-pairing of RJ Anderson and Extreme E newcomer Amanda Sorensen.
Winners of the Redemption Race were X44 Vida Carbon Racing. Having tied fifth in Qualifying with eventual Round 2 winners, ACCIONA | SAINZ XE Team, Fraser McConnell and Cristina Gutiérrez lost out on a spot in the Grand Final due to a slower time in the Continental Traction Challenge.
X44 Vida Carbon Racing came back swinging, ending Round 2 with the quickest time in the Traction Challenge on their way to victory in the Redemption Race, securing a valuable 10 points in the championship battle.
The Desert X Prix double-header delivered two maiden victories, with wins for Veloce Racing and ACCIONA | SAINZ XE Team. What's more, with the Round 2 podium featuring the same top three teams from Round 1, they will be the ones to watch as the series heads into the next X Prix weekend in Scotland on May 13-14.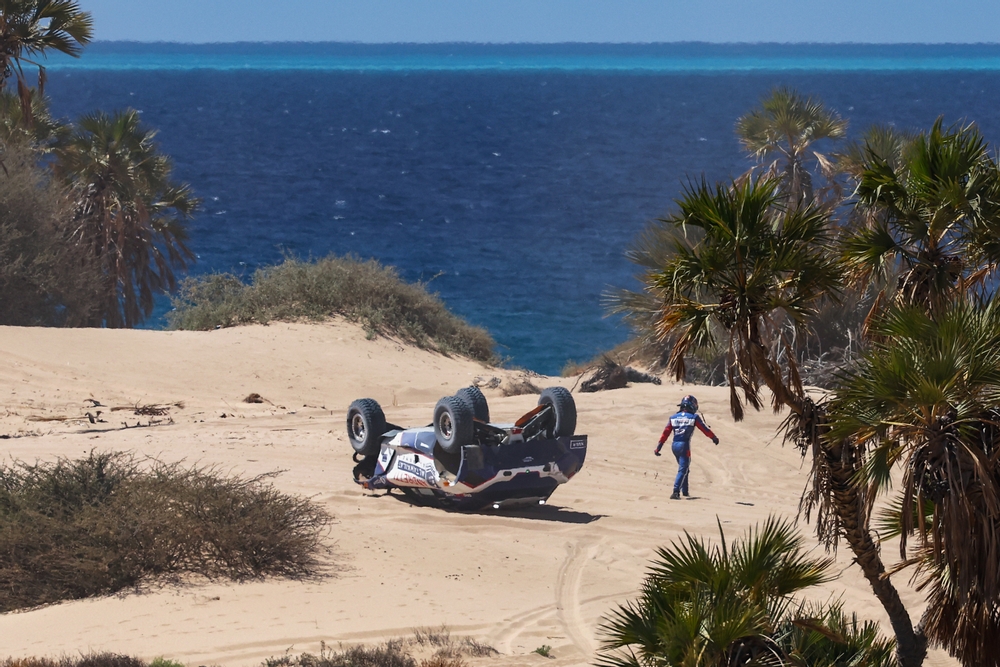 Laia Sanz, ACCIONA | SAINZ XE Team, said: "I am very happy, both for myself and the team. We clinched our maiden win in Extreme E! I want to thank Mattias for giving me the car with such a good advantage over the rest of the field. I did a good stint and was able to keep the distance, so I am more than satisfied.
"This victory is for all the people on the team because they truly deserve it for all the work we have done to be in this position, especially for Carlos Sainz. It was an honor that he called me to ask if I wanted to race with him in Extreme E and I am trying to pay back his trust with all my motivation and my willingness to improve even further. I learned so much with him as my teammate and it is fantastic that he is with us here, helping us and giving advice. Today we can feel proud, but we must keep up the good work."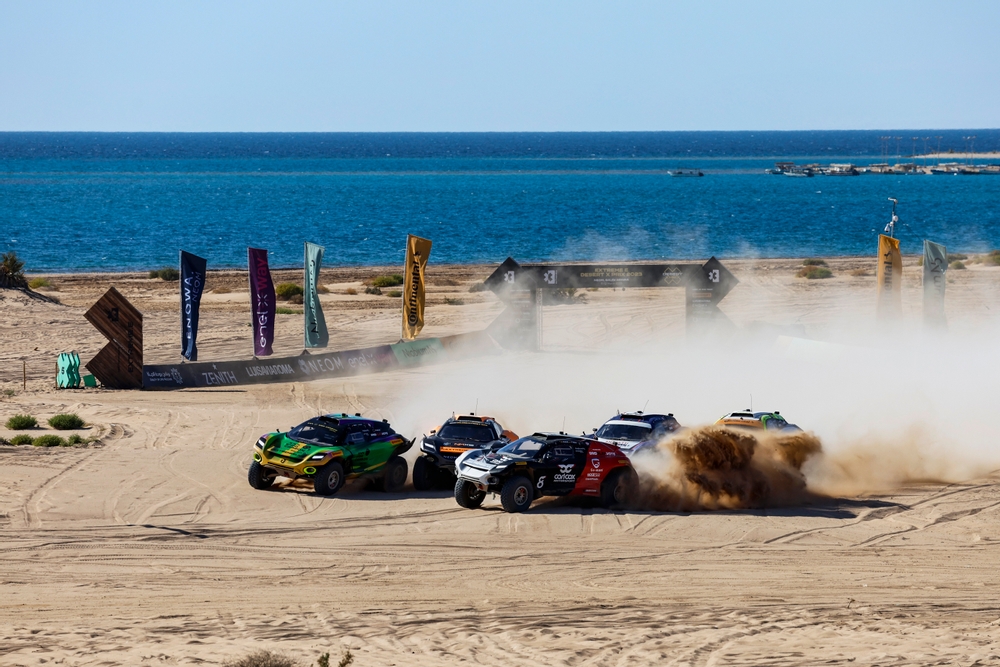 Mattias Ekström, ACCIONA | SAINZ XE Team, said: "We had designed a strategy for the Grand Final and I executed it as well as I could. I am really happy that it turned out to be fruitful. It is always easier to race in front and have a clear view in front than being behind another car and having to deal with all the dust. I really enjoyed every corner. Laia drove very well and managed the gap perfectly. It is a good victory for the team.
"It is also very special for Carlos. We have been teammates at the Dakar Rally for the past two years, but ever since I joined ACCIONA | SAINZ XE Team he has been really caring. He has taught me many things, as a father would. He is a great guy and it makes me really happy that we can dedicate this victory to him."
Carlos Sainz Snr., ACCIONA | SAINZ XE Team, added: "I am really happy that the first victory of ACCIONA | SAINZ XE Team is finally here because we have worked a lot of time to achieve it. Laia and Mattias were spectacular and they already showed that they are one of the strongest driver pairings in the Championship.
"We have grown steadily and so have our results. Starting the Championship in this fashion is a good sign. We must keep up the good work and I hope the team is able to keep the same trend in the next race because our goal is to fight for the Championship. Today is also a day to be thankful to our sponsors, like Acciona, Santander Private Banking, and Asterra because without them it would be really difficult to achieve a success like this."
Grand Final

As the top five teams from Qualifying took on the Grand Final in Extreme E, Ekström set the tone for the race as he charged into the lead for ACCIONA | SAINZ XE Team.
Behind the Swede, Veloce Racing's Kevin Hansen dug deep to get ahead of RXR's Johan Kristoffersson to take second place, as the RXR machine bounced sideways through the dips in the course.
Just as the front three got some breathing space from No.99 GMC HUMMER EV Chip Ganassi Racing's Anderson and ABT CUPRA XE's Klara Andersson in fourth and fifth, respectively, Hansen accidentally hit the pit limiter. The Veloce Racing ODYSSEY 21 dropped back into third while Hansen recovered from the sudden loss of speed.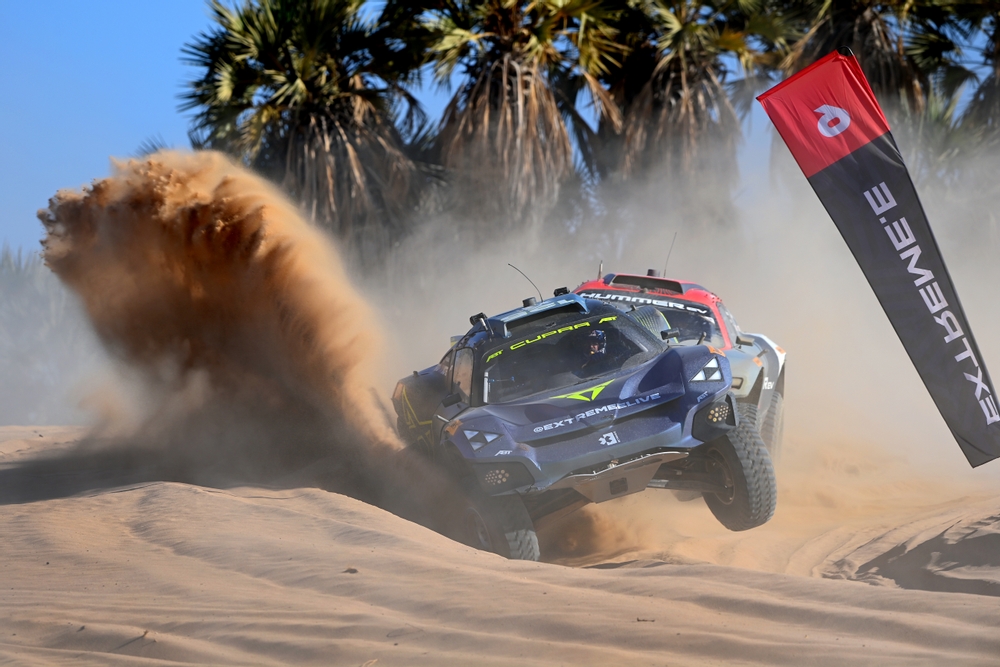 Ekström continued to extend his lead for ACCIONA | SAINZ XE Team as the other teams lost time tussling for position, with Kristoffersson defending hard against Hansen until the Veloce Racing driver took a wider line and completed the overtake on RXR for second place.
Following the driver change, which saw Veloce Racing's Molly Taylor and RXR's Mikaela Åhlin-Kottulinsky door-to-door as they exited the Switch Zone, it was a comfortable run for Sanz in the ACCIONA | SAINZ XE Team car.
The Spaniard kept a cool head to complete a clean run, while Taylor brought her ODYSSEY 21 home in second for Veloce Racing.
RXR's Åhlin-Kottulinsky fended off Nasser Al-Attiyah in the final stages of the race to claim the third step on the podium, with ABT CUPRA XE finishing fourth after Al-Attiyah got past No.99 GMC HUMMER EV Chip Ganassi Racing's Sorensen.
Molly Taylor, Veloce Racing, said: "It was a really cool weekend for us and a great way to start the new season! For me coming back in – I've obviously been out of the car for a little while – so you like to have confidence and belief in yourself but then you've obviously got to get out there and prove yourself.
"The new format means there's more racing which is a good thing and more fun for sure. We've seen how close everyone is. The teams that were on the podium were fast but there were plenty of teams that were also very fast and not on the podium."
Kevin Hansen, Veloce Racing, said: "It has been great to kick off the season like this and to get two podiums to start the year. For sure it was a big challenge, and the ruts were almost the same height as the car at some points in the finals but we managed to come through.
"It was a treat to start this way but there were the same three teams up there on the podium so we can expect all the others to improve as well before the next race and we need to do the same."
Mikaela Åhlin-Kottulinsky, Rosberg X Racing, said: "Getting a double podium on a weekend like this is obviously great, but it has also been a tough weekend. I found it hard to pick up pace and be in there, but I've really been struggling to improve and to get better.
"We are happy with P3 today and, of course, it was a shame about yesterday, but it's so important just to collect points. There are so many great teams out there, so to be in the Grand Final every time and keep collecting those points is what is going to get you the championship in the end."
Johan Kristoffersson, Rosberg X Racing, said: "The track was very challenging but was rewarding if you were prepared to take risks. In the final today, I was a little bit too cautious and that allowed Kevin [Hansen] to pass me, but I think the weekend wasn't too bad.
"It always feels a little bit like you left something on the table, especially yesterday and maybe today with that overtaking from Kevin, but in the end you know with the new format and tricky start conditions from both Q1's Saturday and Sunday, to score important points is good."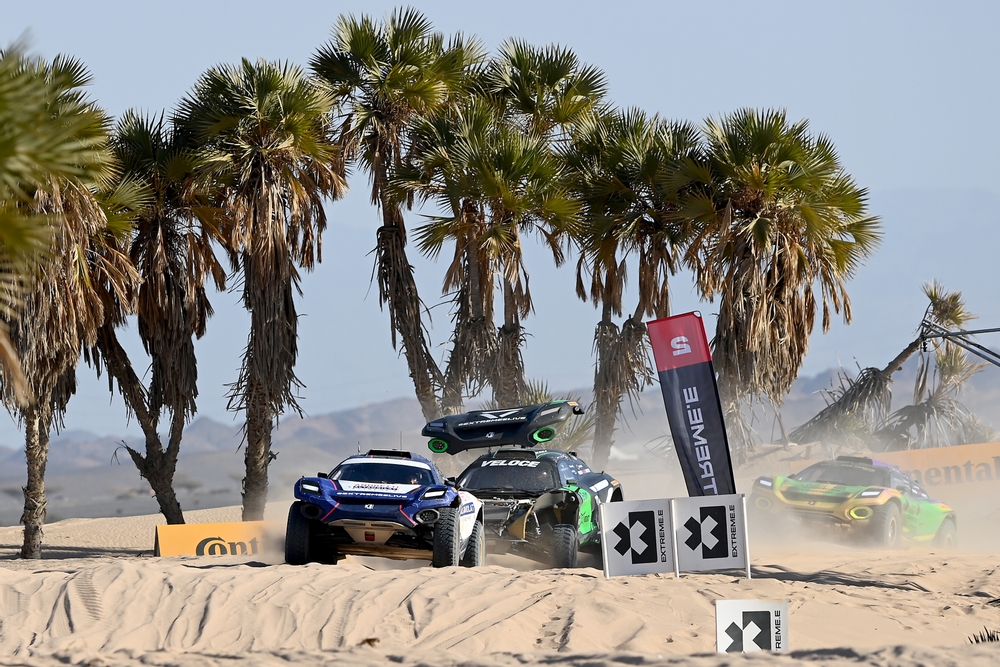 Redemption Race
The remaining five teams fought it out in the Redemption Race in pursuit of those all important sixth to tenth place championship points.
Carl Cox Motorsport looked to have taken an early lead in the race as Timo Scheider pushed his ODYSSEY 21 to the limit, bouncing round the outside of the opening right-hander. X44 Vida Carbon Racing's Fraser McConnell, however, stuck to his trusted inside line to jump to the front of the pack.
Behind them was Andretti Altawkilat Extreme E's Timmy Hansen, followed by NEOM McLaren Extreme E Team's Tanner Foust in fourth, and JBXE's Heikki Kovalainen in fifth, until Foust pulled out onto a wider line and cut back in to overtake Hansen for third place.
Scheider kept just two seconds adrift of X44 Vida Carbon Racing's McConnell as the German ran in second for Carl Cox Motorsport. Meanwhile the front three pulled away from Andretti Altawkilat Extreme E and JBXE, and as they approached the Switch Zone Scheider was late on the brakes, making contact with McConnell as they entered.
Carl Cox Motorsport managed to get the better of X44 Vida Carbon Racing at the driver change, as Christine GZ emerged ahead of Cristina Gutiérrez. The X44 Vida Carbon Racing driver soon retook the lead, however, as the NEOM McLaren Extreme E Team continued a trouble free run behind.
The same cannot be said for Carl Cox Motorsport's GZ and JBXE's Hedda Hösas, though, as both suffered a roll during their stint. GZ was able to crawl home in fourth, handing second and third place to NEOM McLaren Extreme E Team and Andretti Altawkilat Extreme E, respectively, while JBXE ended their Desert X Prix with a DNF.
Results:
Grand Final:
1. ACCIONA SAINZ XE Team 11:10.821
2. Veloce Racing +5.527
3. Rosberg X Racing +7.429
4. ABT CUPRA XE +7.987
5. No.99 GMC HUMMER EV Chip Ganassi Racing +22.321
Redemption Race:
1. X44 Vida Carbon Racing 11:10.132
2. NEOM McLaren Extreme E Team +10.150
3. Andretti Altawkilat Extreme E +33.296
4. Carl Cox Motorsport +2:43.534 (PENALISED)
5. JBXE DNF
Championship Standings:
1. Veloce Racing: 46 points
2. ACCIONA | SAINZ XE Team: 46 points
3. Rosberg X Racing: 31 points
4. X44 Vida Carbon Racing: 23 points
5. No.99 GMC HUMMER EV Chip Ganassi Racing: 21 points
6. ABT CUPRA XE: 15 points
7. NEOM McLaren Extreme E Team: 14 points
8. Carl Cox Motorsport: 8 points
9. JBXE: 5 points
10. Andretti Altawkilat Extreme E: 5 points