The expected hierarchy…confirmed
After two World Rally Championship editions of the Ardeca Ypres Rally, the event returns to the domain of the Belgian and British Rally Championships. The expected duel between Stéphane Lefebvre (Citroën C3 Rally2) and Adrien Fourmaux (Ford Fiesta Rally2) has delivered the results we expected in the first loop.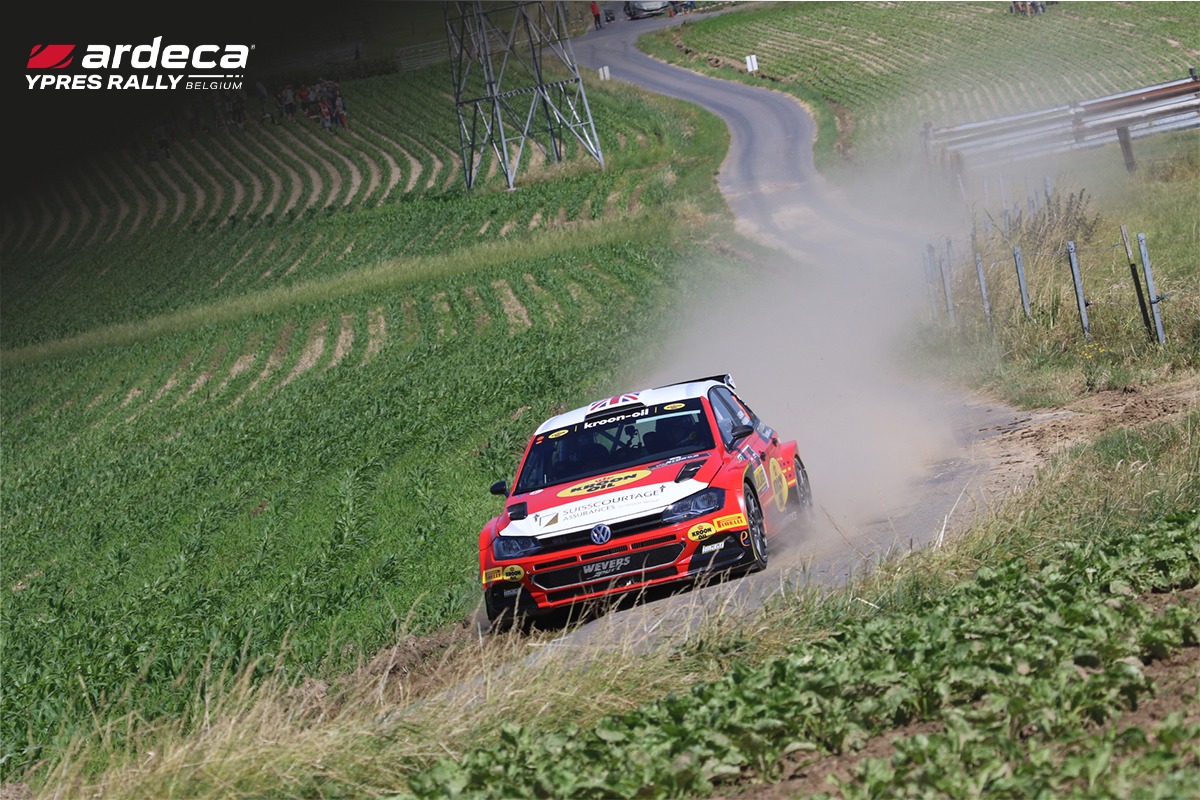 The first loop, at 37 kilometres meant that the drivers in the Ardeca Ypres Rally needed to push. There was no tyre saving going on! The first special, Westouter, was one of the two shortest stages of the weekend (7.32 km), with that of Mesen-Middelhoek (7.06 km), also on the program today (SS 3 and 7).
This nevertheless made it possible to quickly get an idea of what is happening at the front. As expected, Stéphane Lefebvre and Adrien Fourmaux pushed and shared the stage times. The took two each. After the first loop, the Citroën leads the Ford by 1.7 seconds. Fourmaux, it seems, has the benefit on the longer stages, though that remains to be confirmed. Kemmelberg is identical to 2022 and with the same car, Lefebvre achieved his best time on the first loop with a time of 7'31″9; improving this year by 1.7 seconds. The leadership battle is a close one!
Chris Ingram completes the provisional podium with the VW Polo GTi driver pushing, even though he admits having difficulty to learning how to take the cuts in this car (and we know the importance of this practice in Ypres!), which explains the 8.6 second delay he had at the end of this loop.
Behind, the Belgians are placed to pounce. Leading the group is Cédric Cherain (Hyundai i20 N Rally2) who seems calm and is ahead of ´Freddy Loix (Škoda Fabia RS Rally2). Loix is still well in contention ahead of a surprising Davy Vanneste (VW Polo GTI R5).
Maxime Potty is missing from the top. The current leader of the Belgian Championship has given himself trouble after hitting a post in his Citroën C3 Rally2 on Kemmelberg.While here may be no lasting trouble, he suffered a puncture and conceded 30 seconds to Cherain. He finds himself in 12th, with a minute's gap to the lead.
Further back we highlight Jos Verstappen (Škoda Fabia RS Rally2), who lost many seconds with a puncture on Mesen-Middelhoek (SS3). Then we move to Timothy Van Parijs (Porsche 997 GT3 Cup) leading in NRGT and Amaury Molle (Alpine A110 Rally RGT) in RGT, these two following each other overall, separated by only 2.5seconds!