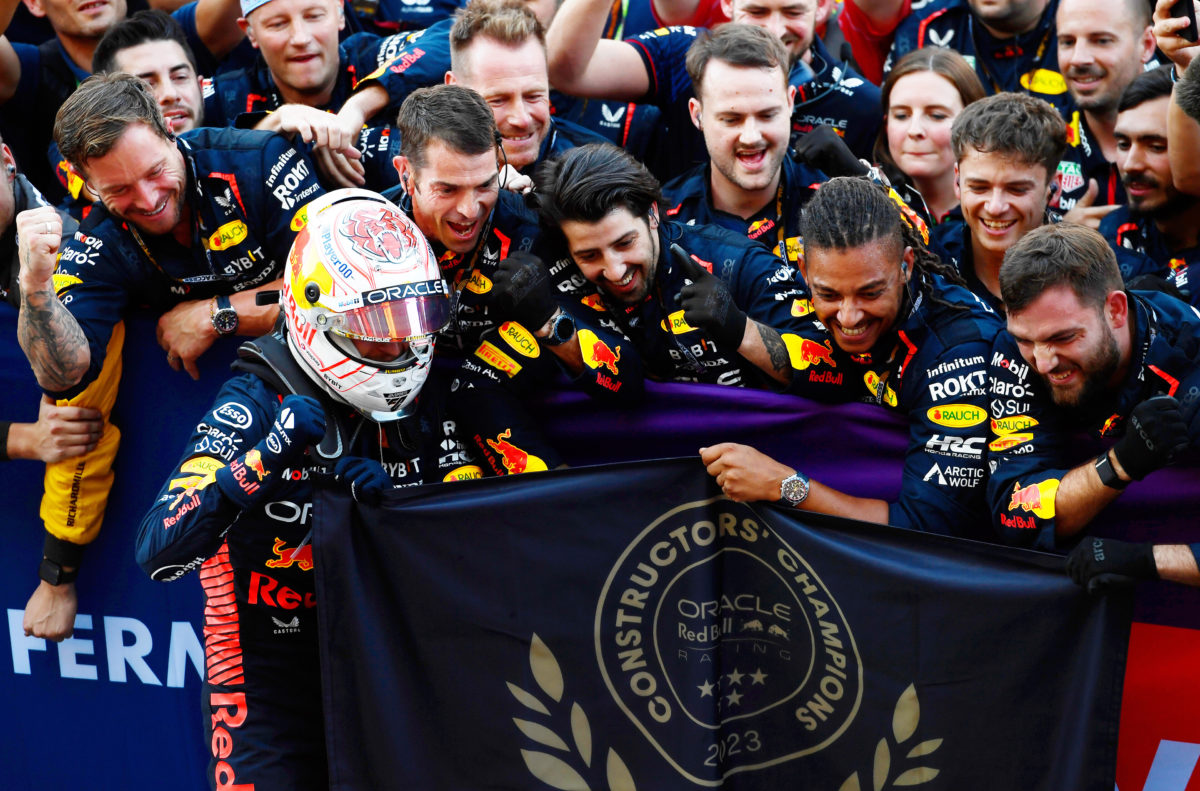 After the shock win in Singapore by Ferrari's Carlos Sainz, the 2023 world of Formula 1 returned to its regular scheduled programing as Red Bull and Max Verstappen dominated the 2023 Japanese Grand Prix to win their 6th Constructors title.
The victory in the Land of the Rising Sun saw Red Bull take the title over rivals Mercedes and Ferrari by nearly 300 points, the majority of which came via Verstappen's run of 10 consecutive victories, and sealed the constructors title a full two races weekend earlier compared to their 2022 run. With the title race in hand, Verstappen and Red Bull set themselves up for a follow-up in Qatar, a sprint-weekend where Verstappen would be able to secure his 3rd title in a row if he outscored Perez by three points.
A chaotic Friday saw many drivers struggling in the sandy conditions of the Lusail International Circuit, as wind, harsh curbing, and high temperatures forced many an error on track. Verstappen secured his 10th pole position of the season in a hectic Q3 that saw both McLarens demoted due to track limit violations, promoting Lewis Hamilton to the 3rd position behind teammate George Russell.
Saturday's sprint qualifying led to a surprising McLaren Pole, with rookie Oscar Piastri pacing the field for his first ever Sprint Race Pole ahead of teammate Lando Norris and Verstappen. The quick McLaren duo, with only Verstappen seperating them, would go on to finish 1st and 3rd, with Piastri becoming the first rookie to win a Sprint Race in Formula 1. Verstappen, with his 2nd place finish, secured the points needed to win his 3rd World Title in the process.
WOW. WOW. WOW. 🤩 An #F1Sprint to remember! 🧡#QatarGP 🇶🇦 pic.twitter.com/selFSTiaZg

— McLaren (@McLarenF1) October 7, 2023
With the title in hand, Verstappen and Red Bull could have taken a break, but instead put the hammer down on Sunday as they waltzed to an easy victory. Behind the Red Bull however, was chaos from the start. Going into the first corner, the Mercedes duo collided, sending Hamilton into the gravel and ending his race before it really even had a chance to start. Teammate George Russell was able to continue after dropping near the back of the field and would claw back to finish 4th, behind the ultra quick McLarens of Oscar Piastri and Lando Norris. The 2-3 finish for McLaren now sees them only 11 point out from surpassing Aston Martin for 4th in the Constructors Championship, a far cry ahead of where they started year finishing in Bahrain in 17th and 20th overall.
Formula 1 continues its world tour with the United States Grand Prix held at the Circuit of the Americas in Austin, TX, October 19th-22nd.