Norbert Maior has become the 10th winner of the FIA Junior ERC Championship after he beat Roberto Daprà to the coveted title – and the 2024 FIA Junior WRC Championship prize drive – by seven seconds.
In a thrilling finish to the six-round season, the first with Hankook as the official tyre partner, Maior had to beat fellow Peugeot 208 Rally4 driver Daprà to become champion, a feat he achieved with a winning margin of 7.1sec on Rally Hungary.

"I don't have words for this, it's unbelievable for sure," said Romanian Maior, who was co-driven to Junior ERC title glory by elder sister Francesca. "It was a difficult year, we tried everything to be in the ERC in every round and we did it. We are so happy. There are a lot of people who deserved this win. Okay, me and Francesca, we are in the car but the other people are next to us and they help a lot. Thanks to HRT Racing, to Napoca Rally Academy and all my friends who made this possible. It's an amazing feeling."

Maior's prize is a season in the FIA Junior WRC Championship when he will step up to four-wheel drive in a Ford Fiesta Rally3 run by M-Sport Poland.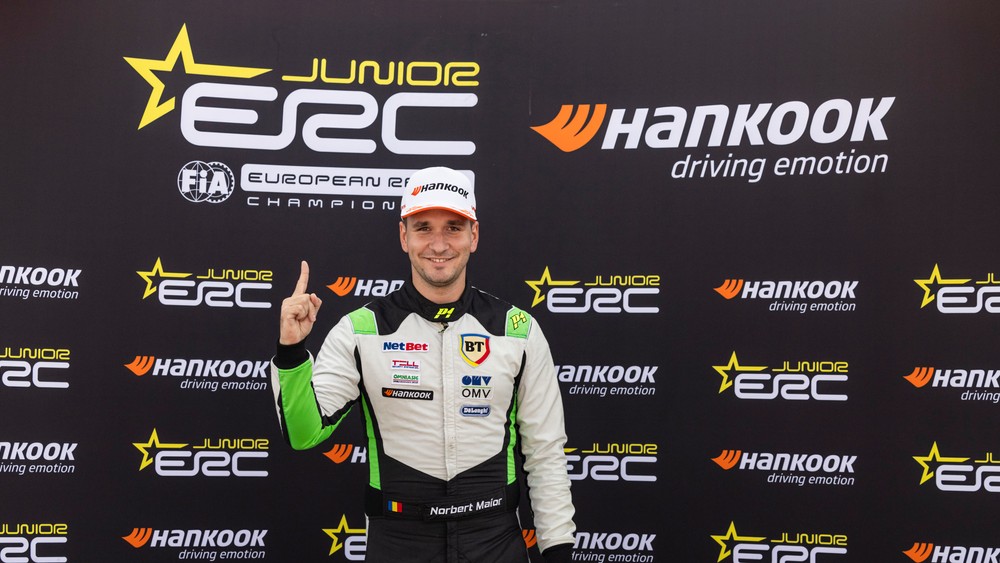 After overcoming mechanical issues, Daprà completed Saturday's opening leg 9.1sec behind Maior. But Maior responded on Sunday, winning SS9 and SS10 to extend his lead to 13.9sec with just the Power Stage remaining.

While Timo Schulz set the fastest time on the rally-deciding test – his second of the final leg – Maior took his first victory of the season by 7.1sec ahead of Daprà.

"We started the year trying to do our best for the Junior ERC title and unluckily for seven seconds we didn't win Junior ERC," said Daprà, who still did enough to take the ERC4 title, which was decided over all eight rounds of the season. "It was the biggest fight of my life because it doesn't happen every day. I am so proud and so thankful and I am also so happy for Norbert. He is a very honest and fair person and he deserves his victory."

Slovenian Mark Škulj maintained third position aboard his Opel Corsa Rally4 for his first Junior ERC podium with Patrik Herczig fourth, despite the Hungarian reporting his Peugeot's set-up was too soft for the mainly dry conditions, as Ola Nore place fifth.

Nore started Rally Hungary as part of the three-way title fight but dropped out of contention with tyre damage on SS2. "I've been very unlucky," the Norwegian Opel driver said. "In one stage today there was a crash and in one stage I stalled so this rally hasn't been good with ups and downs all the time."

Mille Johansson finished sixth on his first start in an Opel Corsa with Schulz fighting back from powersteering issues on Saturday to take seventh, courtesy of back-to-back stage wins on Sunday afternoon.