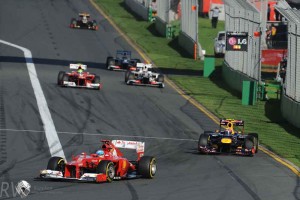 Click here to download the podcast. (right click, save as)
Click here to subscribe to RacerViews iTunes channel
Our second podcast is now available to download!  After the success of our first podcast, we will now be making this a regular feature for RacerViews.  We have made a few changes this time round with more talking points and our interviews have been separated off into individual downloads/posts.
We love to hear your feedback and keep it coming.  You can leave a comment here, on our Facebook/twitter feeds or by the Contact Us page on RacerViews.
This week we talk about F1, the Deltawing, WRC, WEC and more (details are below the player)
In episode two we talk:
– Deltawing talk @ 1:22
– Round 1 of the 2012 F1 Championship from Albert Park @ 5:14
– New car for the Australian GT Championship @ 10:16
– New WRC deal @ 13:18
– Rally Mexico @ 16:20
– Rally Calder @ 17:55
– Sebring 12 Hours (WEC and ALMS) @ 19:10
– V8 Supercars @ 23:20
– Formula 3 @ 26:45
– Australian GT @ 29:15
– What's happened to the WRC @ 31:30
– Our interviews teaser (Christian Klein and Brett Middleton) @ 39:55
Thanks again for listening to our podcasts!
—
Podcast by Sam Tickell & Ash Miller, March 2012
RacerViews was established in 2011 and with the aim of delivering a new web experience to motorsport fans.  We bring exclusive interviews and photos from motorsports finest drivers of yesterday, today and tomorrow.  Our team has over 30 years of experience in the motorsport field.  With a heavy presence on Facebook, Twitter and iTunes where we have over 2800 followers,  our mission to bring exclusive content is in safe hands.  We have partnered with motorsport teams like Stig Richards Motorsport, One of a Kind Motorsport, Dark Horse Racing and MRT Performance in order to give you the best exclusive motorsport coverage.
We are always looking for new people to join our team.  If you are a motorsports photographer or journalist looking for additional exposure or a great place to learn your trade, contact us