It was pole position for Ben Keating in the TF Sport Aston Martin at the 6 Hours of Spa in the GTE Am class of the FIA World Endurance Championship. The American driver is always one who you can tell, really enjoys the sport. On a track that has been changed and resurfaced over the last 12 months, what is it like for a Bronze driver, or someone who makes their money outside of racing to come here and set the pace.
The qualifying times were slower than last year but naturally there is more to the story than that. We sat down with Ben to discover more…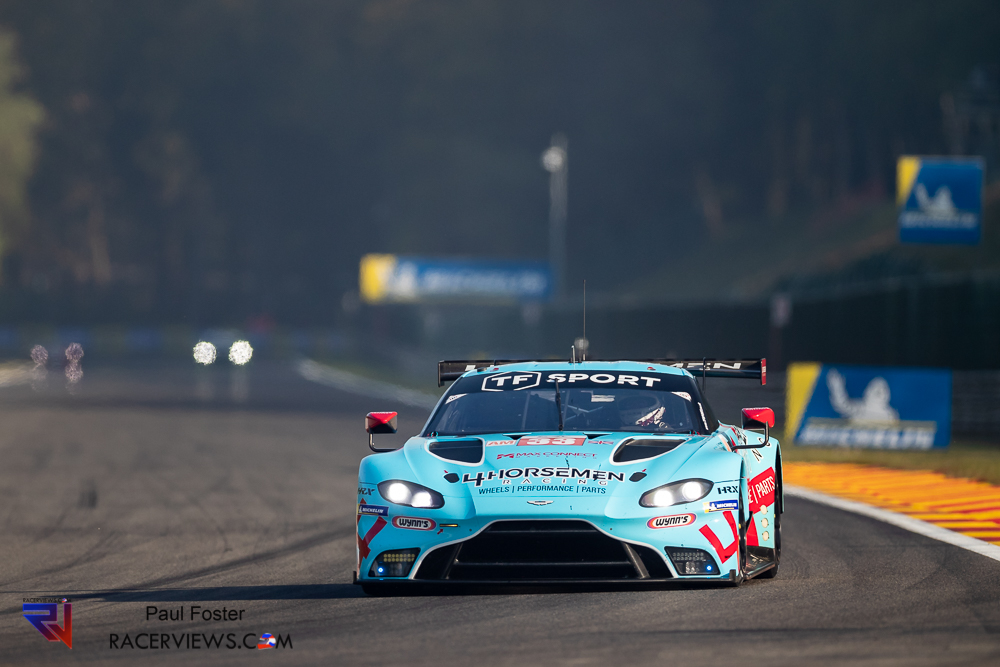 Samuel Tickell  00:00
Hi Ben, it was a fantastic lap overall. Well, first of all, you mentioned the change in in the track that's from from last year. I guess, were you able to prepare for it? Or was like with the new resurfacing? And everything? Was it a big surprise?
Ben Keating  
Yes, I was able to prepare the track. It's interesting.  I enjoy the changes to the track. I don't exactly know why the lap times are slower than they were last year. But I feel like the track is two things. I think it's it's much safer than it was before. You have grip in areas that were always really sketchy. You know, last year in qualifying, I think we totaled three cars in Eau Rouge and Radillion. And now you have no problems, just because it feels so much better. As a driver, so much safer through there and turn eight, you know, turn nine, all that feels so much better. And, you know, I really prefer not having all this big run off where you have to worry about track limits. I prefer the gravel right up to the track and let the track handle all the track limits. I like the way it is right now.
I don't know exactly why, you know, we have a different fuel in GT than we had last year, that maybe some of it maybe some track changes. But who knows? It was very slippery when we went out there very different than FP3.  I got worried that I wasn't going to put a lap in at all. Very happy to have at least gotten one lap in. That's all I got – one lap that counted. It was the best lap I've done all week. Yeah, so I've done a lot of qualifying simulations. That is a lot quicker than I've gone in any of my simulations. So maybe I needed to back it down all along.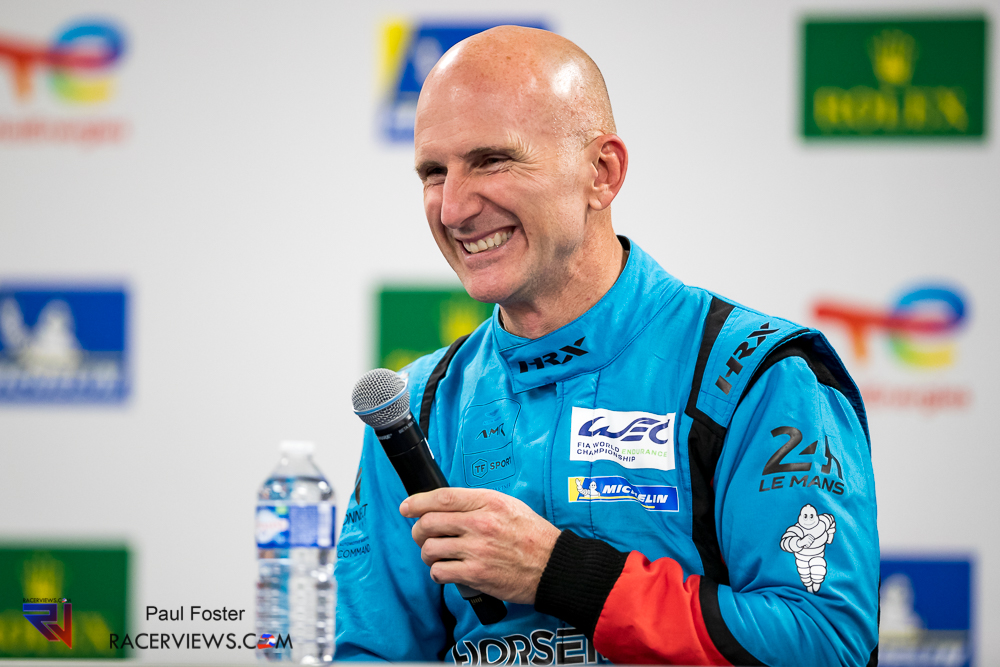 Samuel Tickell  
The pro drivers and the guys, you know, they have a lot more time, a lot of ability to do the simulations and get the data and stuff.
Ben Keating 
So I have a simulator at home. And I do get to drive that. And I have I've spent many hours on that practicing. I got all of the gear ratios and all of that, so that I can set the car up on the simulator exactly like the car is here. And so that I can get all the shift points and everything and get down perfectly well. The track hasn't changed that much and so it's still really good practice. I raced here, this is my third year in a row. I was on the pole last year, I had a good race here. I feel very comfortable at this track. But it's a track that requires a lot of, you know, what I would call flow, you know, it's a, it's a little bit of a dance, and you have to be comfortable with the grip level of your car, because you go into a corner without breaking very much and hope that it sticks. In that. That takes some courage. You always have to see what it's like when you get here. Tomorrow, we have a pretty good chance that it might rain. Yep. And then it will change all over again.
Samuel Tickell  
It's how do you find the time to do all this with?
Ben Keating  
So here's what I would say, in our class. Every car requires a bronze, a silver and a gold. The way that the WEC rules work most of the time, they will do a full course yellow instead of a safety car. Whatever time you gain, you get to keep it.
From my perspective, when I was a kid, we went camping, and the park ranger told a story about, these two hikers coming into a field and seeing a bear and the bear started coming to them and one hiker took off his pack and started putting on his shoes. And the other hiker says What are you doing? You cannot run that bear. And he says I don't have to all I have to do is outrun you. That's how I feel.
So I don't have to compare to the pros. I get to learn from them and improve my skill. As a pro, but my job is to outrun the other bronzes, and they're in the same boat I am. So you know, I do a lot of racing, I spent a lot of time at the track. You know, a lot of these guys are doing ELMS or World Challenge or something like that I'm doing IMSA just because it's easier and more convenient for me in the US. But I'm doing IMSA in an LMP2 which is quite different. But it's I really, I enjoy it is, I think it's much better practice than a GT3 car, because it doesn't have ABS. And you have to learn how to use the aero, get more comfortable throwing the corner in and knowing what the car will do at the limit. I think that the modern GT three car has so many what I call electronic nannies that it makes everyone a superhero behind the wheel. And that's less fun for me.
Samuel Tickell  
Going into the race. Tomorrow, you're on pole. As you said, you got all this how do you? How do you approach it?
Ben Keating  
There are a lot of really quick cars out there. The main advantage to starting up front is that you don't have to worry about passing anymore. And that takes time. There are so many high speed corners around here, that when you get behind someone, and it takes the aero off the front of the car, it really slows you down. It's a big advantage to be up front. And so my goal will be to just build as much of a gap as I can build. You know, last year, made last year, I built up a 23 second gap. And I got pushed off the track by Juan Pablo Montoya in a P2 – spun me off way off track and I got back on, you're still in the lead, but I lost 20 seconds in that spin. And if I wouldn't have lost that 20 seconds, we would have won the race. So my goal is just to get out there and build as big of a gap as I can build. To try to make it easier on my co drivers. Because there are a lot of fast Silver's and a lot of fast gold's Platinums out there, who will make it very challenging.
Samuel Tickell  
Indeed. Yeah, good luck. Thank you so much.
Ben Keating 
Thank you. Sam
The RacerViews info
By Sam Tickell
We are passionate, dedicated motorsport professionals.
In 2022 you will see us trackside and stage side with exclusive coverage of
The World Endurance Championship
The World Rally Championship
Belgian Rally Championship
and more!
We aim to bring you interviews and photos you won't see anywhere else. We don't aim to break the news, rather we aim to bring the voices of the racers to you and the atmosphere of the event to you at home. Our social media presence on Facebook, Twitter and YouTube bring you more, a holistic experience. We partner with racers and professionals in the industry and give back where we can. If we can help you or you have a story to share, please contact us.