195 starts, 47 laps led, 3.849 second gap. Win numero uno. The season to remember continued for Trackhouse Racing , this time with the maiden win for Daniel Suárez, chalking up 3 wins for the team in only it's 2nd Cup Series season.
Suárez, the Monterrey, Mexico born driver, made his mark in the history books becoming the first Mexican-born driver to win in NASCAR's top series and is only the 5th driver from outside the United States to win in the history of the sport. He now joins Marcos Ambrose (Australia), Juan Pablo Montoya (Colombia), Earl Ross (Canada) and Mario Andretti (Italy) in this elite group, and did so in convincing fashion in front of the "Daniel's Amigos" crowd at Sonoma Raceway, leading 47 laps and held off a hard charging Chris Buescher in the final 20 laps to secure the "W".
Congratulations poured in for the the 2016 Xfinity Series Champion before his cool-down lap was even completed, with many drivers congratulating him on-track while accolades from around the globe flooded social media.
A broadcast call for the history books!

📺: @FOXDeportes
🎙: @TonyRiveraSPEED, @JessiLosadaTV and @giselle_zm pic.twitter.com/H2GuQxxNHK

— NASCAR (@NASCAR) June 14, 2022
After jumping from his car to hoist the "Win Numero Flag given to him by his Trackhouse crew, Suárez punctuated his celebration with a "taco pinata", punching through the celebratory token and screaming in joy. Visibly emotional, Suárez thanked his team owner, family, and others:
'I have so many thoughts in my head right now…They believed in me… Trackhouse Racing, Justin Marks, Ty Norris. Everyone that helped me get to this point. Alot of people in Mexico, Jay Morales, Carlos Slim, my family, they never give up on me. So very happy we were able to make it work'
Nada más que decir … @Daniel_SuarezG por fin P1! #vivaMéxico 🇲🇽 https://t.co/Ug67fAyxiL

— NASCAR Latino (@NASCARLatino) June 13, 2022
Suárez now becomes the 12th different winner – and forth first-time winner this season in the new Next-Gen chassis, showing just how level the playing field is.
In the hunt, but still short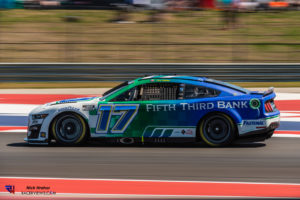 While Suárez was the winner of the day, the top-4 finishers all put on their own show and showed strong pace as they all hunt their first win of the year. Runner-up Chris Buescher, back from a bout with COVID-19, punched above RFK Racing's weight for his best finish of the year and narrowly missed his chance at the checkered flag.
'What a way to return and come back to the race track, but I didn't get the job done there at the end. I feel like we should have had the win and I didn't get it. We were close, just needed more. I needed to make it happen on that restart and I didn't. But if we can keep getting cars like this then a win will come. It was an awesome run, and I should be happy, but I am disappointed to be that close and not get it.'
2021's Daytona 500 Champion, Michael McDowell finished 3rd with his strongest showing in 2022 and adds to his tally of top-10 finishes with 6 on the year. With the number of races running down before the Championship Chase, McDowell sits 21st in points and needs a win to lock himself into one of the final transfer spots to challenge for the championship.
Stewart-Haas's veteran Kevin Harvick, winless since the 2020 fall Bristol race, took home a solid 4th place finish, but extends his winless streak to 59 races. With the off weekend this week, look for the number 4 team to come back swinging in Nashville.
Hendrick strong, but no victory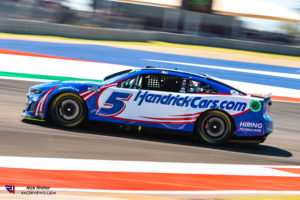 Hendrick was the name to beat coming to the green flag, with 2021 winner  Kyle Larson on pole and teammate Chase Elliot beside him, but it was a day to forget when the checkers fell.
Both teammates fell victim to uncharacteristic mistakes on pit road, demoting both in the running order. Elliot was the first to fall, leading 26 laps, when he pitted outside his pit box and was forced to server a penalty that dropped him to 34th position, last on the lead lap. He rallied with his number 9 NAPA Auto Parts crew to salvage a top-10 finish and maintains his lead in the championship points for the regular season.
Larson, dominate early, handily won the first stage and also led 26 laps, but fell to 15th position after his right-front wheel fell off heading into turn-2 after a pitstop. He rallied as well to finish 15th, however his Hendrick team will suffer significant penalties as a result of the wheel failure. Cliff Daniels, the number 5 Crew Chief, will serve a 4-race suspension along with the teams jackman and tire changer responsible for the mistake.
.@KyleLarsonRacin loses a wheel and brings out a caution. pic.twitter.com/AalDLRM2m0

— NASCAR (@NASCAR) June 12, 2022
It wasn't all terrible for Hendrick – with the combined 52 laps led by Larson and Elliot, Hendrick Motorsports topped the 100,00 all time miles led mark, the most in NASCAR history.
Music City Showdown
With an off week this week, NASCAR heads to Nashville, Tennessee for the Ally 400 at Nashville Superspeedway. Hosted in the heart of American country music, the downtown flair of Nashville and the fast rides of NASCAR are a match in heaven as the drivers and teams take to the streets of Broadway, mixing music and cars in typical Americana fashion.
The red-hot action started on Sunday, June 26th at 5pm ET, this time on NBC and Peacock (US) as coverage moves from Fox Sports for the 2nd half of the season.