You cannot argue against the passion Joachim Wagemans has for rallying. A massive smile every time he drives the car, a want to get out and rally.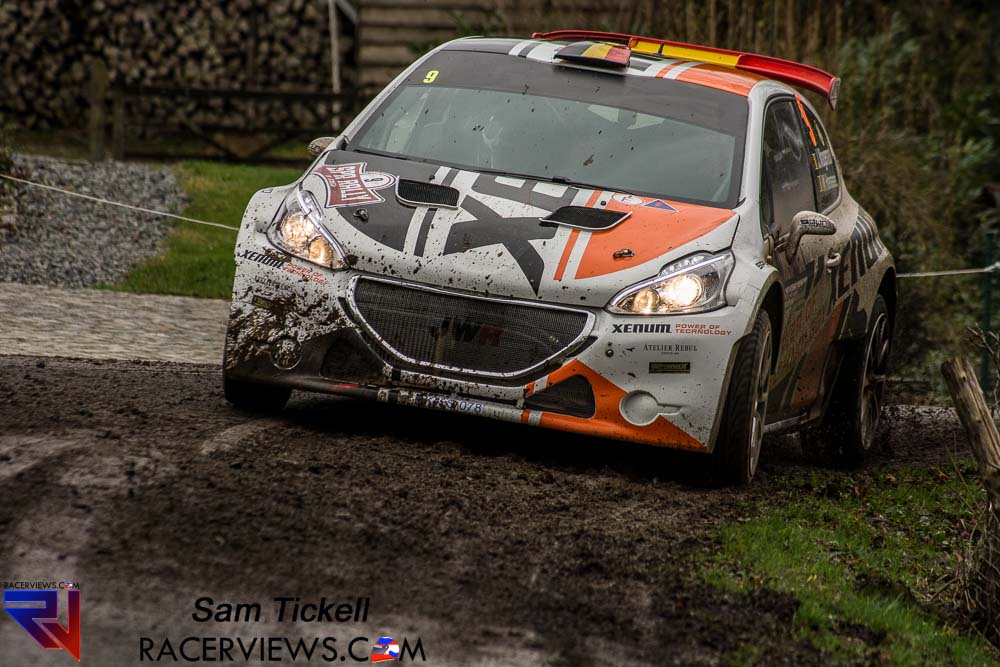 His budget certainly isn't huge but that is made up for in effort and love for the sport. When I caught up with him at the end of the Herock Spa Rally, the second round of the JobFIXers Belgian Rally Championship, I immediately felt the love for the sport and want to compete.
He has been around for a few years, rallying R2s in Belgium, the Netherlands and where he could get to. But last year he stepped up to the R5, in one of the older cars – a Peugeot 208 T16.
"We have the Peugeot 208 T16 – it is the oldest R5. It is another generation. You can see it when the Skodas or the Polos are driving. You can feel it in the car too," Wagemans said.
But it is ideal to learn the trade of a four wheel drive car after spending almost six seasons in R2 machines.
"The difference between grip and no grip in an R5 is really quick.
"Before, I used to drive a Peugeot R2 – the difference wasn't really big, I knew that car so well.
"I used to go flat out, the same as in the dry and see when you get to the corner what you do! But now with R5, it is impossible. I still have to do some kilometres to learn to be really quick."
It is all part of his unique approach to rallying. Along with the Peugeot, there are two other aspects of his approach that raise interest. The first is how he runs his team.
No big budget third party, no DG Sport, Motorpsort Italia, M-Sport (for example) or well backed tuner here.
"I do everything myself. I drive the truck – after this rally I will go back with my truck to home. I rebuild the car myself with one mechanic."
A common story for rallying in the lower categories – afterall RacerViews knows this with our support of NatRallysport – a one man operation. But it is far rarer when you get to the R5 category.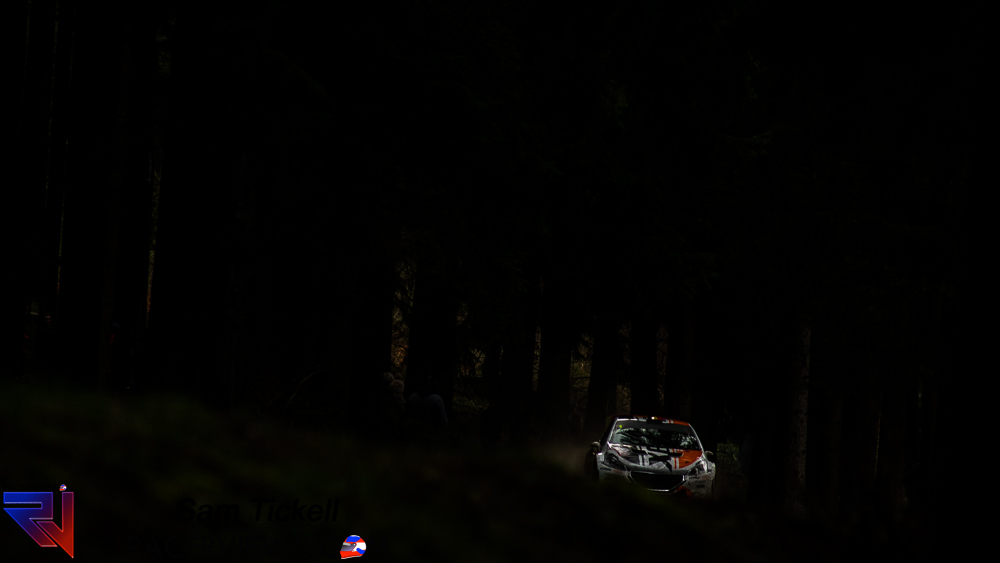 It means long nights in the workshop after long days working. It also means he knows the true cost of an off…
But it also allows him the freedom of choosing where to rally. And he will take to the TER stages this year. Not the most prestigious championship but it has many other things going for it.
"I am interested to do the TER Series. I hope this year there will be more competitors in it because it is really nice to drive.
"It has the most beautiful rallies in Europe and the world. Rallye du Valais. I will do Rali Madeira too, it is not TER but I really love that rally."
It is all part of the enjoyment. Granted his long term career may not be there as he seeks to do as many of the beautiful rallies as he can.
"The Belgian Championship is a high level. Everyone is from here, everyone knows the roads. They have good drivers but I am more interested in adventure."
He continues "I am not interested now, to do the Belgian Championship – maybe later. It is good to be here to get the rhythm and to get people to know me. I am Belgian and not really known here. It is good, sometimes we will come here, Ypres Rally as well. So that is good."
The TER Series will also help him get to grips with the R5 car. He will have the chance of rallying a Skoda this year before returning the Peugeot.
So far though, he has done only three rallies in the R5 – Madeira – finishing 7th, Valais – finishing 8th and Spa – finishing 5th.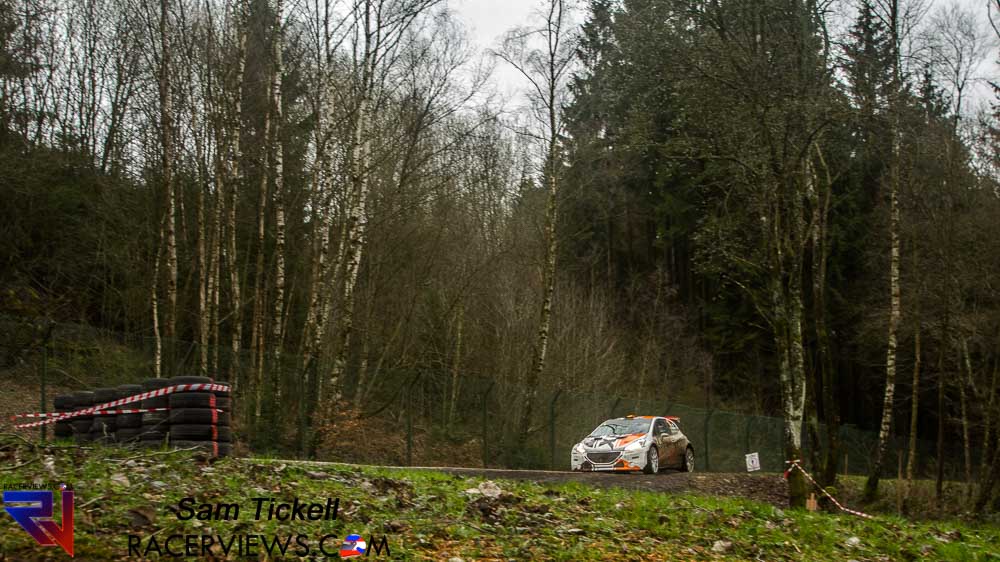 It comes after some 54 rallies in Ford and Peugeot R2 machines, where he had a stunning finishing record, retiring fewer than 10 times through driver error while taking class wins in the GTC Rally (in an outing in an EVO 10 and again in a 208 R2), Rally van Haspengouw, Rallye Liezen, Valais, Transilvania Rally, d'Antibes and Ypres.
He also had outings in the WRC in Germany and Spain.
His run at the Spa Rally was to warm up for the TER season. It was a good one to get the eye in. Tricky conditions with typical weather for the Ardennes. Driving rain, sun, snow – it had it all.
His times were consistent and avoided much of the pitfalls that befell his other competitors. Throughouth the first day's stages, he was around 6th, 7th or 8th. On Sunday, he was inside the top 5 on all stages except SS 19 where he dropped 20 seconds after a slight error.
In the end, he finished behind seasoned competitors and was the first non-Skoda or VW home.
"It was really good actually. We were here to do the rally, get the kilometres. It was a really tough rally.
"It was the first time I was here in three years with the weather – it was new stages in those conditions – and it was only my third time in an R5. It was really tough.
"We knew that the gearbox was the short one so the top speed was not good."
So in the end, it was a solid run. Exactly what he needs for the TER season.
The TER Championship gets underway with the 25th Rally Internazionale Valli Cuneesi which gets underway on 26 April in the Italian city of Dronero.
And for Wagemans, he is looking forward to driving his truck there after the positive outing at Spa.
"I think we will have a good one. Everything is well prepared. Everyone is ready for it. It should be good."
---
The RacerViews info
By Sam Tickell
We are passionate, dedicated motorsport professionals.
In 2019, we will be trackside at
The World Endurance Championship
Belgian Rally Championship
British GT
You will also find us at selected rounds of Blancpain, IMSA, WRC, and more. We aim to bring you interviews and photos you won't see anywhere else. We don't aim to break the news, rather we aim to bring the voices of the racers to you and atmosphere of the event to you at home. Our social media presence on Facebook, Twitter and YouTube bring you more, a holistic experience. We partner with racers and professionals in the industry and give back where we can. If we can help you or you have a story to share, please contact us.
In the past RacerViews has directly partnered with
Nat Rallysport and
MRT Performance
and our team of reporters and photographers have also worked for events, teams, drivers and series from around the world.