Always the bridesmaid, never the bride.
Tyler Reddick finally threw the monkey off his back after a year of missed chances and heartbreak; overtaking pole-sitter Chase Elliott at Road America to take his first victory in the NASCAR Cup Series in his number 8 Richard Childress Racing Chevrolet. Snapping a winless drought for the organization dating back to Austin Dillon's Texas win in 2020, Reddick becomes the 13th different winner in 2022 and the 5th, first-time winner of the year – breaking a record for new winners dating back to NASCAR's second year of competition in 1949.
"WE DID IT!!! YESSSSSSSSSS!!!" pic.twitter.com/gNnGJ5j72m

— NASCAR (@NASCAR) July 3, 2022
Reddick took control of the lead on lap 44 of 62, passing Elliott on the inside of turn 6 after the final round of pit stops and held off the defending race winner over the final 18 laps, crossing the line 3.304 seconds ahead of the Hendrick driver and 21.138 seconds ahead of Elliott's teammate Kyle Larson. Elliott, considered by many in the paddock to be the current NASCAR Road Course King, expressed his happiness for the No. 8 driver in a post race interview, but was disappointed not to take home a back-to-back win after his late domination in Nashville the prior week.
'First off, congrats to him…I know he's been super close to that first win, and I've been down that road, and it can be a rocky one. I'm happy for those guys. They deserve it. For us, just proud of our NAPA team. I didn't do a very good job there. I just let him stay close enough to pressure me there while we had decent tires and never could get enough of a gap. Made a couple mistakes. I was gaining a gap there a couple times and made a couple mistakes and let him get back close enough to get me out of sync, and then after that just started struggling. Obviously, it was super difficult to get to somebody to pass them. It was impressive he was able to get up there and capitalize on my mistakes. … I felt like we probably needed a little bit, but I think we were good enough to win, so those always hurt.'
Despite the runner-up finish, Elliott continues to build momentum as the Cup Series heads ever closer to the Playoffs, maintaining his foothold on the regular season championship and number 1 seed for the playoff rankings.
Road Course Magic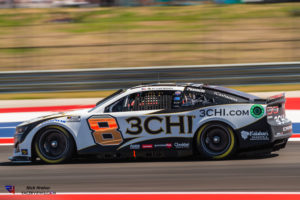 Once again the influx of road courses to the NASCAR calendar provided excitement with on-track action and the end results. For the 3rd time this year a new driver has won at a road course – Ross Chastain in Austin, teammate Daniel Suarez at Sonoma, and now Tyler Reddick at Road America – highlighting a new group of drivers winning at the top level of NASCAR.
Reddick and the RCR organization, longtime Chevrolet partners, were instrumental in the development of the Next-Gen car with Reddick leading the way as the test driver for many of NASCAR's testing processes in 2021. This experience during the development, plus Reddick's extensive history in the Xfinity and Truck Series, primed the young Californian for a breakout victory in 2022. Earlier in the season he came within 100 yards of victory at the Bristol dirt race when he was hit by Chase Briscoe and ended up second behind surprise winner Kyle Busch, but finally redemption came for the team as Reddick punched his playoff ticket with a bang before Independence Day.
'What better place than Road America? I love the fans. I love this race track. Being here on 4th of July weekend is just so special, and just a huge shoutout to (sponsor) 3Chi and the special paint scheme we had this weekend. Love that they're coming on board this year and taking a chance on a young guy like me, and we got it done. We won a race!'
Tyler Reddick had five runner-up finishes before earning his first Cup win. He described how he handled those and trying to learn from them: pic.twitter.com/a0YOok3d06

— Bob Pockrass (@bobpockrass) July 4, 2022
Reddick's victory was another home-run for Chevrolet with the top 5 positions filled by the bow-ties, with 3 of the 5 being first time winners in 2022 and the remainder being former Cup Series Champions.
After the trio of Reddick, Elliott, and Larson, Trackhouse Racing's Ross Chastain and Daniel Suarez filled out that top 5 ahead of Sonoma runner-up Chris Buescher and 2022 Daytona 500 Champion Austin Cindric. Michael McDowell, the 2021 Daytona 500 winner, put another stamp in his strong runs for the year with his seventh top-10 finish in the number 34 Blue Oval ahead of road-course ringer AJ Allmendinger and the still-winless Kevin Harvick.
Toyota once again struggled on a track with right-hand turns, Joe Gibbs driver Martin Truex Jr. gave the contingent it's best finish of the day in 13th, highlighting the continuing struggles of the brand in 2022 as teammates Denny Hamlin and Christopher Bell finished 18th and 19th.
Back to "Hot-lanta"
NASCAR makes it's return to Atlanta on July 10th for the Quaker State 400. William Bryon took his first win of 2022 here in the spring and will be looking to capitalize with a sweep, while local-hero and native-son Chase Elliott will look to bring home the win in his home state. Green flag drops on Sunday, July 10th at 3:00pm ET on NBCSN (US).